COVID-19 Update
Until further notice our build sites will be accepting only a limited a number of volunteers Tuesday through Saturday. We are limiting the number of volunteers on site to allow for social distancing. Our ReStore is not currently able to accommodate volunteers but we hope to be able to welcome volunteers back to the ReStore soon. 
When you sign up to volunteer on a build site you will be sent a confirmation email. Shortly before your volunteer day arrives you will receive a reminder email with a health survey that we ask every volunteer to complete before arriving at the build site. 
If you are experiencing symptoms of COVID-19 or have been exposed to the virus within 14 days of your volunteer day, please reschedule your volunteer day for after the recommended 14-day quarantine period. 
Everyone has been affected by this global health crisis and the accompanying economic shock. Consider a gift to our Resiliency Fund. We need your support now more than ever to help us serve local families and build back. Click here to donate today.
---
Volunteer with us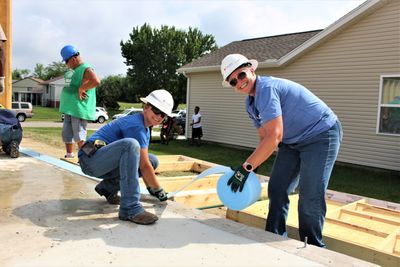 Open your heart. Lend a hand.
Around the world, Habitat for Humanity volunteers, supporters and advocates are making a difference in the lives of thousands of families who deserve decent, affordable shelter. Whether you are swinging a hammer, advocating for affordable housing, or volunteering at our ReStore, local supporters play an integral role in revitalizing our communities.
Volunteers are the lifeblood of our organization. Consider donating your time to learn valuable skills, meet some incredible new people, and change the lives of local families forever.
---
Ways to Volunteer
Build Site Volunteers
Our homes are built almost entirely by volunteers. You do not need to be a skilled construction worker to volunteer on our build sites. No matter your skill level, our Site Leaders are there to teach you everything you need to know to help us build homes for local families. All the equipment and safety gear is provided and no previous experience is necessary. We provide water, but you will need to make lunch arrangements. Please wear closed-toe and closed-heel shoes or boots and clothing you don't mind getting dirty or muddy. Our build sites are open to volunteers Tuesday through Saturday, 8:30 AM- 3:30 PM. For more information view our FAQs to the left.
ReStore Volunteers
ReStore volunteers assist with sales, inventory, cleaning and stocking the sales floor and warehouse, loading and unloading donated items, and customer service. Please wear closed-toe and closed-heel shoes or boots and clothing you don't mind getting dirty. Our ReStore needs 8-10 volunteers per day Tuesday through Friday 9:00 AM- 5:00 PM and Saturdays 9:00 AM- 3:00 PM. 
Family Advocates
Family Advocates work directly with partner families through their journey to homeownership.  Some key responsibilities are building relationships with families, helping educate the families on responsible home ownership, mortgages and social services and supporting the family emotionally and spiritually. The commitment lasts from 18 to 24 months with about one hour a month of contact. Meeting times and locations are agreed upon by the Family Advocate and their partner family. As a Family Advocate, we match you with a family that is compatible with your location, time, schedule, and interests. Advocates are actively recruited year-round but may not be assigned a partner family immediately.
Committee Volunteers
Habitat for Humanity of Greater Dayton has several committees that help us in our efforts to provide safe and affordable housing to local families. Click here for more information about our committees. 
---
Team building opportunities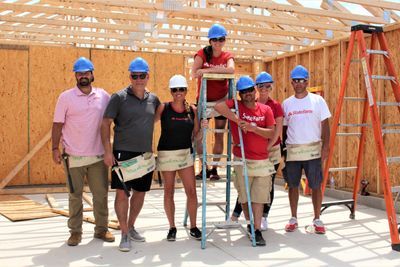 Are you looking for a fun and engaging team building activity with immediate, tangible results? Join us on-site or at the ReStore as a HabiTEAM today!  Corporate teams, church groups, sports teams, book clubs, school groups, fraternities/sororities, families, and friends are all welcome.
Habitat for Humanity of Greater Dayton's HabiTEAM volunteer days are not your average team building activity.  HabiTEAM volunteer days provide your employees or team with a change of pace from the everyday while offering a hand-up, not a hand-out, to a local family seeking affordable homeownership.
---
Youth Volunteer Opportunities
Habitat for Humanity of Greater Dayton appreciates all of our volunteers and we do our best to make sure everyone has an enjoyable and productive volunteer day at the ReStore and/or on-site at one of our Build Sites. The key to having a great volunteer experience is safety. Due to the hazards of construction work and hazards at the ReStore, there are some limitations and restrictions for any volunteer under the age of 18.
---