Youth Volunteer Opportunities and Restrictions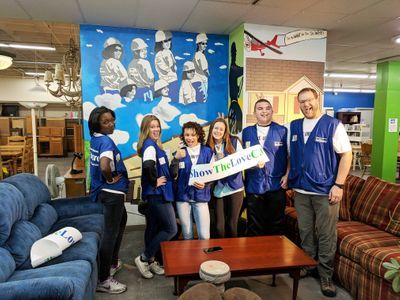 Habitat for Humanity of Greater Dayton appreciates all of our volunteers and we do our best to make sure everyone has an enjoyable and productive volunteer day at the ReStore and/or on-site at one of our Build Sites. The key to having a great volunteer experience is safety. Due to the hazards of construction work and hazards at the ReStore, there are some limitations and restrictions for any volunteer under the age of 18.
Additional Requirements for Habitat for Humanity of Greater Dayton Minor Volunteers:
ALL Habitat for Humanity of Greater Dayton Minor Volunteers are REQUIRED to register and sign-up online through Volunteer Hub.
Your parent/guardian must download and complete a Minor Liability Waiver and email/fax it to the Volunteer Services Coordinator prior to your first volunteer day.
Registering and signing up on Volunteer Hub does not fulfill this requirement.
Minor Volunteers must inform the Volunteer Services Coordinator of every Volunteer Event/Date they register for to ensure the ReStore Staff and/or Build Site Leader are made aware of the minor volunteer and can assign appropriate tasks per our liability insurance.
Ages 13 and Under
Our liability insurance does not allow us to accommodate minor volunteers under the age of 14 at our Build Sites or the ReStore.
 
Click the links below to download our minor volunteer policies
ReStore Minor Volunteers Ages 14-17
Build Site Minor Volunteers Ages 14 & 15
Build Site Minor Volunteers Ages 16 & 17
If you have any questions about our minor volunteer policies please email our Volunteer Services Coordinator.