Faith Family Spotlight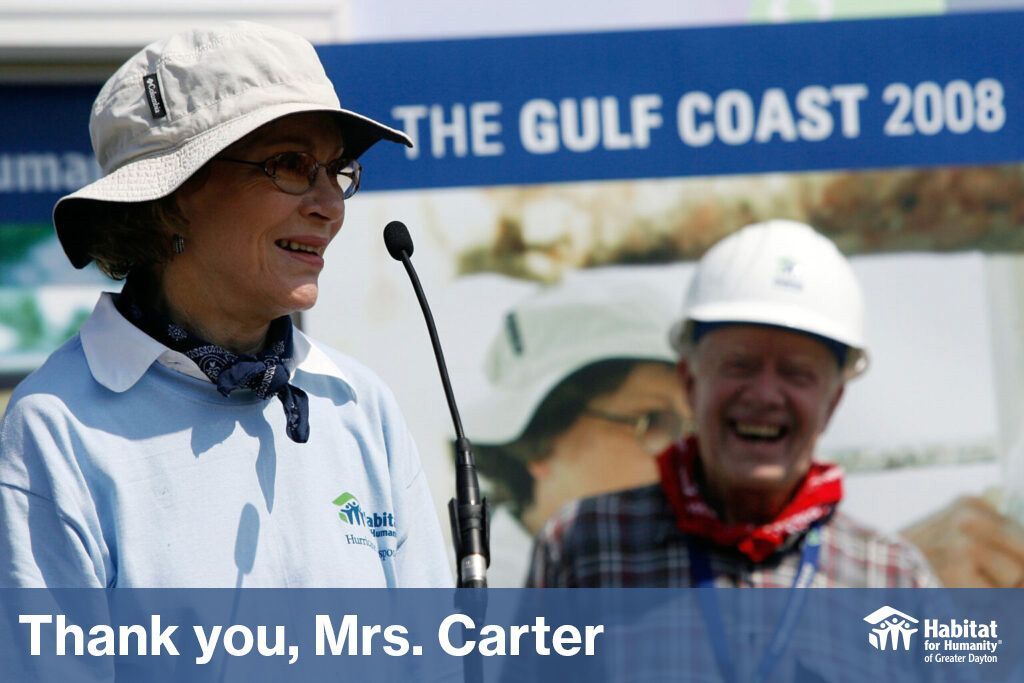 Habitat for Humanity is deeply saddened by the passing of former U.S. first lady Rosalynn Carter, who was a champion and strong voice for affordable, decent housing for all. For more than three decades, she and President Jimmy Carter donated their time and leadership to Habitat each year to build and improve homes around the world. She died peacefully on Sunday at her home in Plains, Georgia, at the age of 96, with family by her side.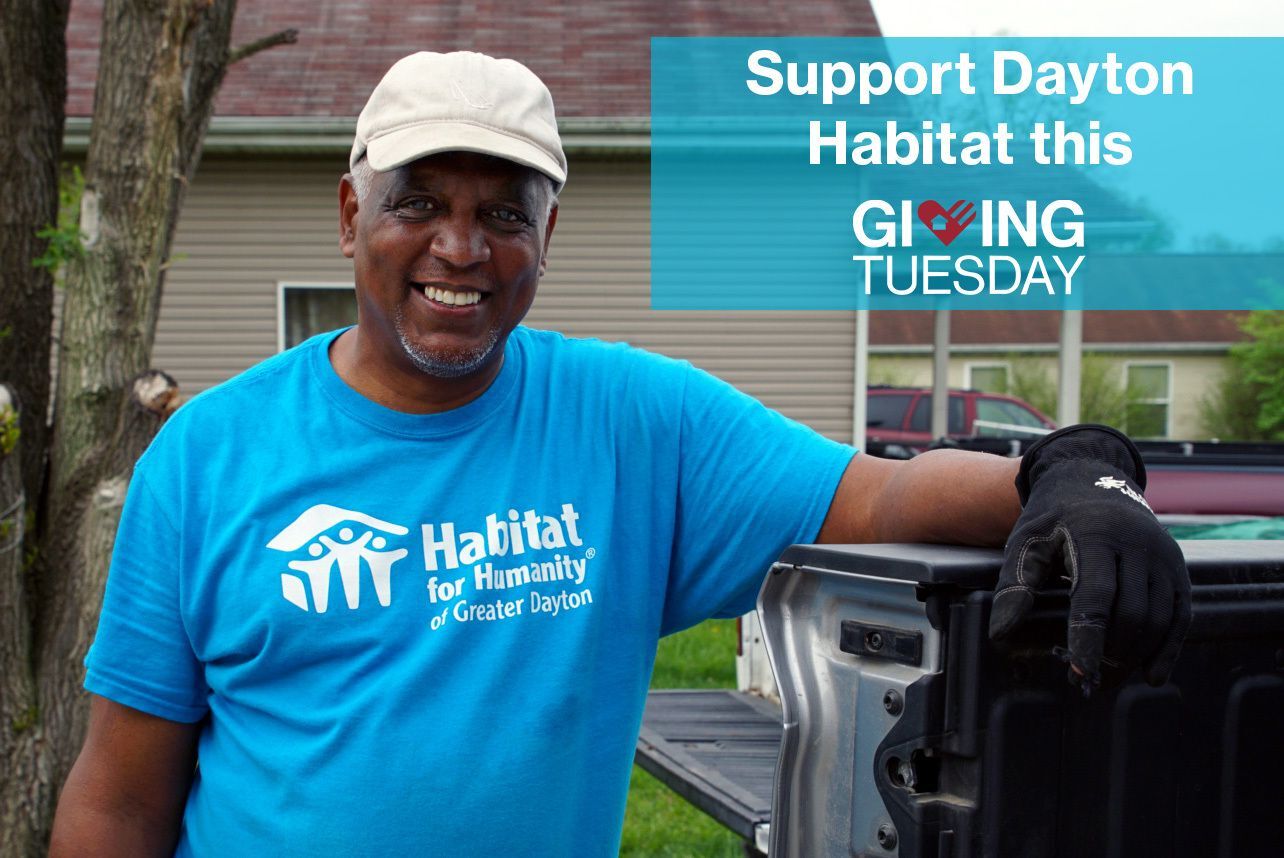 Giving Tuesday is a global campaign focused on generosity. Whether you make your contributions public by posting on social media with the hashtag #GivingTuesday or keep them private, Dayton Habitat is challenging their community to get involved with the movement!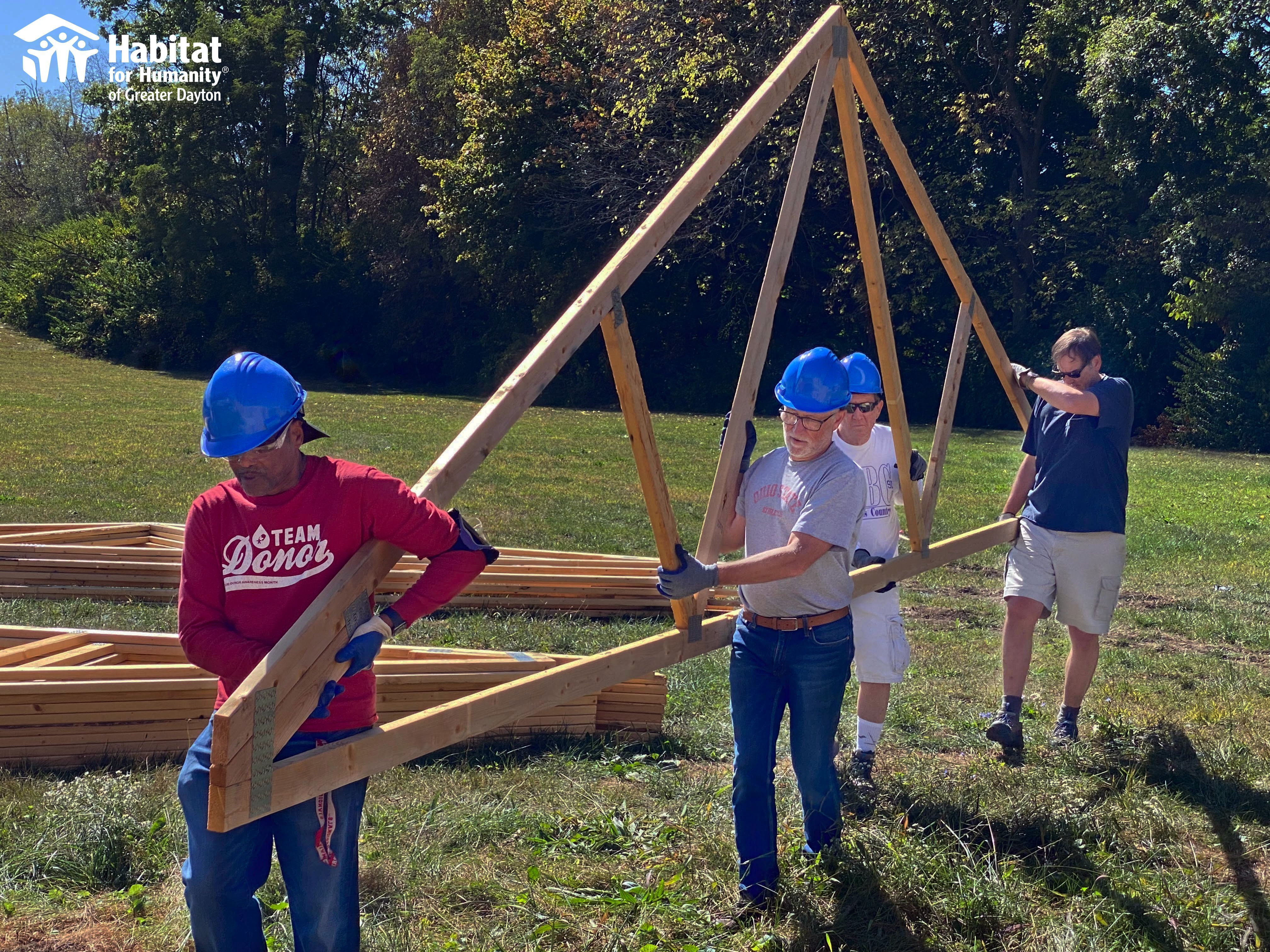 Annually, Dayton Habitat holds a special "Board Build Day" where members of the Dayton Habitat board take time from their normal workdays to help on one of the organization's home-building projects. Seven board members recently joined Executive Director Norm Miozzi to volunteer at the site of our double home build in New Carlisle.
Counting Our Blessings
Habitat supporters experience infinite blessings as we become the hands and feet of God in showing His love. This allows us to engage those around us, live out our faith and see unique opportunities to love our neighbors materialize before our eyes and in our hearts. Here is a running list highlighting some of our latest answered prayers, volunteer victories and service opportunities. 
An afternoon at The Summit - Clark County

Habitat for Humanity of Greater Dayton was recently blessed to be invited to present its ministry to Springfield faith, community and business leaders at the Nehemiah Foundation's second annual A Case for Community Summit at the City Hall Forum. We were able to outline the impact that Habitat's mission has had and can have in the future on the Springfield community. We were very well received!

This is why we do what we do! - Montgomery County

Habitat for Humanity of Greater Dayton recently held a new home dedication ceremony for the Kaneza family in Dayton. The family immigrated from war-torn Rwanda, became citizens in 2019 and have made the Miami Valley their home. Husband and father Bonaventure said the home is something they never thought they would ever own. They were so thankful for the opportunity that they worked over 700 sweat equity hours when only 550 were required.
Blessing Opportunities
There are so many ways to serve alongside Habitat's supporters. Here are just a few of them:
*If you are interested in any of these service opportunities, call Krissy at (937) 586-0860 or click here.
Work on the Springfield Faith Build on West Perrin Avenue has kicked into high gear. We are praying for desperately needed volunteers to help us get this new home built for a hard-working single mother of four before the snow flies. Thrivent is our main sponsor for this build. Go to daytonhabitat.org/how-to-help/volunteer to sign up and schedule a time to volunteer. Contact Volunteer Krissy Day at kday@daytonhabitat.org or 937-965-7679 with questions.

Can I volunteer somewhere else besides a worksite?

If you love people but aren't interested in helping on a worksite, you can still volunteer at our ReStore in either Dayton or Springfield. , and shifts are very flexible. Volunteer Director Krissy Day at kday@daytonhabitat.org or 937-965-7679 can answer any questions you have about helping in this way.
Faith Family Fixes
Faith Family Fixes have been created to present opportunities to take full or shared ownership of one of our more affordable critical repair projects, usually under $1,000. You and your church can pledge to provide all or part of the funding for the project, commit to do the repair, or do both. We will list no more than one project per county that we serve, and it will remain listed until that project has been completed. Some months there won't be a project in a particular county. Contact Kermit Rowe at krowe@daytonhabitat.org or 937-605-5086 if interested in a particular project.
Montgomery County

City: Dayton
Repair: Zeb Dill, who was injured while in Florida in the pedestrian-car accident that killed his best friend, Pastor Joel Burton, needs a temporary handicap ramp for about sixth months. Habitat has arranged with Mobility Plus to rent and install an aluminum ramp for six months for $1,650, with Miami Valley Premier Walk-in Tubs donating $1,200 of the cost. Looking for help to cover the rest of the cost.
Cost: $450
Homeowner description: Zeb and Joel worked together in Simple Street Ministries, during which they walked the streets of Montgomery County to reach those rejected by society. They were members at Hopeland Church in Dayton, where Joel was Missions Pastor.
Faith Family Members
We are eternally thankful for our Habitat Faith Family members. We could not spread God's love like we have been able to do all these years without you. Below is a list of our current Habitat Faith Family members. 
Become a Faith Family Member
There are so many ways you can support our mission. Your church, faith-based organization or faith-owned business can become a member of the Habitat Faith Family by supporting us in at least one of the following ways. 
Actively participate in and promote Habitat's own fundraisers throughout the year.
Add Habitat families, volunteers, supporters, staff and its mission to your prayer list. If you'd like to be a part of an international Habitat prayer team, sign up here.
Provide your church or faith organization's members with safe, enjoyable ways to be a part of one-time or ongoing community-growing service projects. Volunteer opportunities include construction sites and Habitat ReStore customer relations.
Give scheduled or one-time financial donations.
Make in-kind donations of used or new items to our two ReStore locations, in Dayton and Springfield. See daytonhabitat.org/restore for more information.
Organize a fundraiser with proceeds going to Habitat's mission of providing affordable housing.
Refer families in your church or faith organization who are in need of affordable housing or critical repairs to Habitat.
Participate in Habitat Faith Build projects, in conjunction with Thrivent. One is currently ongoing in West Carrollton with another is scheduled for Springfield in spring of 2022. We've already completed two Faith Builds in Greene County over the last two years.
Schedule a faith group presentation by a local Habitat employee, which will explain our mission in detail and offer a Q & A opportunity.
Spread the word about the blessing of working with and supporting Habitat.
Become a Faith Family Advocate, mentoring one of our families as they navigate the challenges of life. Call Kermit Rowe (937.605.5086) if interested.
*If you are interested in finding out more about the Habitat Faith Family program, call 937-605-5086 or send an email:
How We Help Faith Family Members Grow
There are many ways working with Habitat helps its Faith Family members grow. Examples include:
Help local families in need become homeowners or get critical repairs performed on their homes they would not otherwise be able to afford. This shows God's love in a very tangible way, impacting underserved neighbors in lasting, legacy-building ways.
The opportunity to create greater countywide unity and connections among faith groups in Clark, Greene, and Montgomery counties, undergirded by the shared belief that together we can have greater community-building impact than we ever could separately.
An impactful way to unify for visible projects that show the community and God's people what they can do when they work together and publicly share a compassionate message of love.
A monthly "Faith Family Focus" e-newsletter, exclusively designed for and shared with members. The newsletter spreads the good news of God's love. Included will be pastor, church, and faith organization spotlight features, top prayer concerns and answers, the latest service opportunities, and occasional guest columns.
Opportunities to pray with Habitat volunteers helps Faith Family members make personal connections and build lasting relationships. It also builds community and relationships within your congregation or faith organization. This can create lasting memories and friendships while attracting new and inactive members.
An ongoing, personal contact for the leadership of your church or faith organization with Habitat through a relationship with our Faith Family Coordinator (Pastor Kermit Rowe).
* Find out all about Habitat and it's ecumenical mission by inviting us to come to your church or faith organization meeting and give a presentation. Call 937-605-5086 for more information or to schedule a presentation.
Our Faith Roots
Faith has been the foundation of Habitat for Humanity since its humble beginnings in 1976. : Founded by a preacher and his wife, Millard and Linda Fuller, and born within a Christian fellowship community called "Koinonia, Habitat started as one of its outreaches to its community, building a few homes for underserved families. Koinonia Farm still stands today, as a thriving ministry built around Habitat's rich history of community service and a thriving pecan farm. Locally, ours is the oldest Ohio Habitat affiliate, founded in the basement of a Montgomery County church in 1983.
Our Habitat Faith Family Mission
Unapologetically Christian and entirely ecumenical, Habitat for Humanity of Greater Dayton seeks to partner with people of all faiths or no faith, to put God's love into action by bringing them together in unity and diversity to build homes, communities, and hope.