Faith Family Spotlight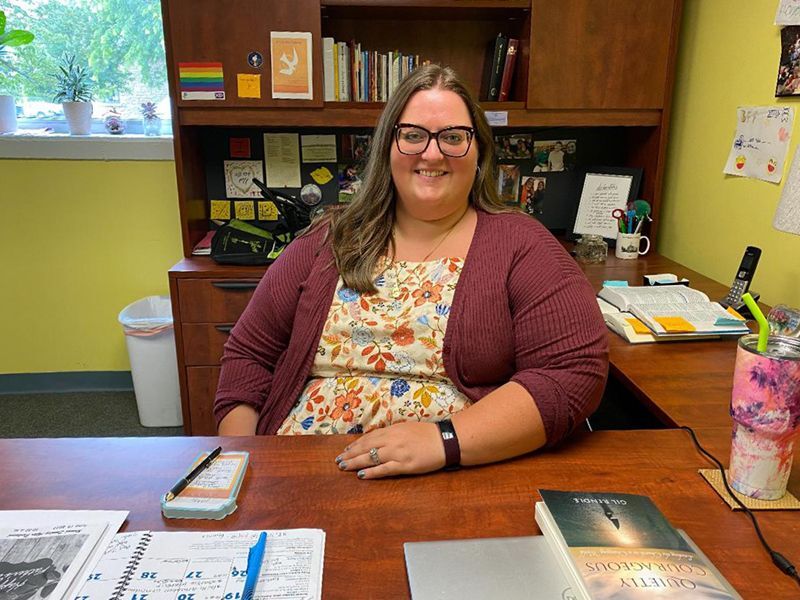 Each month we will profile a local pastor, church, organization, or business that is heavily involved in the Dayton Habitat mission. This month, we talk with Knob Prairie United Church of Christ pastor, Katie Peterson-Madden.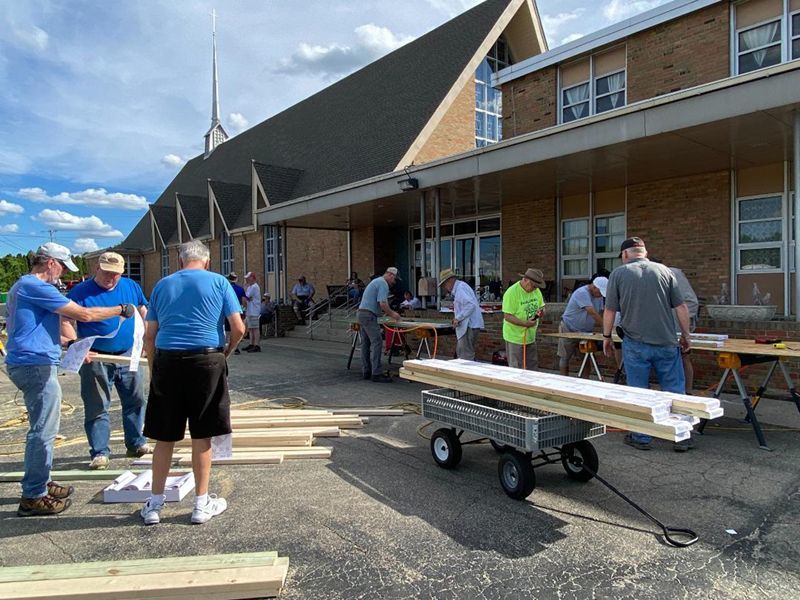 Englewood's Concord United Methodist Church built the walls for Habitat for Humanity of Greater Dayton's new Faith Build located in Springfield, OH.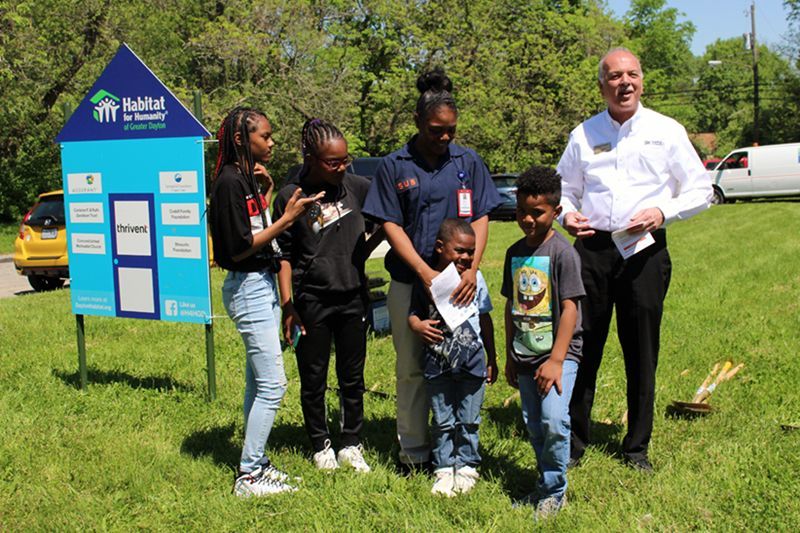 Several community and faith leaders gathered for the official groundbreaking ceremony at Habitat for Humanity of Greater Dayton's newest building project in Springfield! Joining them was the homebuyer Katara and her four children as well-as many others. This is a milestone for Habitat for Humanity of Greater Dayton because the organization only added Clark County to its tri-county footprint last February.
Counting Our Blessings
Habitat supporters experience infinite blessings as we become the hands and feet of God in showing His love. This allows us to engage those around us, live out our faith and see unique opportunities to love our neighbors materialize before our eyes and in our hearts. Here is a running list highlighting some of our latest answered prayers, volunteer victories and service opportunities. 
Build Site Blessings

The volunteer work crews from local businesses have been increasing with the lessening of the COVID pandemic. Recent help was given by: The Simms Family, Dayton CAPE, Allied Motion, Trimble Inc., Knights of Columbus Angels Council and State Farm. State Farm also donated $5,000 to our mission!

Springfield ReStore

The grand opening of our new ReStore in Springfield gives our tri-county affiliate a flagship location in Clark County. This is of course a Habitat ministry, but it is also one that in many ways belongs to the community. The success of the stores relies on the residents of Springfield and Clark County, who donate most of our inventory. They also make up the majority of our daily and repeat customers. All proceeds go to providing homeownership and elderly home repair projects for low-income county residents.

Faith Builds in Full Swing

Faith Build projects are underway in Springfield and West Carrollton!

New Roof for Dayton Habitat

We are thankful to The Dayton Foundation, the Kettering Family Fund and the AES Foundation for funding a new roof at our Dayton Habitat for Humanity offices and ReStore!
Blessing Opportunities
There are so many ways to serve alongside Habitat's supporters. Here are just a few of them:
*If you are interested in any of these service opportunities, call Krissy at (937) 586-0860 or click here.
Help us finish strong in Springfield

We are looking for volunteers who will help us put the finishing touches on a Springfield home rehab project. Help needed includes painting, trim work and other miscellaneous jobs.

Faith Build project in West Carrolton

Help is needed in Montgomery County in West Carrollton as our second Faith Build project of 2022 has wall panels up and is kicking into high gear.

Women's Build project in Huber Heights

After a two-year absence due to COVID, the Ann Simms 2022 Memorial Women's Build is off and running in Huber Heights.

Volunteers needed in our two ReStores

Construction is not your game? We are always looking for help in our ReStores in Dayton and Springfield.

Pray with and for our Faith Family volunteers

A standing invitation to pastors to lead morning prayer on construction sites as our volunteer crews begin their work. If interested, call Kermit Rowe at (937) 605-5086.
Faith Family Members
We are eternally thankful for our Habitat Faith Family members. We could not spread God's love like we have been able to do all these years without you. Below is a list of our current Habitat Faith Family members. 
Become a Faith Family Member
There are so many ways you can support our mission. Your church, faith-based organization or faith-owned business can become a member of the Habitat Faith Family by supporting us in at least one of the following ways. 
Actively participate in and promote Habitat's own fundraisers throughout the year.
Add Habitat families, volunteers, supporters, staff and its mission to your prayer list. If you'd like to be a part of an international Habitat prayer team, sign up here.
Provide your church or faith organization's members with safe, enjoyable ways to be a part of one-time or ongoing community-growing service projects. Volunteer opportunities include construction sites and Habitat ReStore customer relations.
Give scheduled or one-time financial donations.
Make in-kind donations of used or new items to our two ReStore locations, in Dayton and Springfield. See daytonhabitat.org/restore for more information.
Organize a fundraiser with proceeds going to Habitat's mission of providing affordable housing.
Refer families in your church or faith organization who are in need of affordable housing or critical repairs to Habitat.
Participate in Habitat Faith Build projects, in conjunction with Thrivent. One is currently ongoing in West Carrollton with another is scheduled for Springfield in spring of 2022. We've already completed two Faith Builds in Greene County over the last two years.
Schedule a faith group presentation by a local Habitat employee, which will explain our mission in detail and offer a Q & A opportunity.
Spread the word about the blessing of working with and supporting Habitat.
Become a Faith Family Advocate, mentoring one of our families as they navigate the challenges of life. Call Kermit Rowe (937.605.5086) if interested.
*If you are interested in finding out more about the Habitat Faith Family program, call 937-605-5086 or send an email:
How We Help Faith Family Members Grow
There are many ways working with Habitat helps its Faith Family members grow. Examples include:
Help local families in need become homeowners or get critical repairs performed on their homes they would not otherwise be able to afford. This shows God's love in a very tangible way, impacting underserved neighbors in lasting, legacy-building ways.
The opportunity to create greater countywide unity and connections among faith groups in Clark, Greene, and Montgomery counties, undergirded by the shared belief that together we can have greater community-building impact than we ever could separately.
An impactful way to unify for visible projects that show the community and God's people what they can do when they work together and publicly share a compassionate message of love.
A monthly "Faith Family Focus" e-newsletter, exclusively designed for and shared with members. The newsletter spreads the good news of God's love. Included will be pastor, church, and faith organization spotlight features, top prayer concerns and answers, the latest service opportunities, and occasional guest columns.
Opportunities to pray with Habitat volunteers helps Faith Family members make personal connections and build lasting relationships. It also builds community and relationships within your congregation or faith organization. This can create lasting memories and friendships while attracting new and inactive members.
An ongoing, personal contact for the leadership of your church or faith organization with Habitat through a relationship with our Faith Family Coordinator (Pastor Kermit Rowe).
* Find out all about Habitat and it's ecumenical mission by inviting us to come to your church or faith organization meeting and give a presentation. Call 937-605-5086 for more information or to schedule a presentation.
Our Faith Roots
Faith has been the foundation of Habitat for Humanity since its humble beginnings in 1976. : Founded by a preacher and his wife, Millard and Linda Fuller, and born within a Christian fellowship community called "Koinonia, Habitat started as one of its outreaches to its community, building a few homes for underserved families. Koinonia Farm still stands today, as a thriving ministry built around Habitat's rich history of community service and a thriving pecan farm. Locally, ours is the oldest Ohio Habitat affiliate, founded in the basement of a Montgomery County church in 1983.
Our Mission Statement
Unapologetically Christian and entirely ecumenical, Habitat for Humanity of Greater Dayton seeks to partner with people of all faiths or no faith, to put God's love into action by bringing them together in unity and diversity to build homes, communities, and hope.