HabiTeam Building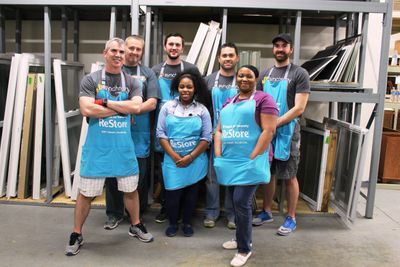 Are you looking for a fun and engaging team building activity with immediate, tangible results? Join us on-site or at the ReStore as a HabiTEAM today!  Corporate teams, church groups, sports teams, book clubs, school groups, fraternities/sororities, families, and friends are all welcome.
Habitat for Humanity of Greater Dayton's HabiTEAM volunteer days are not your average team building activity.  HabiTEAM volunteer days provide your employees or team with a change of pace from the everyday while offering a hand-up, not a hand-out, to a local family seeking affordable homeownership.
Build Site HabiTEAM(s) – We build year-round, Tuesday through Saturday, throughout Clark, Greene, and Montgomery Counties.  We are generally able to accommodate 6-8 volunteers at a time on a build site, depending on the stage of construction. To accommodate additional volunteers, you may request multiple days or multiple build sites. Saturdays are very popular and fill up quickly. If your team is available during the week, please consider volunteering on a weekday.
ReStoreHabiTEAM(s)- Our ReStore Staff will develop a pre-planned project for your group to work on at the ReStore, if reserved within two weeks of the reserved volunteer date. Group captains or supervisors may be required to assist with the ReStore Projects. Our ReStore can accommodate a maximum of 8 volunteers each day and volunteer groups are required to volunteer for a minimum of four (4) hours on their volunteer date. You can choose to volunteer at our Dayton ReStore (115 W. Riverview Ave. Dayton, Ohio 45405) or our Springfield ReStore (2990 Derr Road Springfield, OH 45503).
To reserve the ReStore or a Build Site for your team, please download and fill out the HabiTEAM Registration Form. The Volunteer Services Department will confirm a volunteer date to accommodate your team and send you a confirmation email and Volunteer Hub Registration Instructions.
ALL Habitat Volunteers/Team Members/Group Members are REQUIRED to register and sign-up online through Volunteer Hub. Any reserved slots which are not filled one week prior to the reserved volunteer date will be released for other volunteers.
To learn more about how your team can get involved contact our Volunteer Services Coordinator 937-586-0860 ext. 129 or email us today.