Our Vision
A world in which everyone has a decent place to live.
---
Our Mission
Seeking to put God's love into action, Habitat for Humanity brings people together to build homes, communities and hope.
---
Non-Proselytizing Policy
Habitat for Humanity of Greater Dayton welcomes volunteers and supporters from all backgrounds and also serves people in need of decent housing regardless of race or religion. Habitat for Humanity International and its affiliated organizations will not proselytize. Nor will HFH work with entities or individuals who insist on proselytizing as part of their work with HFH. This means that HFH will not offer assistance on the expressed or implied condition that people must adhere to or convert to a particular faith or listen and respond to messaging designed to induce conversion to a particular faith.
Habitat for Humanity of Greater Dayton does not discriminate against any person on the basis of race, ethnicity, age, religion, sex, gender, sexual orientation, gender identity, gender expression, national origin, physical or mental ability, genetic information, military status, marital status, medical condition, or any category identified by state or local government in their operations or delivery of service.
---
About Habitat for Humanity of Greater Dayton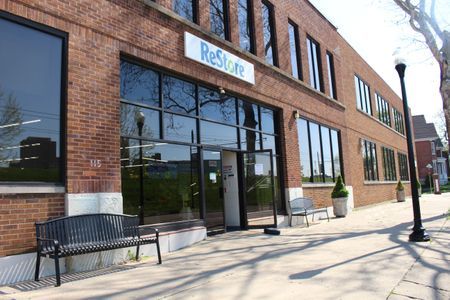 Dayton Ohio Habitat for Humanity was established in 1983 and was the first Habitat affiliate in the State of Ohio. In our 37 years of operations we have served hundreds of families through our affordable homeownership program and hundreds more through our critical repair program. We started out in the basement of a local church. Through years of hard work and dedication, we were able to secure a building in 2013. In 2014, we merged with the Greene County Habitat for Humanity affiliate to create Habitat for Humanity of Greater Dayton. We grew again in 2021 and now proudly serve Montgomery, Greene, and Clark Counties.
Our location at 115 West Riverview Avenue has been such a blessing. Our offices, ReStore, and family education classes are all held in the same safe location. Would you like to learn more about our headquarters in McPherson town? Click here to contact us and set up a tour!
---