Every gift supports simple, decent, and affordable housing for local families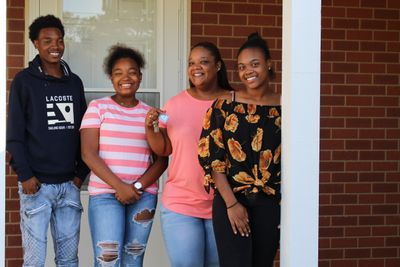 One Time Donation
Your donation will help families in need of a decent place to build long-term financial security. With an affordable, stable home, families have more to spend on food, medicine, child care, education and other essentials. Your support can help us do more in all the many ways that Habitat builds. To make a one time gift simply click on the donate heart at the top of this page. 
---
Recurring Monthly Donations
After 37 years of building and repairing homes in the Dayton area, we are genuinely touched by our supporters who believe deeply enough in our vision to give on a regular basis. Recurring contributions mean that our work continues, and more families can attain a safe, affordable place to call home. To sign up for a monthly donation please visit our donate page and select "monthly" under the donation frequency drop down in our online form. 
---
Gifts in Honor and Memorial 
Every day more and more people are choosing alternative gift options for birthdays, holidays, celebrations, weddings, and for other significant occasions. Making a donation in someone's honor or memory is a great way to show your love and make a difference. If you are making a gift in honor or memory of someone, please let us know in the "additional comments" section of our online donation form. 
---
Real Estate Donations
In order to keep development costs low, Habitat for Humanity of Greater Dayton accepts donations of property or houses in Clark, Greene, and Montgomery Counties. Each site must be reviewed to comply with Habitat standards and guidelines as well as local building and zoning code requirements before a final decision is reached. The committee is typically able to give an answer within 30 days. Click here to email us for more information or to begin your real estate donation today.
---
Donate Your Professional Services
As we seek to build safe, decent, energy-efficient homes, we are always in need of construction-related donations in the following areas:
Surveyors
Excavators
Block Layers
Concrete Flatwork
Drywall Finishers
Insulation Contractors
Landscaping
Roofing Contractors
Carpet Installers
These specialties require licensed professionals:
All Habitat for Humanity for Humanity of Greater Dayton homes meet EnergyStar standards.
---
Workplace Campaigns and Company Matches 
Many local companies and employers encourage charitable giving in our community through annual giving campaigns, fund drives, and offering a matching gift program for employees. Ask your employer if there is a matching gift program available to you. Many employers will match tax-deductible charitable contributions made by their employees, retirees and employees' spouses. Additionally, many companies will match hours volunteered with an approved organization with a monetary gift.
---
Federal Employee Donations
If you are employed by the Federal Government and contribute to the CFC Campaign write Habitat for Humanity of Greater Dayton on your pledge card and use our CFC number: 83410
---