Program Update!
We are no longer accepting pre-qualifying families for the Homeownership Program at this time. Once we begin accepting applications again, this page will be updated. 
If you are a current Habitat homeowner who has a question or needs assistance, please call our Mortgage Manager at 937-586-0860 ex 114.
If you are in need of emergency housing please call the United Way HelpLink by dialing 211.
---
Everyone deserves a decent place to call home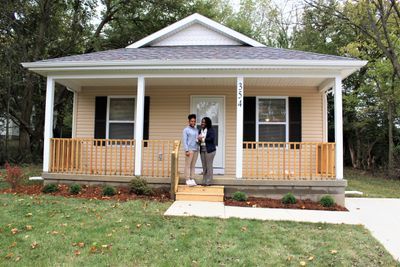 Habitat for Humanity of Greater Dayton believes that all hardworking individuals and families should have access to the benefits and stability of homeownership. We are committed to partnering with families to build simple, decent, and affordable homes with affordable mortgages.
---
Habitat is a partnership, not a charity
Habitat provides a hand-up, not a hand-out. By working with us from beginning to end, we can help prospective individuals prepare for the various responsibilities of homeownership, including learning about personal finances, mortgages, maintenance and upkeep of homes, and much more. Habitat's path to homeownership is an important and in-depth process, requiring hard work, time, and dedication all of which help to ensure the long-term success of Habitat homeowners.
---
our affordable mortgages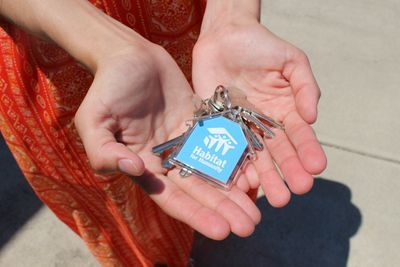 Habitat provides affordable mortgages to qualifying families.
What makes our mortgages affordable? A family's mortgage payment is never more than 30% of their monthly income and our homes are not sold for profit. Each family's affordable mortgage payment goes into our revolving fund to help future families. Habitat for Humanity of Greater Dayton is proud to count so many local families in it's ranks of homeowners. Their dedication and hard work allows us to do more for the community and local families.
---
homeowner selection
Every family that wishes to become a Habitat homeowner must submit an application and go through the homeowner selection process. Families must have need for adequate housing, must have the ability to pay a mortgage, and must be willing to partner. 
---
Are you ready to begin this journey with Habitat?
If you are ready to start your path to homeownership with Habitat, here are the next steps:
Call our Homeowner Services Department at 937-586-0860 to complete the pre-qualifying questionnaire over the phone. 
Attend an informational meeting (usually scheduled twice per year). You will be mailed a letter with the date and time of this meeting as well as a preliminary application. 
Applicants who are eligible to continue after the informational meeting will be asked to attend a second interview and provide more detailed financial information.
Our Homeowner Services Department will review your application and determine if you qualify for a home visit.
If you qualify for a home visit, one will be conducted to determine your housing need.
The Family Selection Committee reviews all information and determines if you are selected based on the three stated qualifications.
If selected, families are required to attend our Partner Family Orientation, receive their class schedule, and begin earning sweat equity hours.
Please mail completed questionnaires to:
Habitat for Humanity of Greater Dayton
Attn: Homeowner Services Department
115 West Riverview Avenue
Dayton, Ohio 45405
Habitat for Humanity of Greater Dayton does not discriminate against any person on the basis of race, ethnicity, age, religion, sex, gender, sexual orientation, gender identity, gender expression, national origin, physical or mental ability, genetic information, military status, marital status, medical condition, or any category identified by state or local government in their operations or delivery of service. All applicable federal and state laws regarding mortgage lending are followed.
---