Anyone can shop, everyone can donate
Our ReStore is a nonprofit home improvement store and donation center. ReStore is open to the public and provides a wide variety of products. You'll find items similar to what you may see in other home good stores, such as a brand new box of tile you've been needing for a DIY project or a vintage treasure you won't find anywhere else. 
The purpose of Habitat ReStores is to contribute to the work of Habitat for Humanity. When you support our ReStore by shopping, donating or volunteering, you are directly contributing to our mission to provide simple, decent, and affordable housing to local families in our homeownership program. 
---
Shop at our ReStore
The ReStore is the place to shop for new and gently used items at significantly reduced prices. While visiting our ReStore you'll likely find cabinets, furniture, appliances, paint and painting supplies, light fixtures, doors, windows, flooring, home decor, and more. Whatever you are looking for, be sure to shop our ReStore for great deals and to make a difference. 
---
We carry paint and paint supplies
We stock all 18 designer colors (even white) of GreenSheen Eco-Friendly Paint. Expert color blending using years of experience and a watchful eye on current trends allows GreenSheen to provide a superior product to even the discerning customer. Most colors are stocked in both single gallon and 5-gallon sizes.
Furniture

Appliances

Cabinets

Paint & Painting Supplies

Light Fixtures

Home Decor
---
Donate to the ReStore
Donating to our ReStore is a great way to get rid of your unwanted and gently used items while supporting a local nonprofit. Our ReStore depends on donated items from individuals, contractors, businesses, and anyone else who can contribute. Whether you have furniture, appliances, building materials, or a variety of other items you no longer need, consider making a donation to our ReStore. 
How do I donate smaller items I can transport?
Smaller donations may be dropped off at our ReStore Tuesday - Saturday, up to half an hour before the store closes. Our ReStore is closed Sunday and Monday. Simply pull up to our unloading station in our ReStore parking lot and our staff and volunteers will accept and process your donations. 
How do I donate larger items I cannot transport?
Our ReStore will pick up larger items like furniture, appliances, and cabinets free of charge. To schedule your donation pick up call 937-222-2296 or click the button below to sign up online. We do ask that all items be stored on the ground floor of your home or in a garage and that all appliances be disconnected for the safety of our staff and volunteers. 
---
Volunteer at the ReStore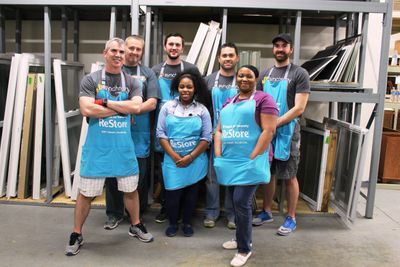 Our ReStore utilizes 8-10 volunteers per day Tuesday through Saturday. ReStore volunteers help our staff process donations, create displays, organize, clean, and help with any other necessary tasks. Volunteering at our ReStore is a great way to support our mission to build simple, decent, and affordable homes for local families. You can volunteer as an individual or as a group. Volunteering as a group is a great team building experience! Click here for more information about volunteering. 
---
COVID-19 Update
Changes have been put in place to protect our staff, customers, and donors. Our goal is to provide a safe experience for everyone. We thank you for your understanding and cooperation.
Customers
Our ReStore Rewards program is back in effect. If you have multiple partial cards, come on in and we will combine them for you.
While we have always had a generous return policy in the past, currently all sales are final. No returns will be accepted or processed until further notice.
Drop-Off Donors
Smaller items can be brought to our overhead door in the ReStore parking lot during business hours only.
Please ring bell on sign.
If you are experiencing symptoms of COVID-19 or have been exposed to the virus in the last 14 days please hold onto your donations until the recommended 14-day quarantine period has passed. Every item donated in sanitized but we need your help to minimize risk.
Pick-Up Services Donors
Our scheduler will ask a few screening questions regarding your health and travel before scheduling your Pick-Up Service. These questions will be asked with the safety of our drivers in mind, your answers will not be shared.
Our drivers will wear a face covering during donation pick-up.
Drivers will call before arriving at your location to confirm wellness and placement of donation.
If you are experiencing symptoms of COVID-19 or have been exposed to the virus in the last 14 days please hold onto your donations until the recommended 14-day quarantine period has passed. We are happy to reschedule your donation for a later date.
Please know that we are taking many steps to open safely and to stop the spread of COVID-19. Our employees are screened each day before entering the building, they will wear face coverings at all times, additional cleaning policies have been implemented, plastic guards have been installed, and hours have been reduced to allow more time for sanitizing the store and items. Thank you for supporting our ReStore- every dollar spent and donation made at ReStore helps provide safe and affordable housing to local families.