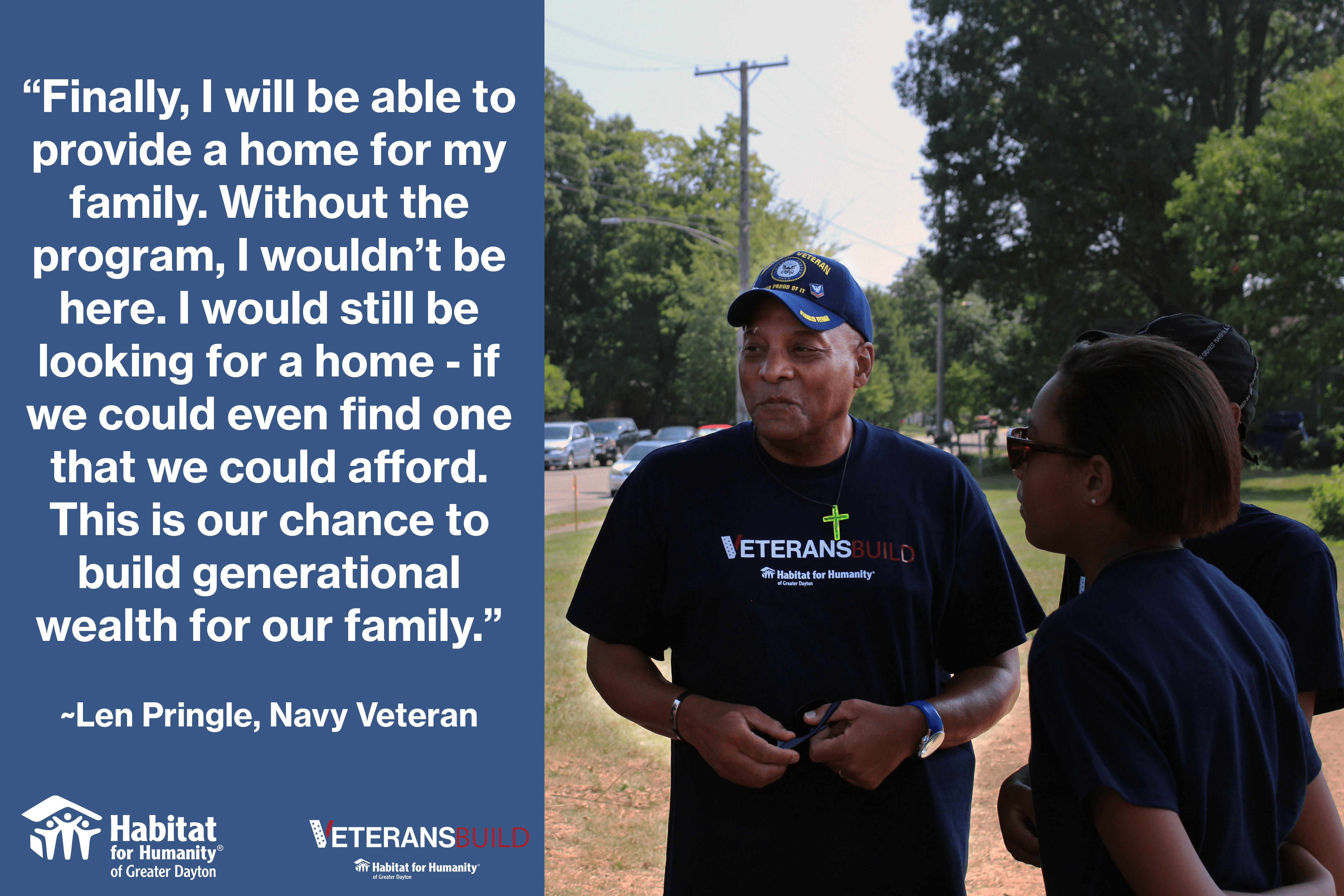 This week, as we honor our Veterans, Habitat for Humanity of Greater Dayton is reflecting on our work with local veterans in our community. This year we have been working on our first Veterans Build for local Vietnam Veteran Len Pringle and his family. With the help of amazing volunteers and community support, we are hoping to have the Pringle family in their home just in time for the holidays. The impact this project is having could not be summed up better than by Len himself, "Finally, I will be able to provide a home for my family. Without the program, I wouldn't be here. I would still be looking for a home - if we could even find one that we could afford. This is our chance to build generational wealth for our family."
Although Dayton Habitat has built over 400 homes in the last 40 years, another part of our mission is providing critical repairs to those in need. Our Veteran Critical Repair program, in particular, has grown this year. This program is designed to help veterans and their families stay in their homes by providing critical repairs that make their homes safe. One widow that was helped this year was Ms. Howard. After Dayton Habitat repaired the roof of her home, the family wanted to share their experience:
"In the heart of their challenging journey, Mrs. Howard, a devoted widow, found herself in the role of a caregiver to her beloved husband, an Army Vietnam veteran and Purple Heart recipient, who battled a myriad of health conditions. These were difficult times filled with declining health, countless surgeries, specialized appointments, and lengthy hospital stays. Through it all, Mrs. Howard remained unwavering in her dedication, standing by her veteran husband's side, providing a pillar of love and support until his final moments.
This couple's path was marked by immense sacrifices and hardships, the weight of which they carried together. However, as their struggles grew, they found themselves in need of assistance, and it was Habitat for Humanity that extended a much-needed helping hand. This remarkable organization, often described as a divine intervention, played a pivotal role, offering both support and guidance through the complex web of documentation processes.
What truly set Habitat for Humanity apart, however, was the compassionate and dedicated team that executed the crucial tasks. The operations team, in particular, proved to be a beacon of hope, responding promptly to address the needs with an exceptional level of expertise and care. Their commitment shone brightly as they navigated the intricate journey of securing a safe and stable home for Ms. Howard.
In a world where challenges can often seem insurmountable, the story of Ms. Howard and her late veteran husband stands as a testament to the power of love, resilience, and the invaluable support provided by organizations like Habitat for Humanity. It is a reminder that, in times of adversity, there are compassionate individuals and dedicated teams ready to make a difference and bring light into the lives of those in need. The Howards' journey is a heartfelt tribute to the enduring spirit of love and the unwavering commitment to honor those who have served our nation. Thank you Dayton Habitat for Humanity."
For more information on the Veteran Critical Repair Program, visit Critical Home Repairs for Dayton Region Veterans (daytonhabitat.org). If you would like to directly impact a local veteran, we encourage you to volunteer on our Veteran Build in New Carlisle. More information on this year's Veterans Build project can be found at DaytonHabitat.org/VeteransBuild.