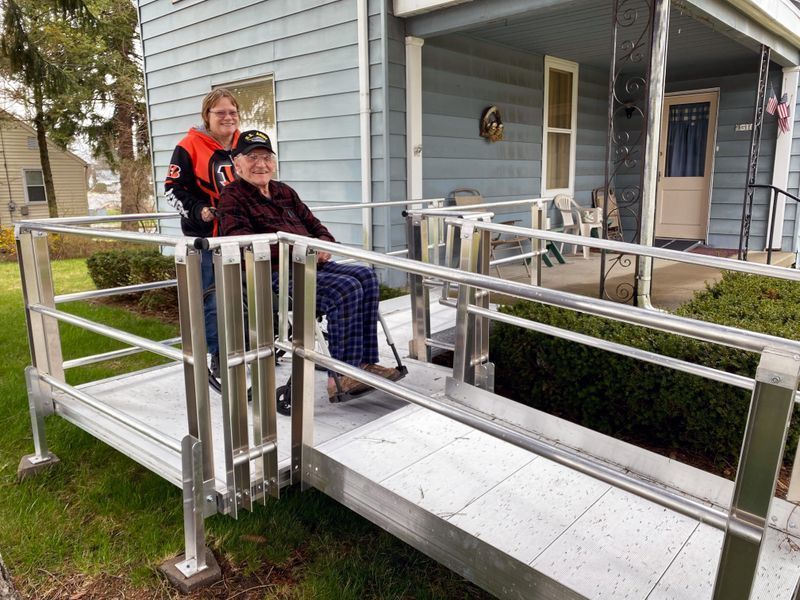 Critical Home Repairs for Veterans in Clark, Greene, and Montgomery Counties
Veterans have always honored our country through their service and sacrifice. Habitat for Humanity of Greater Dayton Does its best to honor our region's veterans by ensuring that their homes are safe for them to live in. Here are some examples that show our Veteran Critical Repair Program in action.
Gerald Childs Struggled to Get out of His Home for Years.
Back in 2013, at the age of 71, the Springfield Army veteran suddenly found himself using a wheelchair. He quickly realized that he needed a wheelchair ramp but, didn't have the money to have one build onto his home. Gerald got the help he needed when he happened to come across Dayton Habitat's website and discovered that we provide critical repairs to veterans, including wheelchair ramps.
Vietnam Vet, Larry Jackson Needed a new Roof.
Larry's roof was in bad shape. The roof repair was extensive and with the cost of wood these days, expensive as well. It needed 10 trusses and 21 sheets of OSB." I was a contractor 40 years and at one time could have done this for myself, but I have bad knees and a bad shoulder so I can't get up there (on a roof) anymore", said Larry. 
Are you a veteran in need of a critical home repair?
If you know of a vet in dire need of critical repairs that would allow them to safely live in their home, give Galen Curry a call at 937-965-7675.
Would like to support our Veteran Critical Repair Program?
If you'd like to support Dayton Habitat's Veteran Critical Repair Program by through either volunteering or making a financial gift or donation in kind, call Dave Mauch at 937-965-7677.