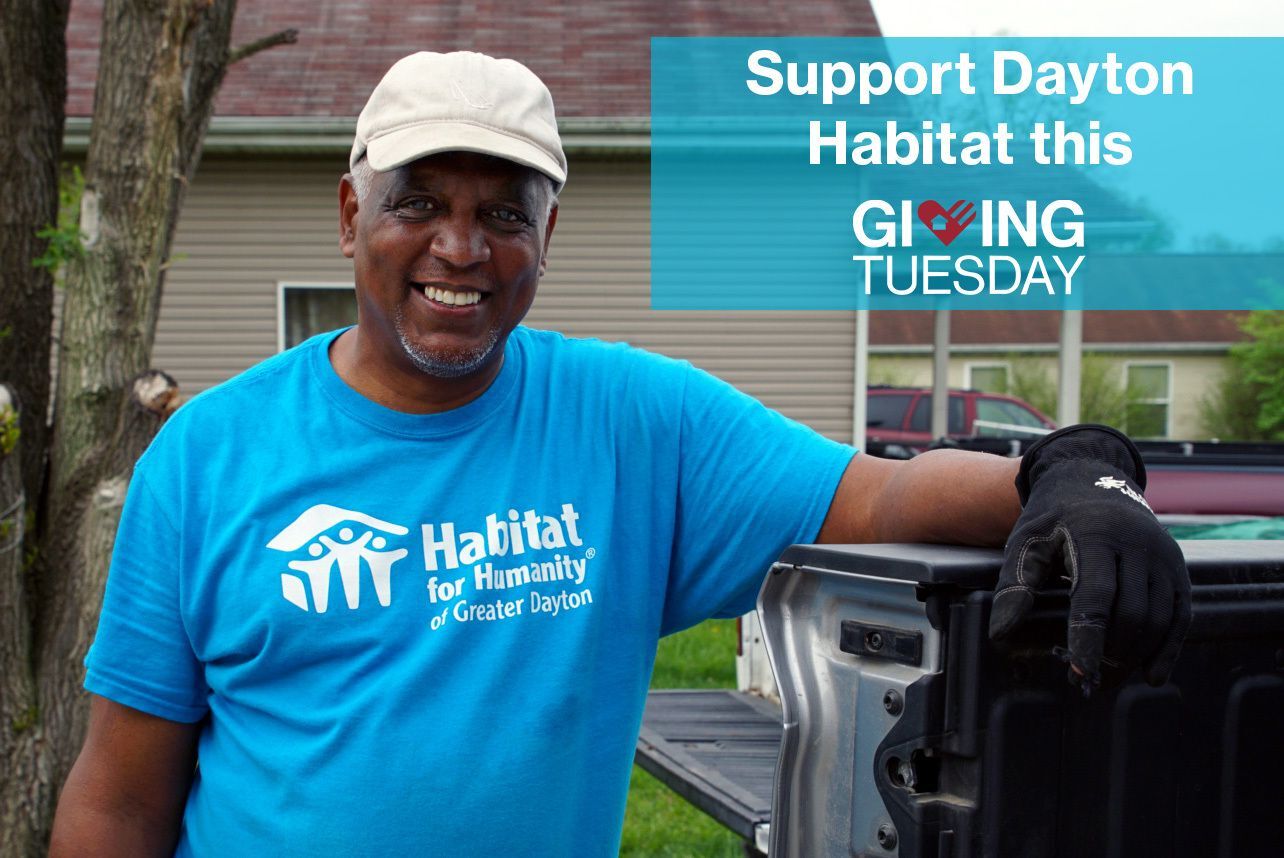 Giving Tuesday is a global campaign focused on generosity. The international movement started in 2012 and has grown to a yearlong push for reoccurring acts of kindness. On #GivingTuesday, individuals are challenged to make a positive impact on their community through donations, volunteerism, advocacy and random acts of kindness. Whether you make your contributions public by posting on social media with the hashtag #GivingTuesday or keep them private, Dayton Habitat is challenging their community to get involved with the movement!
There are several ways you can help your local community this upcoming Giving Tuesday through Habitat for Humanity of Greater Dayton.
Donate
On Tuesday, November 28th, Birchcreek Wealth Management will be matching up to $5,000 of donations received that day. That means when you donate, your donation will be DOUBLED! A $25 donation becomes a $50 donation, a $50 donation becomes a $100 donation, and so on. Those interested in donating can do so on the Giving Tuesday page.
Did you know that Dayton Habitat accepts in-kind donations? While most of Dayton Habitat's labor is provided by our fantastic volunteers, we are always in need of materials and skilled labor. If you or someone you know could contribute in this way, Dayton Habitat wants to hear from you on #GivingTuesday! For more information on gift in-kind donations, check out this blog post: https://daytonhabitat.org/news-events/newsroom_archives.html/article/2023/09/26/help-dayton-habitat-by-giving-a-gift-in-kind
Volunteer
Dayton Habitat is always looking for volunteers. Volunteering with Dayton Habitat is easy, and no special skills are required! Whether it is volunteering at one of the ReStores or on a build site, Dayton Habitat has something for you to do. Volunteers are especially needed during these upcoming months! Don't let the weather scare you away! Indoor volunteer opportunities are available! Check out DaytonHabitat.Org/Volunteer for more information!
Advocate
If you love Dayton Habitat's mission and what they do for YOUR local community, talk about it! Follow Dayton Habitat on Facebook, Instagram, and LinkedIn to get regular updates on the impact they are having. When you see something that strikes you as exciting, shocking, or impactful, share it with your friends/network! The more people who know about Dayton Habitat's mission, the more people they can help! So spread the word!
Shop or Donate to the ReStore
All donations and profits collected at Dayton Habitat's two ReStore locations stay local. Donations made to the ReStore are resold at discounted prices, and the profits from these purchases go to fund Dayton Habitat's mission! Whether you are shopping or donating, supporting the Dayton and Springfield ReStores helps Habitat for Humanity of Greater Dayton impact more families.
For more information on Dayton Habitat's mission and how you can support them on #GivingTuesday, go to DaytonHabitat.Org today!