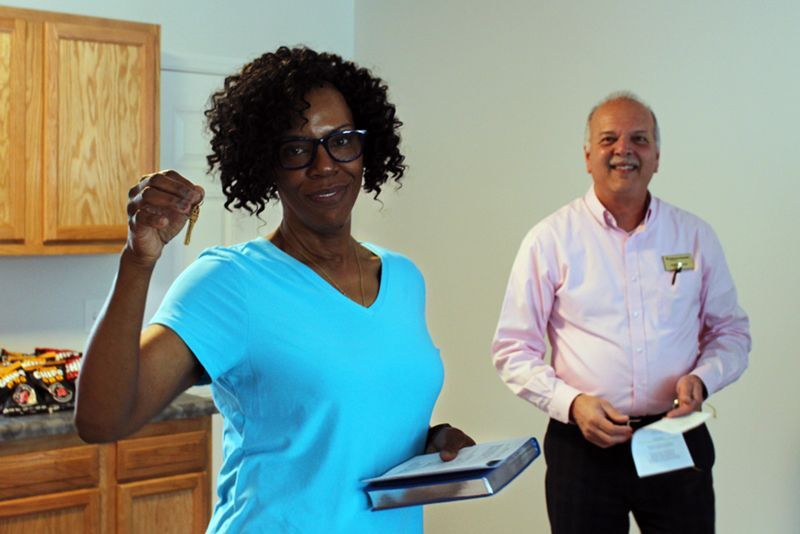 A popular misconception is that Habitat for Humanity of Greater Dayton gives away new homes. Nothing could be further from the truth. We are not the local version of the popular TV show "Extreme Home Makeover." We give a hand up, not a handout. Only the diligent, hard-working, and patient partner families that start our application process have the keys placed in their hands as new homeowners on their home dedication day.
A perfect example of this is our newest homeowner, Gail Stewart. She took ownership of her Habitat home in Trotwood on July 21 despite the up-and-down journey she had to take to get there. Tears of thankfulness and joy flowed as she reflected on her path to home ownership.
"The journey started hard and stayed hard," said Gail, who had originally applied and was approved for our home ownership program in 2019. "I had to stay strong for a long time."
Gail got choked up as she told a crowd of family, friends, and Habitat supporters at her home dedication ceremony about how Habitat staff members refused to give up on her when she faced her toughest challenges.
"They gave me an opportunity to work my way back," she said. "They did not give up on me. There were times when I didn't think I would make it."
In fact, it still didn't seem real even though she stood holding tightly on to the keys to her new three-bedroom, energy efficient home.
"It hasn't really hit me yet," Gail said. "I think when I am able to get my stuff out of storage and get it here, then it will feel like home.
"The last three months have definitely been a test of my faith," she continued. "I had to get a second job and rearrange things in my life to get to where I am in my life. I learned how to persevere and not give up. There were times when I wondered if I could make it. But God kept me going. He was there for me every step of the way."
Habitat Executive Director Norm Miozzi admired Gail for her diligence.
"This is something that she has been working for for a long time," he said. "There was a lot of hard work and perseverance. She earned this opportunity. Gail, you said "I'm going to make this happen,' and you did!"
"We don't give any homes away," added Habitat Development Director Dave Mauch. "But what we do give away is opportunity. And today, Gail has claimed the opportunity."
This opportunity would never have come about without the support of loyal Habitat stakeholders like the Heron Foundation, which is the charitable arm of Fuyao Glass America. As the lead sponsor of this project, Heron and Fuyao provided significant funding and volunteers.
"Our goal is to be part of the community and help its citizens in meaningful ways," said Athena Hou, who along with co-worker Lei Shi represented Heron/Fuyao at the dedication ceremony. "We are thankful to be able to help. We have worked many years together with Habitat and look forward to working together in the future."