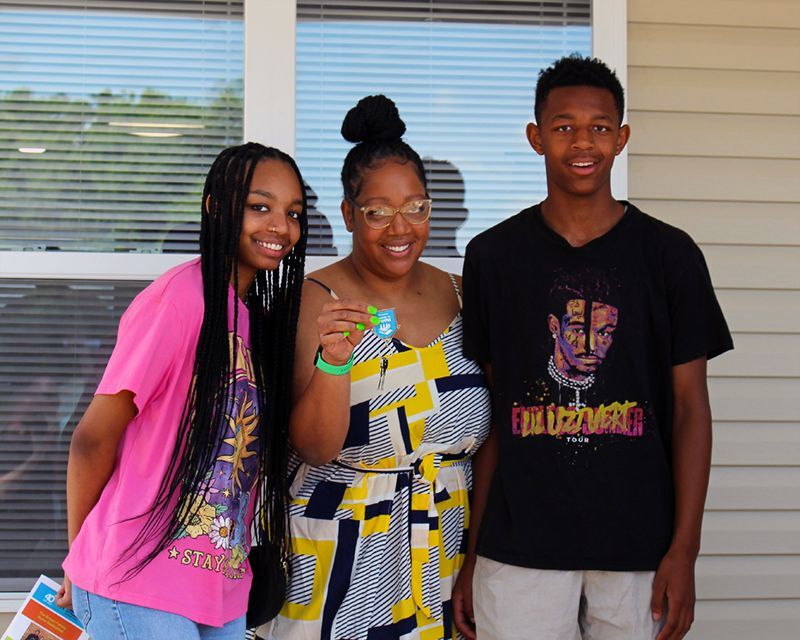 The benefits of owning a new home and the brighter future of the new homeowner are celebrated at every Habitat for Humanity of Greater Dayton home dedication. Another effect that is just as important, but rarely highlighted is the benefits that the Habitat home brings to the community.
Both impacts, as well as a historical first, were cheered and welcomed by a crowd of about 40 family, friends, and supporters at the dedication ceremony for the first Habitat home built in Vandalia. Tiffany, a single mother of four, became a first-time owner after a four-year journey of hard work and diligence.
Vandalia Assistant City Manager Amber Holloway said that celebrating Tiffany's new home and the city's first-time partnership were visible on this big day, "but what you don't see is that this lot was formerly the site of an abandoned, dilapidated property. We worked with the land bank through the demolition and then donated the lot to Habitat, which then built this beautiful new home. It shows the power of community action and partnerships."
Another highlight of the ceremony was when Tiffany accepted the keys to her new home from avid Habitat supporter and recently retired U.S. Senator Rob Portman. He also gifted Tiffany and her family with an authentic U.S. flag that had been flown over our nation's capital.
"I think Habitat is the prefect combination of affordable housing solutions and the empowerment of the individual to control their own future," said Portman, who volunteered to help build Tiffany's home. "It gives them a sense of ownership, of something they worked hard to have."
"I like using my hands to make a difference," he continued. "There are so many older individuals who feel they don't have anything to give. But in reality, many of Habitat's volunteers are older adults who are retired and have learned that they can still make a big impact with their skills."
Portman volunteers with Habitat annually on or around his birthday. Dayton Habitat Development Director, Dave Mauch, half-jokingly called Portman "Ohio's Jimmy Carter" during the ceremony due to his diligent support through the years.
Dave also pointed out that Habitat's impact goes way beyond a single home and family added to a community. Since Habitat carries a zero-interest mortgage for all its homeowners so that they'll be able to afford the monthly payments. The money Tiffany will save by not having to pay interest will be spent back into the economy of her new city. All these blessings were not lost on Tiffany.
"This is amazing, so unreal," she said. "Thank you to everyone for all the support, prayers, and calls. I feel so blessed."
She also shared about how she told her children when they were young that they would have their own house someday. "I told them, 'It's going to happen.' "
Indeed, it has … thanks to the community of faithful local Habitat supporters: businesses, civic leaders, churches and volunteers.
To find out how to benefit from, not only Habitat's low-income homeownership program, but also its critical repairs program, or to donate to, or volunteer for our mission, go to daytonhabitat.org or call 937-586-0860.