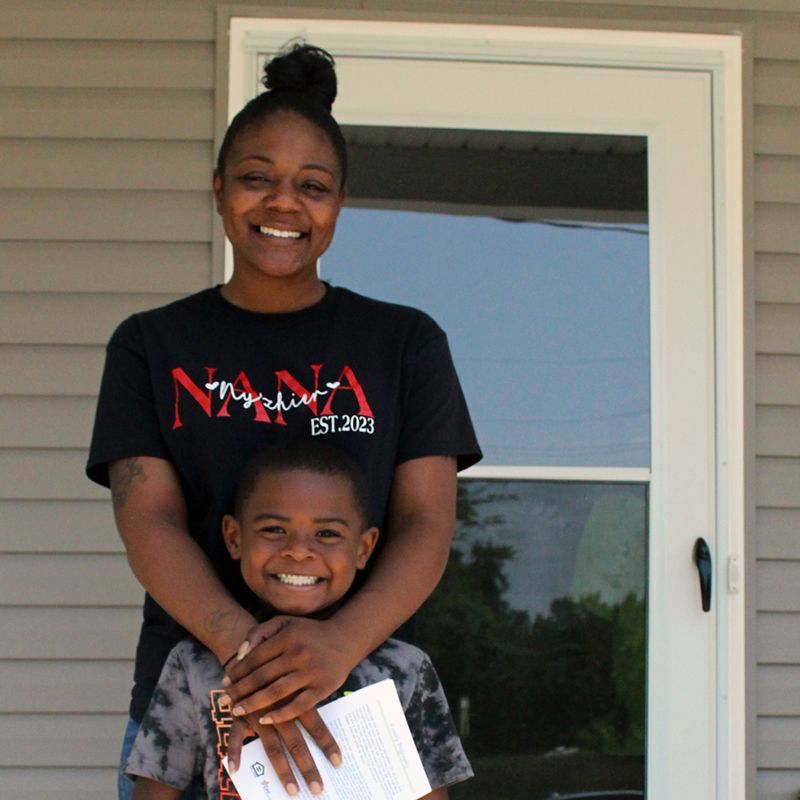 Katara's children used to play on the lot next to her aunt's house on West Perrin Avenue in Springfield. Now her family will live there, in their brand-new home built by and purchased through Habitat for Humanity of Greater Dayton.
The hard-working single mother of four received the keys to her new home recently, during a home dedication ceremony that brought together about 30 community, business and church leaders, and Habitat supporters who had gathered to celebrate her accomplishment. They also were there to support Habitat's mission of showing God's love by bringing people together to build homes, community, and hope.
Katara was quick to explain how she felt this all came about: "It's a God thing."
To her, there could be no other explanation. Her grandma passed away just weeks before she was able to select the lot on which her new home would be built. At that point, she didn't know the lot next door to her aunt was a Habitat lot. Did grandma pull some strings for them up in heaven? And to top it all off, this was a Faith Build project. For the third straight year, nationwide faith-based financial services giant Thrivent was the title sponsor of this Faith Build project.
"It was a long journey, but very worth it," Katara said. "It was educational and warm. I met so many people in the community in the same situation or something similar that would love to have had this opportunity. And some of the things I saw I was able to teach to my kids.
"We sacrificed so much to be in the program," she continued. "It took a lot of time, which is hard when you have active kids. All of my kids are in sports (like she was when she was in school), so we had to make time for me to do the program. My mom and daughters really stepped up to take care of the kids' games while I volunteered here on Saturdays. So we did it together."
Katara admitted that it wasn't easy: "There was a point when I was ready to give up. But Miss Marsha (Martin, Habitat's Homeowner Services Manager) and my mom said, 'No you don't. That's when you got to really step up.'"
She's glad she listened to them instead of her tired body.
"It was a level up for me; a mental and physical level up for me," she said. "I learned something along the way."
That investment will pay big dividends for Katara, according to Greater Dayton Habitat Development Director Dave Mauch.
"Over the 20 to 30 years of the mortgage, since there is no interest charged, that will save Katara between $200,000 and $300,000," he said. "That puts money back into her pocket to do what she can to help raise her kids. We don't give away homes; our families earn their homes. But we do give them opportunities to succeed in a big way."
Kelly Wood, Katara's mom, just hung back out of the ceremony's spotlight and watched as her daughter's dream of home ownership came true.
"I'm extremely proud of her," Kelly said. "I thought she would (have her own home someday). She was an extraordinary child. She's determined. Everything she puts her mind to, she does it."
Add that determination to the tireless drive of a devoted, hard-working mother, and you can see why Katara reached this goal.
"I want to work hard enough so that my daughters, who have seen me struggle through all of this, won't have to work as hard as I did," she said. "They watched me get through this. So, they know that they can get through hard things, too."
To find out how to benefit from not only Habitat's low-income homeownership program but also its critical repairs program or to support or volunteer with Habitat, go to daytonhabitat.org or call 937-586-0860.