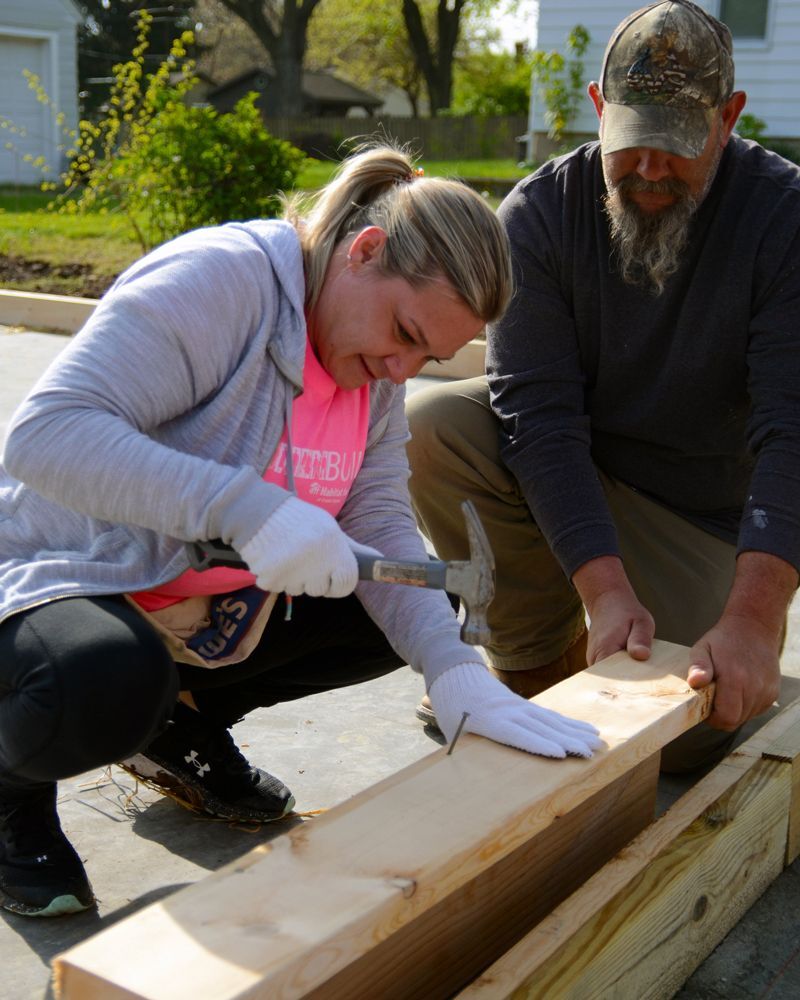 "I was born for this!"
That's what excited first-time volunteer and member of Habitat for Humanity of Greater Dayton's rebranded Women's Build Committee Shannon Leo said as she soaked in the atmosphere at the recent kickoff ceremony for the rebranded 2023 Women's Build Program. A host of volunteers gathered in Kettering to start driving nails and putting up wall panels at the site of side-by-side Habitat homes. In 4-6 months, single moms Kasandra and Olive will be moving their families into these new houses.
"There's something to be said for women standing up for other strong women," said Shannon, who brought four family members along to help. "To build each other up to do much more than they thought they could. There's just something about a community of women coming together to achieve something like this."
Shannon is a real estate agent, specializing in helping first-time home buyers. She also works with her husband Scott to flip houses. "But I'm usually not on this side of the business," she said with a laugh as she surveyed the work sites with a hammer in her hand. She can also identify with not having a safe and stable place to live, going through a period of homelessness as a senior in high school. She got a little taste of Habitat volunteerism then, and now the passion is full-blown. That's another reason the Habitat mission, and specifically it's Women's Build Program, hits close to the heart.
"There's a sense of empowerment and accomplishment here," she said. "They put in a lot of work, and they deserve this. I want them to have a sense of pride and accomplishment. I'm glad to be a small part of this. We're all small parts of a bigger thing happening here."
That's what spurred this latest rebrand of Dayton Habitat's women's build efforts, which have been a part of our affiliate in some form for about a quarter century.
"It has been awesome being part of a group like this," said Elizabeth Breitenstein, Market President at Fischer Homes and the 2023 Women's Build Committee Chair. "It has been so much fun getting women around Dayton involved. These women care so much about these builds, and I am so excited to be a part of something like this."
So is Dayton Habitat Development Director Dave Mauch.
"I think back a year ago, and though we've had many women's builds in the past, it recently hasn't been real cohesive," he said. "When you see it now, it's been amazing to watch come to be. That's a team coming together!"
The timing was perfect for another long-time Dayton Habitat volunteer, Penni Morris. She has volunteered for over a decade, the most recent nine years on the Habitat board, most recently as board chair.
"At first, I volunteered every Friday in the ReStore and got to know how things were run," she said. "I was board president and had one year left in my term and I started panicking. I just grew so passionate about Habitat, I didn't want to lose that connection. I was looking for a way to remain a part of Habitat, then I saw how the Women's Build program was being rebranding and said, 'That's it, that's where I want to be.' "
Why?
"Because it is an awesome group, and I know what these women can get done," she said. "I've loved my time with Habitat, and that's the biggest thing. I'm thankful to find a place to land and remain a part of something greater than me."
The recipients of all this community unity, the two single mothers who were on hand to be a part of the ceremony and work on their homes, wore the biggest of many smiles on this brisk spring morning.
When Kasandra was 15, her mom became a Habitat homeowner. She lived there off-and-on for 22 years, including the first years of her special needs daughter's life. She's so excited about becoming a second-generation Habitat homeowner that she finished her 275 hours of "sweat equity" volunteerism required of all Habitat homeowners in just 1½ years and is now volunteering hours to donate to another future Habitat homeowner who has fallen on hard times and hasn't been able to volunteer much.
"I just feel so overwhelmed and blessed," she said. "When I had some challenges and was homeless, I promised myself I wouldn't let my daughter be in that situation again. I knew it would be hard to find a job that would still let me take care of my daughter, but I did in childcare. Now it's my passion. I feel so blessed.
"I want my family to always have a place to go," she continued. "I want to grow old in my home and be here for the rest of my time."
Added her soon to be next-door neighbor Olive: "I am so happy having a home for me and my boys. Habitat is not just a builder, not just a helper, but good friends."
Marsha Martin, Habitat's Homeowner Services Program Manager, was thrilled for both women: "We couldn't have picked better, stronger women to be a part of something like this. Now they are going to be neighbors. They are so excited."
If you are interested in volunteering or supporting the Women's Build Program in other ways, visit daytonhabitat.org or call Tabitha at 937.965.7670.