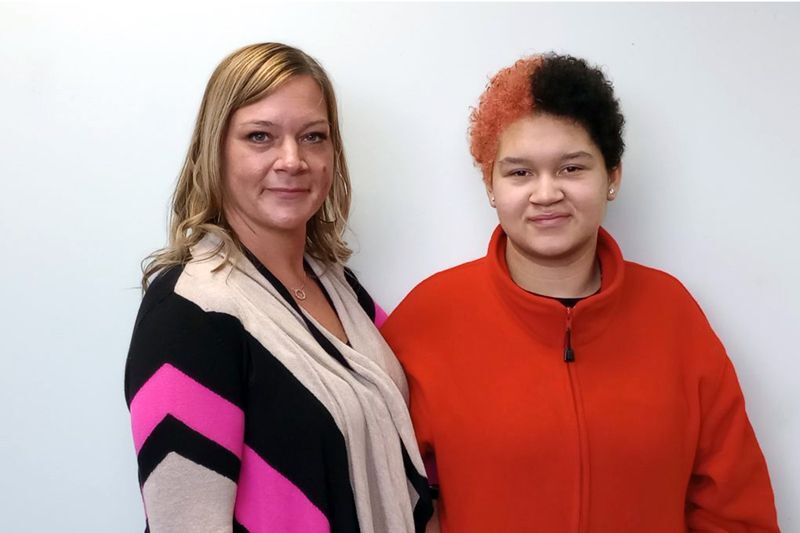 During 2023, Habitat for Humanity will be building two Women Build homes side by side. We think it's time that you got to meet the first family, Kassandra and her daughter Aa'sjayla.
Kasandra is no stranger to the benefits of owning a Habitat for Humanity of Greater Dayton home. For 22 years, she grew up in one that her mom owned. Some of her best memories are of holidays and family events in that home. Her mom had an open-door policy, one that she would like in her own home. She was able to see how successful her mom was during that time, and she formed her own dreams of homeownership early on.
When she became a parent, Kasandra wanted her daughter, Aa'sjayla to have the same benefits that she had growing up. Although Kasandra's mom set an example for her, owning her own home was hard for her to imagine. The realities of being a single mom to a 12-year-old daughter were so hard to overcome. For instance, Kasandra needed to go back and earn her high school diploma (a testament to her willingness to put in hard work.) Aa'sjayla had been diagnosed with ADHD and other social development issues since she was 4, which added to Kassandra's challenges.
Kasandra knew that if she was ever going to own her own home, she needed to call Habitat for Humanity. The single mom contacted Habitat in September of 2021 and was soon accepted into the program. Kasandra works hard as a pre-school teacher and finds that Dayton Habitat's Homebuyer Program's sweat equity requirements match her work ethic perfectly. She has been working as a volunteer in the Dayton ReStore since February of 2022 and can't wait to get started building her own home later this year. Kasandra says she also liked the financial classes that she attended while in the homeownership program. Kasandra likes that Habitat gives so much to the community and she can use her sweat equity hours to give back through her volunteer time.
What is the family looking forward to in their new Habitat home? Aa'sjayla wants a quiet space to play her cello, read her books, and practice drawing and painting. Music, reading, art, and anything to do with space are her favorite activities. What about Kasandra? Primarily a safe place to call home for she and her daughter. Kasandra is an outdoor girl and is really looking forward to having a backyard to host gatherings with a BBQ and other activities. To her, it is all about building family memories.