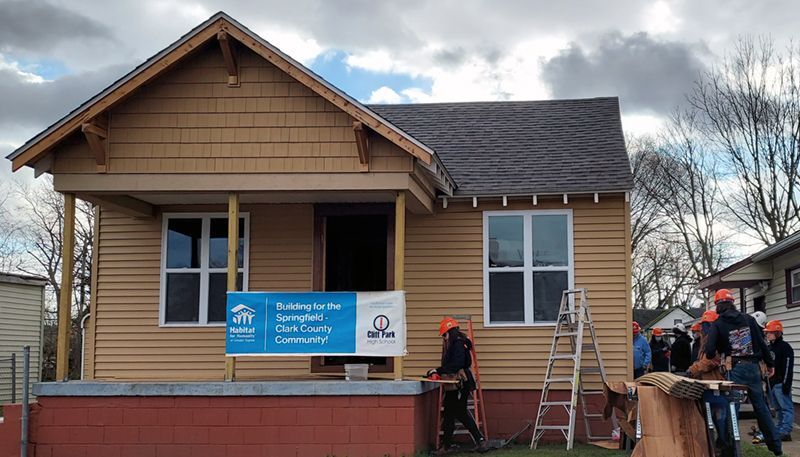 The phrase "it takes a village" doesn't apply to just raising children. Habitat for Humanity of Greater Dayton applies this principal to every new house it raises and every critical repair it makes. This mantra was proudly on display at the affiliate's first Clark County open house celebration on January 13, attended by many government officials and community stakeholders.
They were on hand along with more than 20 others to celebrate the first home building project in Clark County completed by the tri-county Greater Dayton Habitat affiliate. The home will be purchased by Michael and Andrea Carter of Springfield.
One of the leading partners of the project was Cliff Park High School. "Most exciting for us was the opportunity to have Matt and the students be a part of this," said Greater Dayton Habitat Executive Director Norm Miozzi. "And we're so thankful for all our community partners. Here with us today are churches, neighbors, representatives from the City of Springfield, from Clark County; all of them have had a big hand in making this day happen."
Miozzi was referring to Dirk Lackovich-Van Gorp, Project Coordinator for the Clark County Land Bank, which made the land and existing structure available for the project, and Jeremy Leist of the city's code enforcement department.
Vince Chase, one of the co-founders of the original Habitat affiliate in Clark County in 1990 and still integrally involved as a board member of the tri-county Greater Dayton Habitat, seconded Miozzi's feelings.
"It takes community to make things like this happen," said Vince, adding that other local contributors included the Craybill Foundation, Ohio Edison and Tony Smith, who helped with the demolition part of the project. "As we move forward, we want to see more of these opportunities become reality."
That community starts with the partnership that got this house remodeled … and half of it totally rebuilt. Students from the construction education track at Cliff Park High School in Springfield and their instructor, Matt Bandy, did a good portion of the work on the remodeling project.
"I thought it turned out amazing," Matt said. "It couldn't have gone better from my standpoint. How can this not be a win-win? Training kids in a vocation they can make a good living doing and giving back to the community. It's amazing on all levels."
It wasn't an easy project, Matt said. The back part of the house was not repairable and had to be completely demolished and rebuilt from the ground up.
"The problems made it a better project for the kids," he said. "It gave the kids an opportunity to do some framing and roofing. We had to completely move the staircase into the basement. We eliminated the original upstairs. We put in 18 inches of insulation. We were able to build the doors and cabinets in our school workshop. They got to do so many things, and experience is the best teacher."
"We'd love to continue to do these," Matt said. "I don't see a better path."
Pastor Katie Peterson-Madden of Knob Prairie United Church of Christ in Enon says it's the kind of unified effort that churches can align their ministry with.
"It's a wonderful example of community," she said. "This is what happens when a community comes together to reach a common goal. It shows the power of love and family. It is a beacon of light in this community.
"Churches being involved is vital," she continued. "This is reaching outside the walls and into the community and doing God's work. There are so many ways within Habitat that churches can make a direct impact, and one everyone can see. As a pastor, it's good to know there's something like this, and that it's easily available to the church."
If you'd like to find out more about donating or volunteering or your church wants to become a Habitat Faith Family member, go to daytonhabitat.org or call (937) 605-5086.