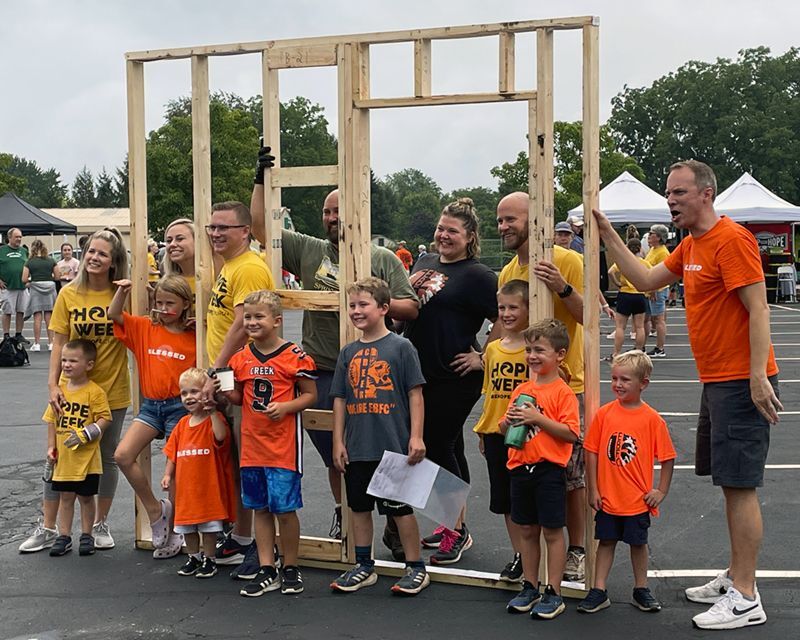 Be Hope Church's experience during last year's partnership with Habitat for Humanity of Greater Dayton on one of its signature panel build events was so positive, the community-minded church decided to do it again this year.
Be Hope held a panel build event Aug. 5-6 in its parking lot in Beavercreek as the closing event to its annual "Be Hope Week."
A panel build is a two-day event when an army of volunteers comes together and builds the walls for a future Habitat home in their parking lot, then ships them either to a building site or into storage. CrossRoads Missions has been working with Habitat for decades in Ohio and nationwide, coordinating and supervising these panel builds.
"It was a great way to involve a whole lot of people and we really loved Habitat and loved to be able to follow through in the end and see the house when it was built and get to know the family," said Slone. "That was important to us. We were happy to do it again."
Slone said the partnership on the project perfectly fits her church's DNA.
"One of our core values is we serve our community," she said. "It's just one of the things we focus on and talk about a lot. This is the end of Hope Week, and we can celebrate by building the walls for a house."
Be Hope donated $15,000 to cover the cost of materials for the walls and recruited 200 volunteers to build the wall panels. This was Be Hope's third panel build, with its first being held eight years ago.
If your church, business, school, or other organization is interested in doing a future panel build, call Dave Mauch at (937) 586-0860. If you'd like to volunteer for Habitat in other ways, contact Krissy Day at the same number.