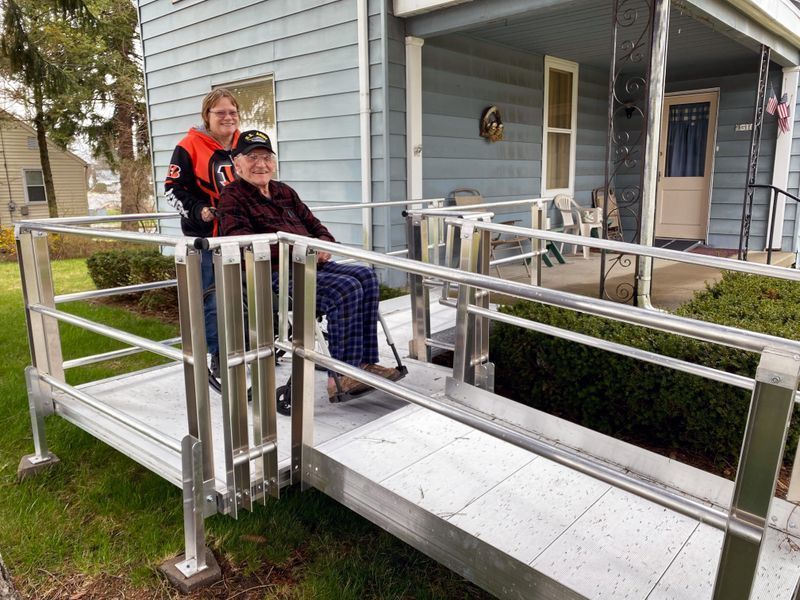 Springfield veteran Gerald Childs has been a driver his whole life. He went from driving tanks in the Army to driving trucks for a living as a civilian, to driving motorcycles as a hobby. Never did he think that he'd be driving a wheelchair.
But in 2013, at the age of 71, he resigned himself to driving the latter when he could no longer walk on his own. As a result, he's needed a wheelchair ramp at his Springfield home of 22 years ever since. His need has now been met by Habitat for Humanity of Greater Dayton. Dayton Habitat's growing critical repair program now includes installing wheelchair ramps for struggling low-income veterans, and Childs is thankful that we are. He now has a new aluminum wheelchair ramp, installed by Med-Mart, that allows him to get from his elevated porch to his driveway with ease.
"Oh Lord, it's the greatest thing you could ask for. No doubt if you could see what we go through to get me in and out of here, you'd understand," said Childs, now 79. "The mobility it gives me is absolutely the best thing someone could do for me."
Childs, who was a staff sergeant and tank gunnery trainer at Fort Knox, KY, during his six years of enlisted duty also spent seven years on the reserves. The veteran found the help he needed when he happened to run into our Habitat website.
"I always thought Habitat was just about building homes," he said. "I saw things about Jimmy Carter helping build houses and that was it. But I thought, 'It can't hurt to ask.' It is excellent what you do for folks. I will always do what I can to educate people about Habitat."
Providing ramps is another way to serve our underserved elderly and disabled neighbors. "We are just starting to build and install ramps," said Habitat Neighborhood Repair Specialist Galen Curry. "It's another way to allow folks to age in place. It gives them back their mobility. One lady was telling us that she was thinking, 'What happens if there is a fire? How would I get out of here? I don't want to die in here.' So, we are talking safety here. And we're also talking security with them being able to stay in the comfort of their own home. It is a tremendous gift to give someone."
If you'd like to provide funding to help someone get a much-needed wheelchair ramp installed at their home or are able to provide the labor to install one, give Galen Curry a call at (937) 965-7675