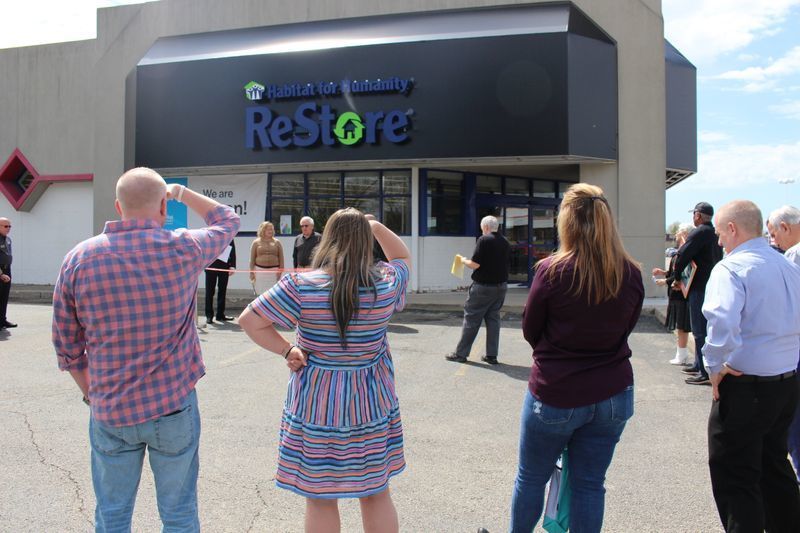 It was a long time coming, but it was well worth the wait.
The second area Habitat for Humanity of Greater Dayton ReStore in Springfield held its grand opening ceremony on Friday, the end result of a planned project whose beginnings trace back over seven years.
"It has been a long journey, but to see this now is just fantastic," said Dayton Habitat's Executive Director, Norm Miozzi. "This is a big day for us. Not only do we have a second ReStore, we also have a wonderful new partnership with the people of Springfield and Clark County. I feel proud to be a part of this day. Every dollar made at this store will help us to address the affordable housing needs in this community. With affordable housing being challenged like it has lately due to higher prices, the Springfield ReStore will have a direct impact on our mission."
The New ReStore will also act as Dayton Habitat's front porch to the Springfield community as it pursues its mission of putting God's love in action by bringing people together to build homes, communities and hope. This is done through making hard-working, low-income residents homeowners of new or remodeled homes and helping the community's elderly population "age in place" by providing expensive critical repairs to their homes that they could not afford on their own. If you'd like to donate to the ReStore, call us at 937-222-2296.
"I can feel and see the mission here in the store," said Maplewood Church of the Nazarene Associate Pastor Ed Klett, who was on hand for the celebration. "It's nice and clean-looking and organized. Some places that sell used items just cluster everything together. But here, it is displayed so well. I really hope it does well and I will be praying for its success."
The store's grand opening celebration continued Saturday at its location, 2990 Derr Rd. The store hosted a food truck rally featuring Young's Dairy, Rudy's Smokehouse and Thai1On.
Long-time board member Vince Chase couldn't help but stroll down memory lane as he considered the history of Habitat's affordable housing mission in Clark County.
"I was one of about 20 people who met at First Lutheran Church and formulated a plan to have an affordable housing ministry through Habitat in the county," said Chase. "It took a year to get it going, but we've built over 60 houses and had a ReStore for about 12 years, then a Reuse Store for about five more years under Fuller Center for Housing. It's nice to come full circle by rejoining Habitat and giving us a lot more leverage and opportunities to build more houses and make more critical repairs. To give us a chance to do something like this."
Several folks connected to the new Springfield ReStore and the Habitat mission called the work it took to get the store open "a labor of love," despite the slowing of the process caused by the pandemic.
"I look at the clock and it's noontime, and that's usually when we at Habitat hold home dedications for our new homeowners, so it is fitting that we are dedicating our new home today at noon," said Habitat ReStore Director Phil Kloos, who manages the Dayton ReStore on 115 W. Riverview Ave. and oversaw the start-up of the Springfield ReStore. "We wish them peace and success in their new house, and we are hoping for the same things in our new house."
The next exciting Habitat event in Springfield will be the kickoff of the combined tri-county affiliate's first new home build next month in south Springfield. If you are interested in helping, either by financial or in-kind donations or by volunteering, give us a call at (937) 325-2514.