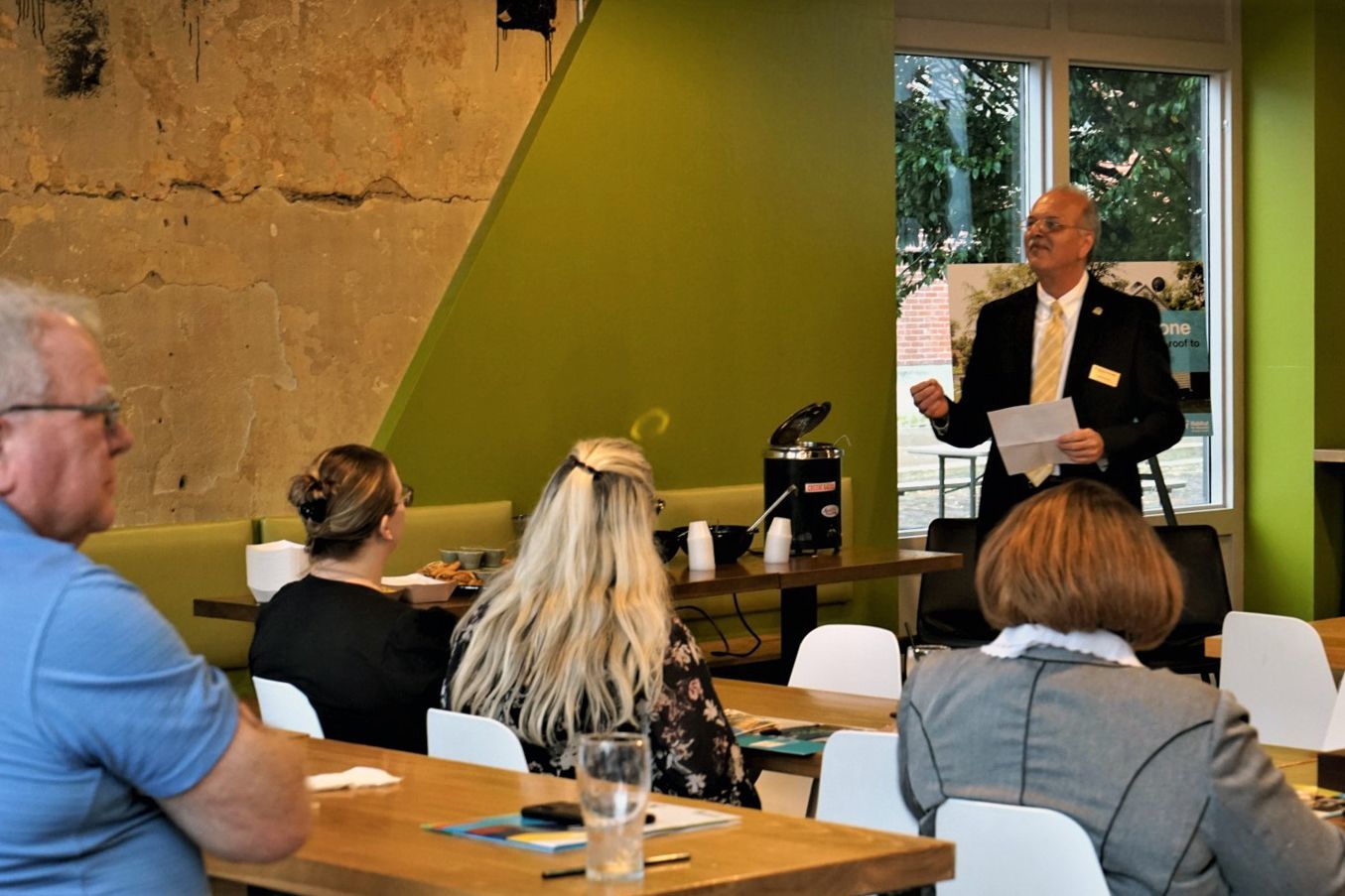 It's official. Those are the buzzwords when it comes to Habitat for Humanity of Greater Dayton's new and growing presence in Springfield and Clark County.
Habitat held an official launch party Sept. 21 at COHatch in downtown Springfield and ended it with the announcement that it had signed a lease for a prime location for its new ReStore location at the former Rite Aid store at 2990 Derr Road in the Northland Plaza Shopping Center. The goal is to have the store open before the end of 2021.
"It will be about 90 days till it opens, if things go well," said Phil Koos, the manager of the Dayton ReStore who will be heading up the opening of the Springfield store.
The Habitat ReStore is a nonprofit home improvement store and donation center that repurposes donated new and gently used building materials, furniture, appliances and other household items and offers them for public sale at significantly reduced prices. All profits go to Habitat's mission of providing and maintaining affordable housing for low-income county residents, so shopping at and donating to the ReStore helps build Springfield and Clark County. You can schedule a donation pickup at daytonhabitat.org or call (937) 222-2296.
"We build two new houses per year for families with the funds that we generate at our Dayton store," said Phil of our ReStore located at 115 W. Riverview Ave. "With your cooperation, we will be building homes in Springfield soon from this new store's profits as well."
Habitat has been busy firmly planting its footprint in Clark County since its acquisition of another local affordable housing organization on Feb. 15. It is currently partnering with Cliff Park High School and its construction education tract students to rehab a home purchased from the Clark County Land Reutilization Corporation in south Springfield. It has also completed several critical repairs for local senior citizens and has more on tap.
"Our mission is to provide 'safe, warm and dry,'" said Norm of the addition of a critical repairs ministry to our flagship home ownership program.
"One thing I don't think is very transparent is what a vacant home costs a city," Norm continued. "It costs between $15,000-$20,000 to tear down one vacant home, plus the cost of code enforcement and administration staff time. If you can help someone stay in their home for a lot less than that, it is a big win for everyone involved."
The winds of partnership are definitely blowing in Springfield. Habitat recently partnered with Neighborhood Housing Partnership of Greater Springfield on a new roof for a senior homeowner, which had been referred by a city official.
"The opportunity to collaborate with other partners in the community is awesome," said Habitat Director of Clark County Operations Brian Ray. "We can get more done together than what we can do separately."
Jeremy Leist, Community Development Coordinator for the City of Springfield, is all-in for working with Habitat. The city and our affiliate are exploring the possibility of a joint critical repair program, focusing on roofs and gutters but including other repairs.
"Having Habitat in the city has been an absolute godsend for us," said Jeremy. "Before, we in code enforcement were always the bad guys. With Habitat, we now have some resources to be able to help some people take care of their homes. Every day, I'm advocating for Habitat. We're going to make Springfield and Clark County better!"
One reason partnering with Habitat gets more done is our connections within our donor base.
"We can create leverage," said Dave Mauch, Habitat's Development Director. "When I get $1 from the city, I can turn it into $5 thanks to our generous supporters and volunteers. We put all of that together and go out and help people."
Habitat also announced it will be building its first new home in early 2022 on West Perrin Avenue in partnership with Thrivent. You can help by supporting our mission by volunteering, shopping at our ReStore, or donating to Habitat for Humanity of Greater Dayton.