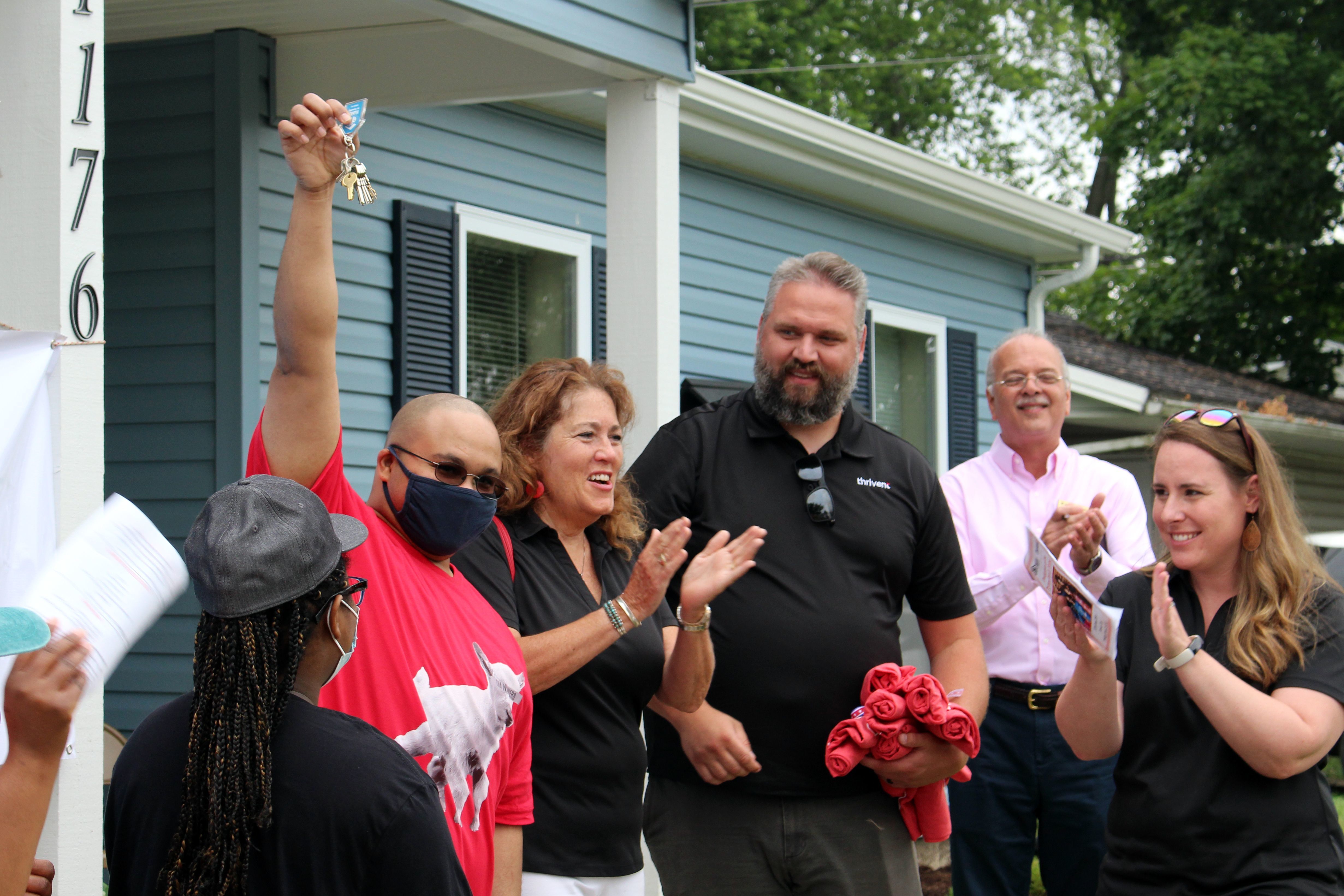 On June 25th, at their home dedication ceremony in Xenia, Kevin and Rachel thought about the house they were about to enter. The life-changing financial implications of owning their first home was not lost on the couple. They were also aware of the practical advantages like stability, space, and added privacy. But for husband and father Kevin, all of that took a respectful backseat to the newfound feeling of safety he felt for his family.
"When I was growing up in Chicago, my cousins came over to visit one time and a drive-by happened. I was pretty much used to it, but it really made me scared that day. You grew up wondering if you'd make it back home from school," he said. "Out here in Xenia, I won't have to worry about that," he said. "My girls can go to school and I don't have to worry about someone getting them in a gang. That is just priceless."
Kevin was referring to daughters Zharia, 15, Lania, 13, and Ailana, 12, who he and his wife Rachel have raised in less than desirable conditions. Those circumstances have changed thanks to the help of build sponsor Thrivent, a not-for-profit Christian financial planning organization that granted half of the cost of the family's home to Habitat for Humanity of Greater Dayton. Thrivent is granting Habitat affiliates and other organizations across the country with their matching grants.
"We welcome partnering with local Habitat partners," said Janey Cahill, a Community Engagement Leader with Thrivent who, along with local reps Adam Bowling and Kathy Foland, attended the home dedication ceremony.
Rachel, who celebrated her and Kevin's 16th anniversary that day, is also well acquainted with growing up in the rough conditions Kevin mentioned.
"I grew up in a home that was pretty much condemned; there was no running water," she said. "My mom did her best to keep it clean. But it was a challenge to live there for all of us. So this has been a long journey."
Zharia was so excited she couldn't help but shout out, "I have my own space; no more trying to get through the house because of all your sisters' stuff! We have our own backyard!"
All of this is priceless for Kevin.
"It means the world," he said. "My whole life, I've been in apartments or public housing. To have something of my own to pass down to my children is so important. A lot of folks I know don't have that."
The impact of stability on his daughters' futures is not lost on him either. Kids who have a stable home have been shown in studies to be more likely to get good grades, go to college, and have better health outcomes.
"It gives them options," he said proudly. "In the community I came from, it's not that you don't have options, but you feel like you don't. The fact that his girls now have options makes him very thankful.
"First of all, I'm thankful to God," Kevin said. "With Him, all things are possible. There were so many times when He saved me. The fact that I'm here and alive today and have a beautiful wife and three beautiful kids, it is all thanks to Him."
Kevin has been going to the United AME Church of Xenia since he was 18 and attended Wilberforce University, where he met Rachel.
"I am so happy for them," said Rev. John Freeman, long-time pastor at United AME Church. "They are very active in serving at our church. It makes me feel great that they are being rewarded by God, and it makes me feel even greater that our AME association has been supporting Habitat for many years."
Kevin and Rachel are also thankful to Dayton Habitat.
"When we first looked into it, I was hesitant," Kevin said. "To be honest, I didn't think it could be true. It can't be real. What's the catch? But Rachel did some more research and said this time, you are going with me (to an orientation)."
That was in 2017. This ceremony, this celebration, was the culmination of a dream. The event was also the end of a big day as they had closed on the mortgage on their new home just that morning. And it was all possible thanks to not only the countless volunteers on the project, but also sponsors like Thrivent and DryTech Exteriors.
If you'd like to volunteer for or donate to Habitat's mission and become part of this successful team, You can sign up here.