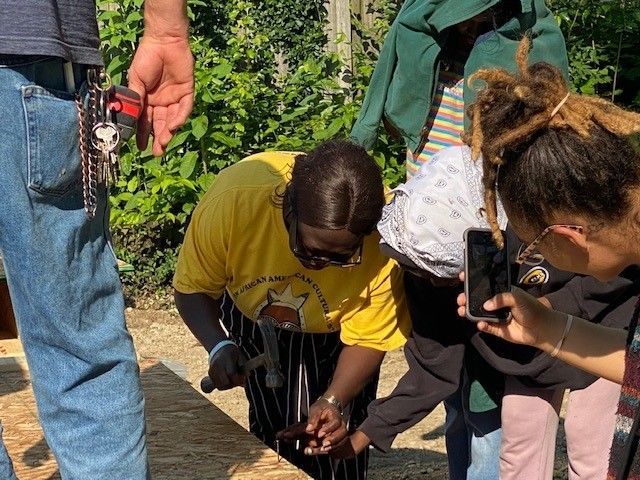 You think you have a good sense of the stability and gratitude of owning your own home … until you meet a quiet but joyous warrior like Saadia, who later this year will be the beneficiary of the faithful work of non-profits, Catch The Building Spirit and Habitat for Humanity of Greater Dayton, in a very big way.
Saadia and her two daughters will move into this year's annual CTBS/Habitat home to be built in West Carrollton this fall. After working 275 "sweat equity" hours and undergoing 40 hours of homeownership training, she will purchase her home with an affordable mortgage. But more than that, when most think of home, we think of a safe port to escape the storms of life, but not Saadia … at least not at first. Her home used to be the Sudan – war-torn Sudan. She had to flee her home in 1997 to Syria to escape the ever-present danger of the violent political conflict she had to live with. Nine years later, the unrest bled over to Syria and on Nov. 27, 2006 she came to America. Now, thanks to CTBS and Habitat, she will realize the American Dream of home ownership.
"Today, first I say 'Thank you God,' " she said. "I say, 'You're my Father and I love you.' My Father in heaven has many houses. Houses here are temporary, but we need them, too. Then thank you to all the people here, to support me and my family and find a place for us to live here."
The partnership between Habitat for Humanity of Greater Dayton and Catch The Building Spirit has been as long-lasting as it has been impactful.
A group of men and women from several Catholic and Presbyterian churches in Montgomery County, CTBS kicked off home building project No. 30 on a beautiful June 12 morning in a ceremony attended by about 35 supporters and volunteers (and hundreds of cicadas). Habitat has been partnering with them for 29 years to make American dreams like Saadi's come true.
"Catch the building Spirit is the epitome of partnerships for Habitat for Humanity of Greater Dayton," said Habitat Executive Director Norm Miozzi. "Their dedicated members have staffed our build sites with volunteers, served as house leaders, coordinated fundraising events, built wall panels, and most importantly, provided beautiful, safe, well-built homes for 30 families. Each year for nearly three decades at least one Miami Valley family has moved into a home built by Catch the Building Spirit. What an awesome partnership!"
According to Father Jim Manning of St. Augustine Catholic Church in Waynesville, that partnership was made in heaven.
"We're not just building a home, we are working for Jesus; this is not just a foundation of a home, it is a foundation of our faith," said Father Jim, who has been launching and dedicating homes for CTBS for 25 years. "We are co-workers building a kingdom, and this is a glimpse of that kingdom. Sometimes it is easy to write a check, and that is very important; but to show up on a Saturday morning when it is hot and humid and work hard – that's dedication."
CTBS Co-Chairman Roger Duffy spoke on the strength and partnership of that dedication.
"It has meant a lot," said Duffy of the Habitat partnership. "We've been respected all through the years by Habitat, and we so appreciate our ongoing partnership. They've only got so many homes they can build in a year, and only so much money to do it with. So if we can come in and add one house each summer, that means so much to us.
"It's a team building thing that builds relationships," he continued. "That is very important. That's what makes the difference. People touch us through skill and dedication, so it is not just a vertical thing between you and God, but also a horizontal thing between you and the people. There's no better way to impact lives."
CTBS averages 3,500 volunteer labor hours per summer project, with an average of 60-70 different volunteer builders working four to eight hours per day, and can usually get it done from start to finish in 80 days. Just wow!
All the materials are modern. "If you want to see the best of what is going on in the building world, go to a Habitat building site. Over the years, that has always been the case."
For both CTBS and Habitat, the partnership continues to be divine. A perfect example of this is that all of the building materials being used to build Saadia's home were purchased three years ago, thus avoiding the astronomical current cost of building materials that is slowing or paralyzing building projects all over the country. The average price of a new home has soared 280 percent since the beginning of the pandemic according to a leading national builders association.
Faith and gratitude are at the top of Saadi's list of blessings, but just under them is something else.
"This is giving my family safety," she said. "I don't have to go to sleep on the street."
Saadia has lived a hard life, but learned to love hard and survive. She has passed that onto her daughters, 18-year-old Aya and 15-year-old Karen.
"I can already feel the change here today," said Aya. "It is a once in a lifetime thing. It already means a lot now. It is such a blessing."
Aya and Karen are very thankful for their mom's courage and vision.
"It's the best thing we ever did," she said. "It means an education for my sister and me, and now a home."
"Blessed is a word we use a lot," said Karen. "It feels good to be out here working and seeing it happen, and being a part of that.
"We love our mom; she's a gem," she continued. "She is very hard-working and strong. She is genuinely genuine in every way."
This year's CTBS home build is dedicated to the memory of Jerry Shell (house leader and problem solver for 25 years) and David Dreger (plumber extraordinaire).
It takes more than just these churches to make this Habitat partnership work annually. This year's project is being aided by The Federal Home Loan Bank of Cincinnati and in-kind donations from Kendall Electric, Dawson Heating & Cooling, Brennan Crane Service, Ernst Concrete, Pickerel Brothers, Deceuninck North America, Enterprise Roofing, Korrect Plumbing, Deal's Landscaping, Synergy Building Systems, and Tony Ferguson for trucking/panels storage.