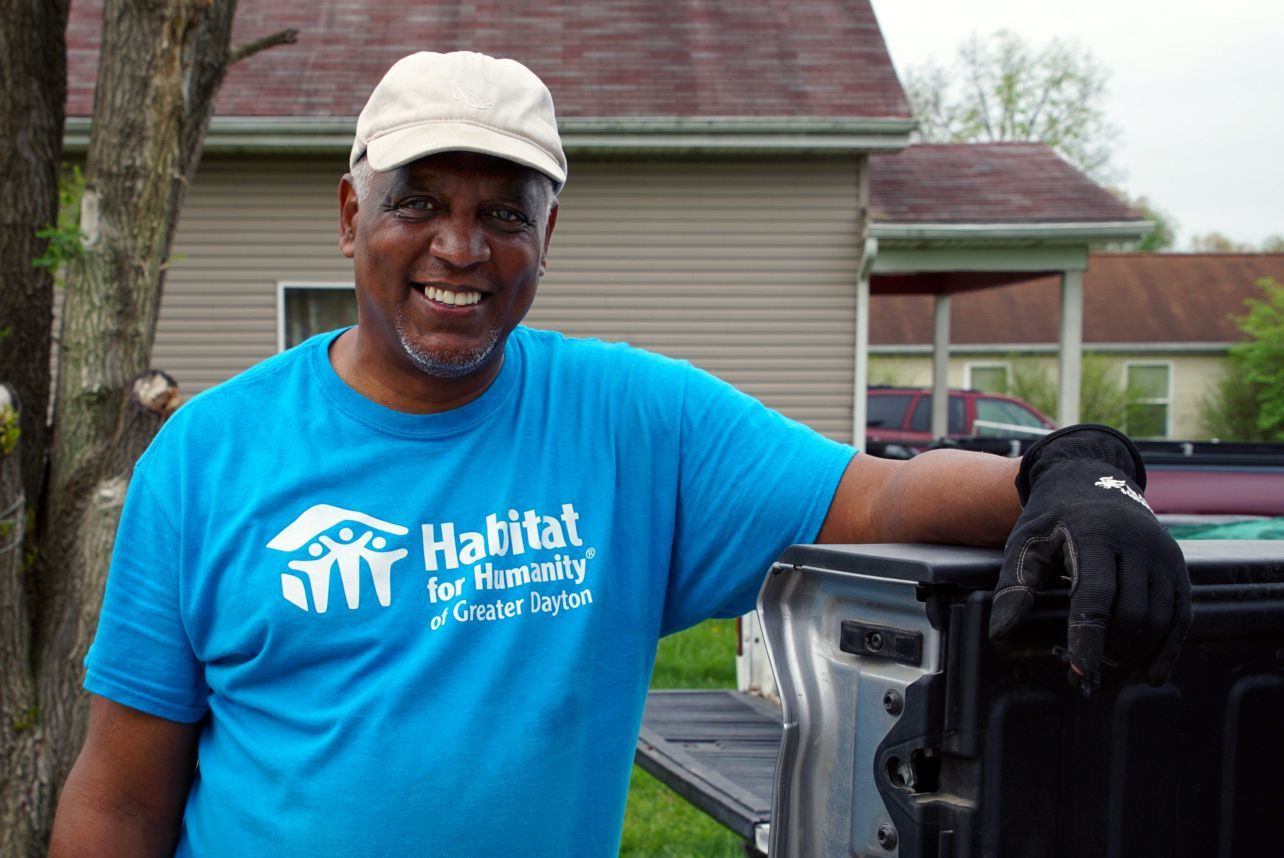 Habitat job is true calling for Galen Curry
Taking a position on Habitat for Humanity of Greater Dayton's staff was a natural progression for Galen Curry. All that he and his family endured and that brought him here only underscored his decision.
He and his family led a life-changing battle with COVID last July, one that claimed the life of his 83-year-old mother and sickened him, his wife, his dad, his sister and a nephew. the experience led Galen to more fully realize that life is short … and that getting the most out of our remaining time is where real satisfaction and meaning are truly found.
"I'm crying, I'm praying, not just for us, but because this was happening to folks all across the country who were going through this," he said. "My wife and I decided we were going to let our test be our testimony."
And make no mistake, it was a heart-wrenching test.
"The worst part was not knowing," he said. "Here you have the four most important people in your life come down with it, and we didn't even get together (as a family) beforehand. We couldn't get any answers from anybody; it was ridiculous."
Involved in the divorce court as a conciliation counselor who taught the court's "Helping Children Succeed After Divorce" Class and as a youth leader in the juvenile detention center for many years and with his wife Cheryl teaching "Bridges Out Of Poverty" and "Getting Ahead In A Getting By World" classes, it's easy to see that his heart is fixed on helping our community. So when the Neighborhood Repair Specialist position came open here at Dayton Habitat, joining our mission just made sense. Especially since it arose "post-COVID."
"At first I had a cough and scratchy throat, but I didn't think nothing about it," he said. "At that time, you had to schedule to get tested. And I was feeling worse. So I went to a little pop-up thing and got tested. By the time I found out I had it, I was feeling a little better."
Unfortunately, his mom passed away from it the following Tuesday.
"When I came to Habitat (in October), I told them, 'Take this serious. It will mess you up,' " he added
His wife was in the hospital three days. "She said it almost made you want to die because you can't talk to anybody or have visitors. It makes you feel helpless."
His 90-year-old dad was also hospitalized for six days, and came home the same day his mother died. His sister went in the hospital twice.
"It strengthened our faith, because I believe God won't put more on you than you can bear," he said. "I'm 60, and I've got more years behind me than ahead of me. I want to make the best of the time I have left. That's why I love the Habitat mission."
Retiring four years ago from the juvenile detention center after 19 years, and 12 more working in divorce court prior to that had worn on his heart. "There's some stories I could tell you that would make you cry," he said. "With some, you'd have to find the parents when it came time for their kids' release by the court."
It was his passion, kindled by years of seeing so much brokenness, that led him to decide to go back to work full-time. Now he gets to "spread God's love" by helping low-income families and widows make critical repairs to the homes they've worked hard for many years to own and keep. "I'm not here for the money," he said. "I'm here for the people that need help and don't know anywhere to turn. The only thing that frustrates me is that we can't get (the projects) done any faster. There are all kinds of barriers that I'd like to just bulldoze through, but you just can't. My heart works faster than my head."
Still, that's about the only complaint you'll hear from Galen, who feels his Habitat "God job" is his calling.
"I have a pretty good life; I can't complain," he said. "I've never really been seriously ill; I even got through COVID pretty good myself. I've really been blessed my whole life. When I see how much of a blessing Habitat for Humanity of Greater Dayton has been to the community, it blesses me."