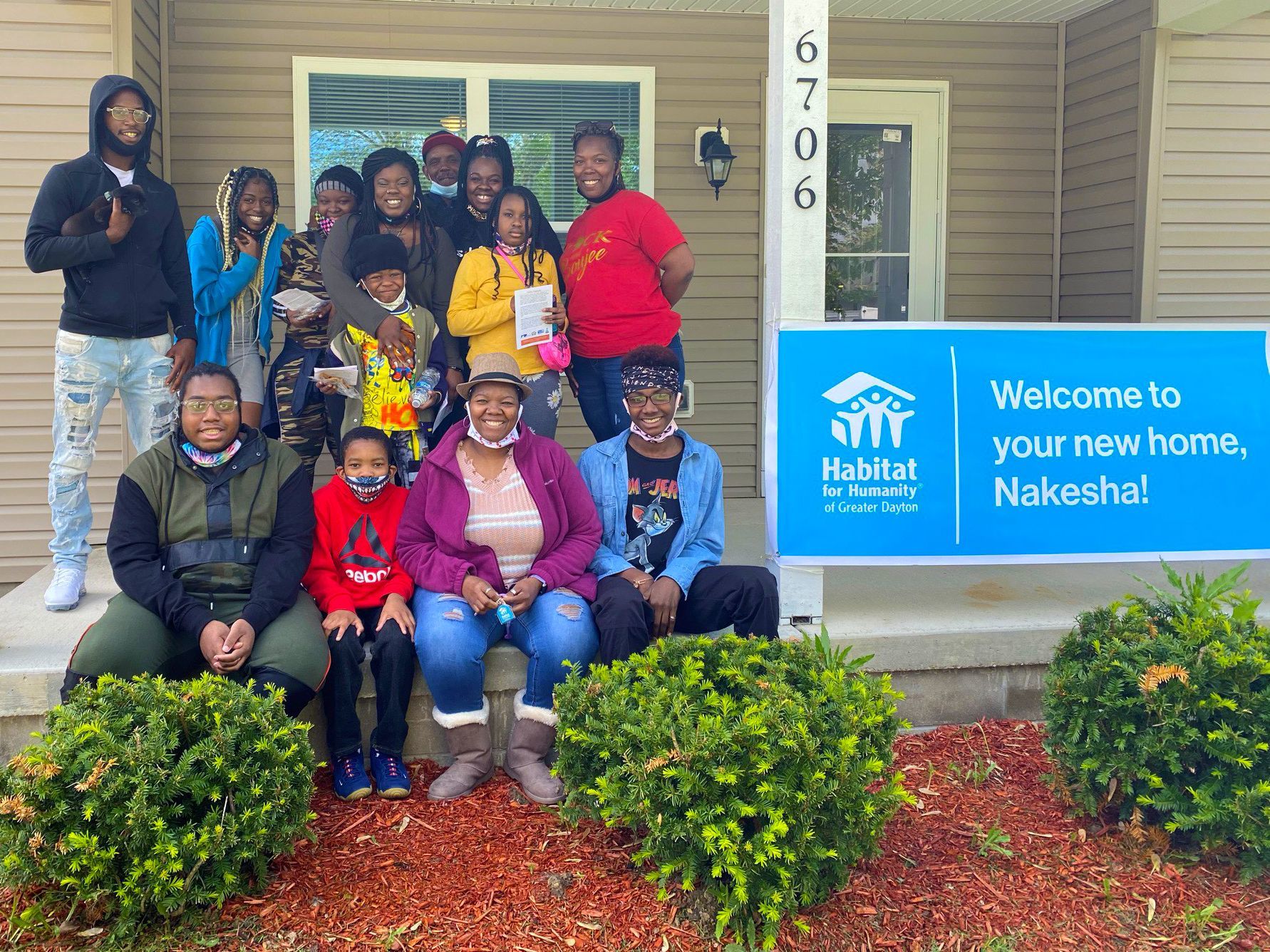 Nakesha's journey to homeownership through Habitat for Humanity of Greater Dayton was long, at times discouraging, and sometimes overwhelming. Such is the life of a single working mother of three boys. But, it was the legacy of stability found in homeownership that was handed down from her grandfather and parents that kept her going.
Friday, May 7th, it all paid off when she was given the keys to her new five-bedroom home in Trotwood during a dedication ceremony attended by over 30 people and watched by many more online via Facebook Live.
"When I was growing up, a lot of times I didn't know where a lot of family lived but I always knew where my grandfather's house was. That was important to me," said Nakesha. "Then when I was 14, my parents bought a home. It made such a big difference. I still remember the day when we got the call that we got the house. I remember the day my sisters and I picked out our own room. Now my boys get to do that. This has been one of my biggest goals, to own a home."
Myles (age 16), Malcom (14) and Miguel (10) now have their own rooms. So does Nakesha. They also have a two-car garage to park her car in. All of this was the result of a five-year journey with Habitat, and an even longer path before qualifying for our homeownership program. Her family has lived in seven different places, with each move meaning new schools and friends in new neighborhoods. In total, they spent three years in a house and six years in apartments. The last of those was a memorable one, for all the wrong reasons.
"I was already overwhelmed with work and everything else. Then the basement of the home we were renting flooded," said Nakesha, who has worked in the nutrition department of the Miami Valley Child Development Center for 6½ years. "First it killed the hot water heater, then it killed the furnace."
Stress was nothing new for the the family. Nakesha admitted there were times during her five-year journey with Habitat that she wanted to quit. But she said Habitat Homeowner Services Program Manager Marsha Martin wouldn't let her.
"Marsha kept me going," she said. "My mom is not with us anymore. Marsha was the motherly voice telling me not what I wanted to hear, but what I needed to hear. I had to be patient, stay dedicated and remember what my goal was."
"She had a hardship in her first two years, but she worked through it," Marsha said. "This house was just something that came up for her. She had the right-sized family (to qualify for a five-bedroom home) and had been working at it for a few years. When she first saw the home, it was a little rough. But she saw the potential and said she would take it."
The home had been given back to Dayton Habitat by a family that wanted to move to Kettering, and it needed some TLC repairs. But Nakesha waited and finished her 275 hours of sweat equity.
"(A successful family) has to have a plan and be able to work that plan and stay goal-minded," said Martin. "Nakesha was goal-minded. She wanted her boys to have something besides apartments, a place to run and play."
Goal reached!
"It's so nice to have something that actually belongs to us," she said. "The boys having their own rooms and own beds means so much."
Your Donations Do Count!
Proceeds raised during our recent Habitat At Home virtual fundraiser, coupled with support by sponsors Synchrony and AES Ohio paid for the remodeling costs. Representatives from Secret Smiles, AKA Sorority, Holiday Inn Fairborn, Sugarcreek Presbyterian Church and Centerville Rotary provided housewarming gifts at the ceremony.
If you or someone you know is interested in becoming a homeowner through the Habitat program, call us at (937) 586-0860 for more information or visit daytonhabitat.org.