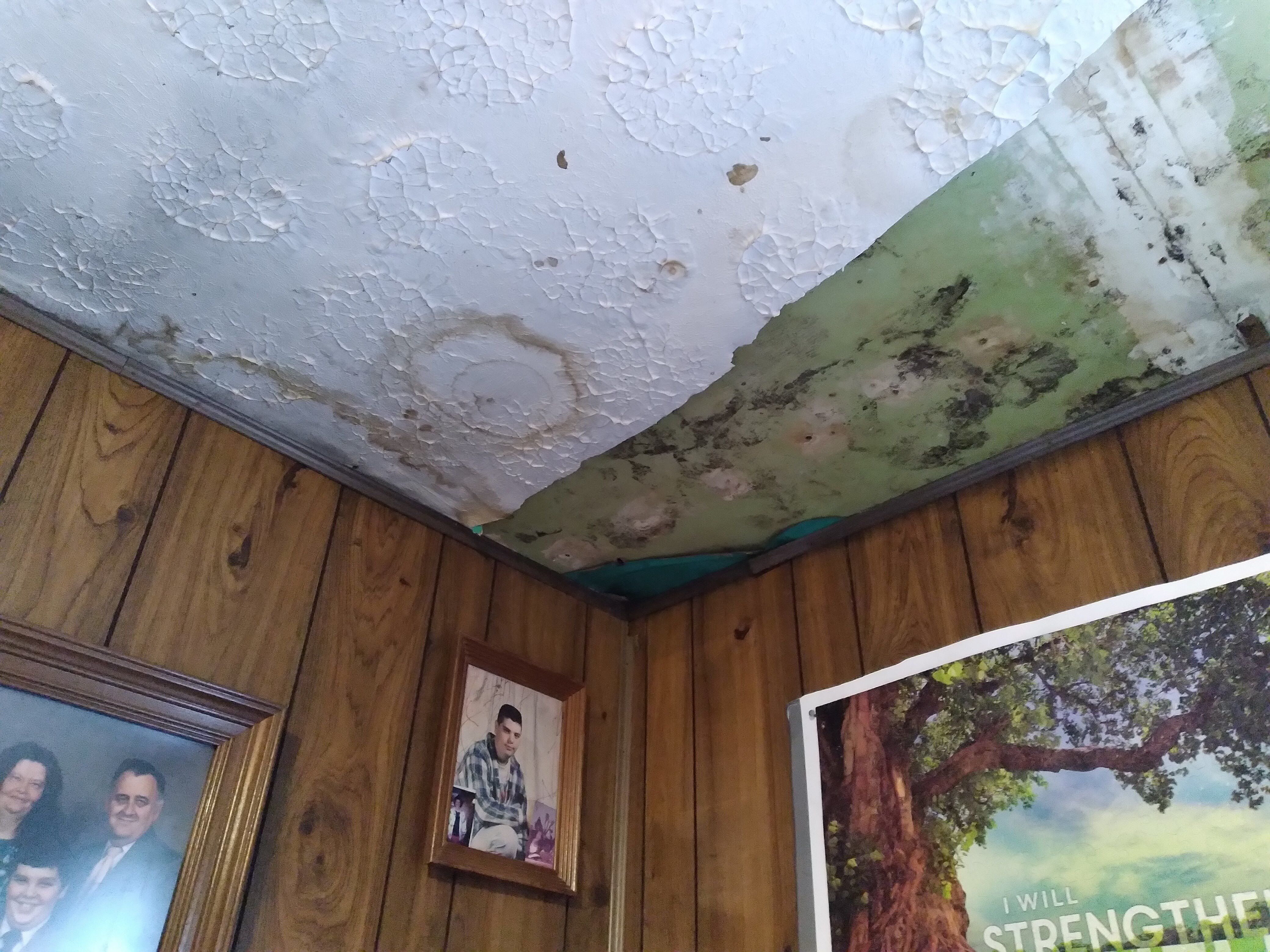 Twelve years of living under a leaky roof recently came crashing down on 75-year-old Barbara Gruber of Dayton. Literally! Twice!!
"I heard a noise and thought someone was trying to break in," she recalled. "I no sooner got out of that room and it (the roof) fell in. But God kept me safe. Even when it fell on me the other time while I was in bed. It stunned me for a minute, but I didn't get hurt. I'm just so thankful I won't have to worry about that again."
Something had to be done. The blue tarps that covered six holes in her roof were becoming increasingly ineffective. The ceiling under them was deteriorating at a dangerous speed. But there was no money to get the work done. That is until she turned to the Area Agency on Aging, which contacted Habitat for Humanity of Greater Dayton.
Dayton Habitat's critical repair program has grown exponentially in the last few of years, in proportion to the growth of the need for helping the underserved "age in place" in homes they worked their whole lives to keep … and of course the growth of the supporters who make it happen.
The need for repairs can be a major hardship, with the hope of resolution as low as the struggling family's bank account.
"It seems like it has been no time once you are through it; but as you go through it, it seems like forever," Gruber said. "You wonder, 'How did I survive that?' But it was holding onto the Lord's hand. He carried me so many times through it. I would get so upset and discouraged and He would comfort me. I've lived in the worst, not knowing when and if it would end. The Lord knew, but I didn't.
Then she added: "Just to think, they got it all done in one day. When He starts moving, He moves fast!"
She talked to Dayton Habitat's Neighborhood Repair Specialist, Galen Curry, on a Thursday, picked out shingles on a Friday, and the roof was on by the following Monday.
"It's hard for someone to understand until they have been through it," Gruber said. "But now I can tell others exactly how to get through it. To help them. Because it will get better, and He will carry us until it does. Sometimes we go through things so we can help others down the road."
Gruber knows a lot about helping. She raised three children, and has 18 grandchildren and five great grandchildren. But they have struggled through the same financial challenges. One learns endurance and patience from that. But that doesn't mean it is an easy lesson.
"It bothered me. It made me real sad," she admitted. "When it rained, I'd get my buckets out and say 'Here we go again.' I'd pray sometimes for it not to rain. I'd dread it, because I knew what would happen. Now I am looking forward to the next rain so I can sit here and enjoy it. I haven't for so long."
Gruber says Habitat's increased emphasis on its critical repair program is right on time during these trying times. "That's what people are really struggling with these days."
Not only was the leaking roof causing drywall and ceiling damage, there was another safety issue – possible mold.
"I would have to take soap and water and wash off the ceilings," she said. "Now there's no more mold. That black mold is dangerous to your health. I know what people are going through. Thank God I don't have to go through it anymore. And I thank God for the people at Habitat."
There are many, many more who like Gruber live in dangerous conditions because they have no way of escaping them. These are the neighbors who Habitat has been helping since it first started in 1975 in Americus, Ga. If you'd like to help, call us at (937) 586-0860 or visit our website at www.daytonhabitat.org. You can be a part of making the deserving but underserved of our great community as happy as Gruber. In fact, there is still drywall work that needs to be done at Gruber's now dry home.
She showed Curry an unmistakable "sign" of Gruber's thankfulness upon completion of her roof.
"She was so happy, she wouldn't give our sign back," Curry said with a chuckle about the sign that goes up on every Habitat worksite. "She wanted to put the date on it and hang it up on her wall. She said, 'Every time that hammer hits a nail, I rejoiced.' There must have been an awful lot of rejoicing going on!"
Curry spoke about how Habitat's keeps with its mission of providing and maintaining affordable housing in a new and vitally important area, one that is growing as life expectancies improve.
"We're blessed to be in the position that we are in to help," said Curry. "I've worked in divorce court, and I worked on saving marriages. I was helping families. Now, I'm helping them age in place. If we can keep them in their houses to keep them safe, comfortable and familiar, we've done a great service for them. It's heartbreaking to see someone have to give up the home that they worked their whole life to keep."
And there's nothing more uplifting than seeing the joy on the faces of those who are helped.
"I started thanking the Lord right away and I felt so relieved," Gruber said. "You know how you feel when the battle is over, and you are so relieved. And when you are on the other side of that battle, there's that overwhelming peace, that joy. That's what I have now."