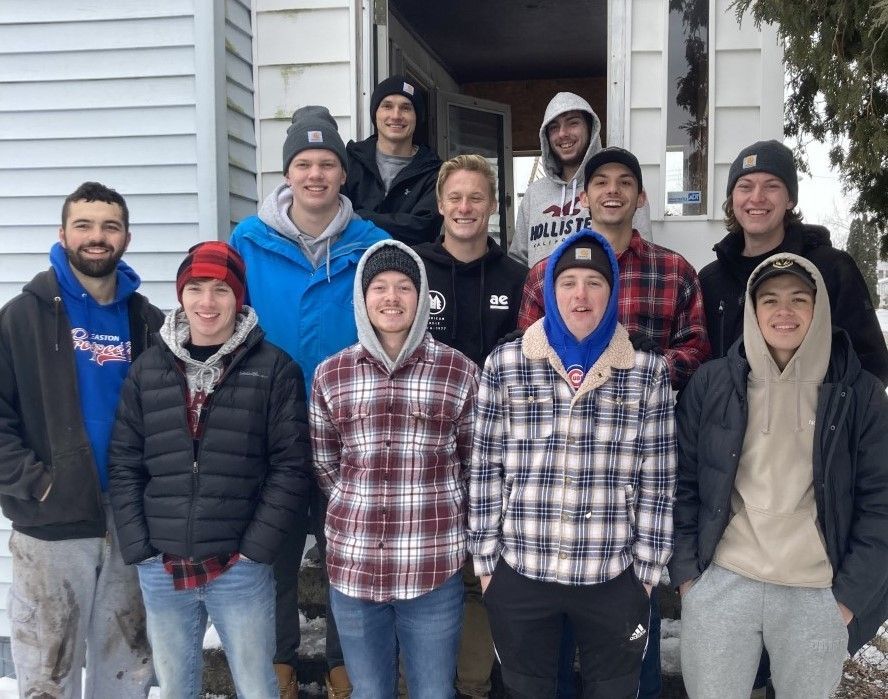 A crew of 11 Cedarville University students gathered on a cold February Saturday morning recently and helped clear the way for Springfield's newest upcoming Habitat project.
Our Habitat for Humanity of Greater Dayton recently purchased a home on South Bell Avenue through the Clark County Land Bank. The home will be remodeled and then sold to a deserving low-income partner family.
The Cedarville crew was from the Alpha Chi fraternity, which seeks to instill and foster leadership through volunteer work that aids the area's underserved.
"They did an outstanding job," said Habitat Springfield Operations Manager, Brian Ray, who was there to oversee the project. "Every accolade I could give them sounds cliché. Their organization was incredible.
"These guys showed up on time and they were ready to work," he continued. "They cleared the house out, they took up the linoleum in the kitchen, they took up the carpet that was in the sunroom, they took a toilet out of the basement and took a wall down. They did whatever was asked of them."
Alpha Chi formed about a half century ago and was the first ongoing service fraternity on campus. Long-time professor Dr. Murray Murdock was the first president. It had a 20-year lull but was brought back six years ago.
 "The goal of our mission is to try to develop hearts of service in the guys involved," said Eli Wicker, a sophomore at the university and Alpha Chi's event coordinator. "We give them an opportunity to serve in various capacities to develop leadership qualities. And we have leadership seminars every two weeks given by professors on campus."
They recently created a meal delivery service on campus for students who were quarantined due to COVID-19 contact tracking, delivering over 400 meals until the university could come up with a more permanent solution. Wicker found out about the Habitat service opportunity from Cedarville Mayor Tony Pergram.
"Overall, we had a blast," said Wicker. "I've done a lot of stuff like this with my parents back home. I feel the closest to God when I serve someone else. We'd love to do other projects with Habitat."
Ray said their help is welcome anytime.
"They filled a 30-yard dumpster with stuff that was in our way in less than two hours," Ray said. "It was a huge blessing to us. Eleven strong, willing, enthusiastic men clearing the rubble from this house was priceless. It keeps us on track to get this started very soon."
If you'd like to volunteer with Habitat in Springfield, give Ray a call at (937) 325-2514.