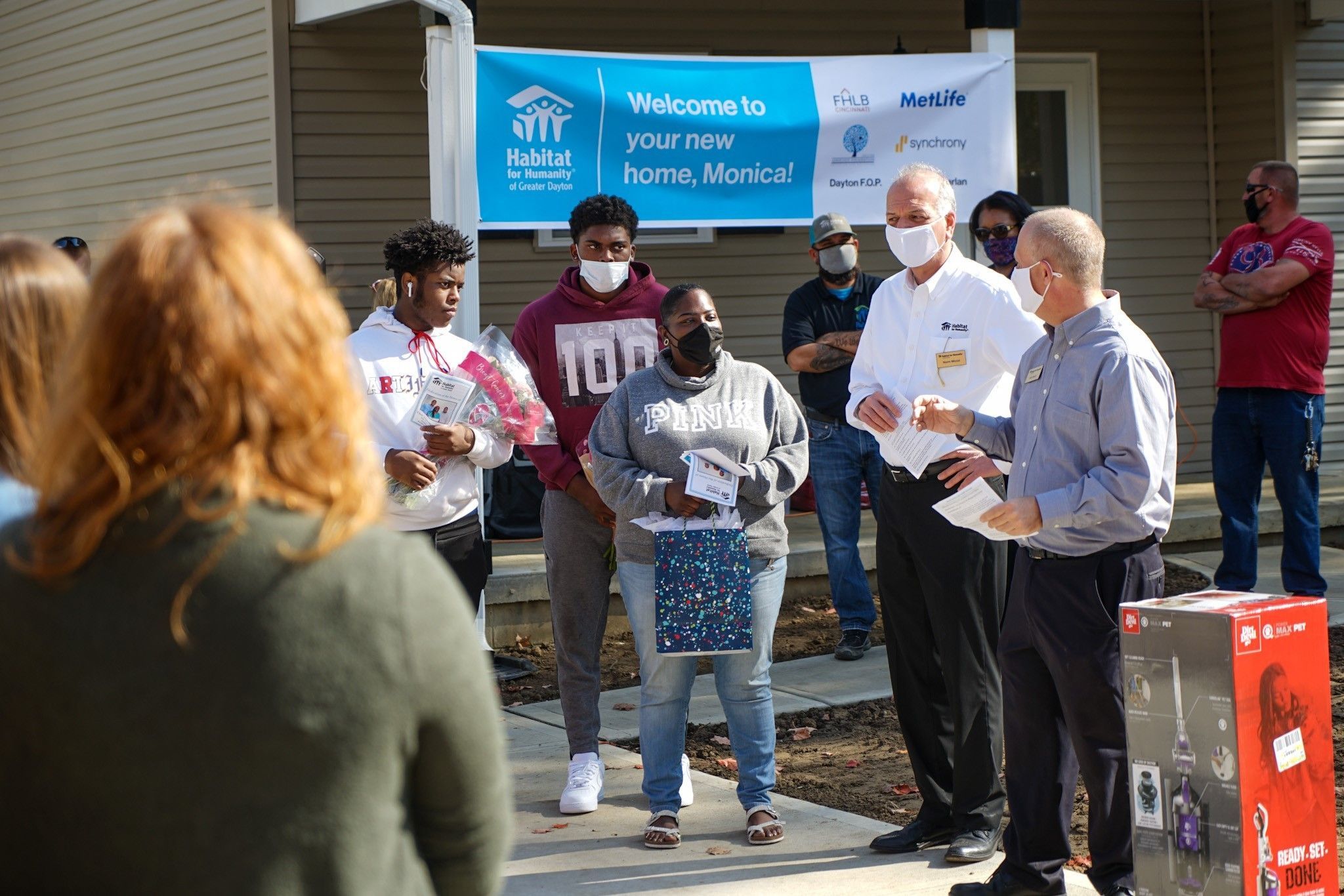 Congratulations, Monica! Your Hard Work Has Finally Paid Off!
On the night of May 28th of 2019, Monica Thomas never thought that while she worked, her sons would be at home watching the roof of their apartment being ripped off by the tornadoes that swept through the Dayton area. Fortunately, the two boys, Mark and Maurion, made it to their safe place, the bathroom, as the storm hit. What Monica didn't know was that this terrible night was the catalyst that would see her homeownership dream come true.
Growing up, Monica had always lived in tiny apartments with her parents and five siblings. However, she wanted more for own family, but she was not sure how that would ever happen as buying a home always seemed out of reach. She worked hard as a Pa­tient Care Tech at a local hospital, but money was tight with two children and a single income. Monica learned about Habitat for Humanity of Greater Dayton and was accepted into the homeowner­ship program, beginning journey to homeownership in earnest. Monica has been working to own a Habitat home for nearly five years. Monica's faith has kept her spirits high during the lengthy process and she never gave up on herself or her dream.
When Monica reached the point of selecting a lot for her future home, she knew she wanted to live in Clayton. She shared that Clayton has always felt peaceful to her and she cannot wait to join the community. For the last few months, she's been passing her build site every day on the way to work. When it was time for Monica to select her flooring and countertops for her home, she let her sons make all the decisions so that they felt as involved as possible. Monica is grateful that they picked options that she approved of. The Riverside apartment was tiny, but it was a nice enough place and they knew they could stick it out there until their Habitat home was built. That changed after the Memorial Day tornadoes in 2019.
Unlike so many others, her apartment owner had excellent insurance and assured her that they would fix the damage. A team sealed off the boys' room, mostly every­thing inside it was ruined. The boys slept in the living room on the couch for several months while construction was being completed. They went from sharing a room to no room. Monica still gets anxious when she hears thunder, as do her sons. Their new home in Clayton is five minutes away from Monica's work which she hopes will help with the traumatic anxiety she now suffers.
On Friday the 23rd, We dedicated Monica's new home and handed her the keys. The gathering included many of her build sponsors such as Met Life, and Reynolds and Reynolds Associate Foundation. Synchrony, who couldn't be there in person, even joined the event virtually. Other sponsors included: Federal Home Loan Bank of Cincinnati, Dayton F.O.P., and Kerry & Art Harlan.
Other organizations were also present and brought gifts for the family, such as Secret Smiles, AKA Sorority, Inc. BHΩ Chapter, Holiday Inn Dayton/Fairborn, Sugar Creek Presbyterian Church, Project Read, Centerville Rotary, Kiwanis Club/ Bookcases, The Thomas Family. You can download a copy of the event program here.