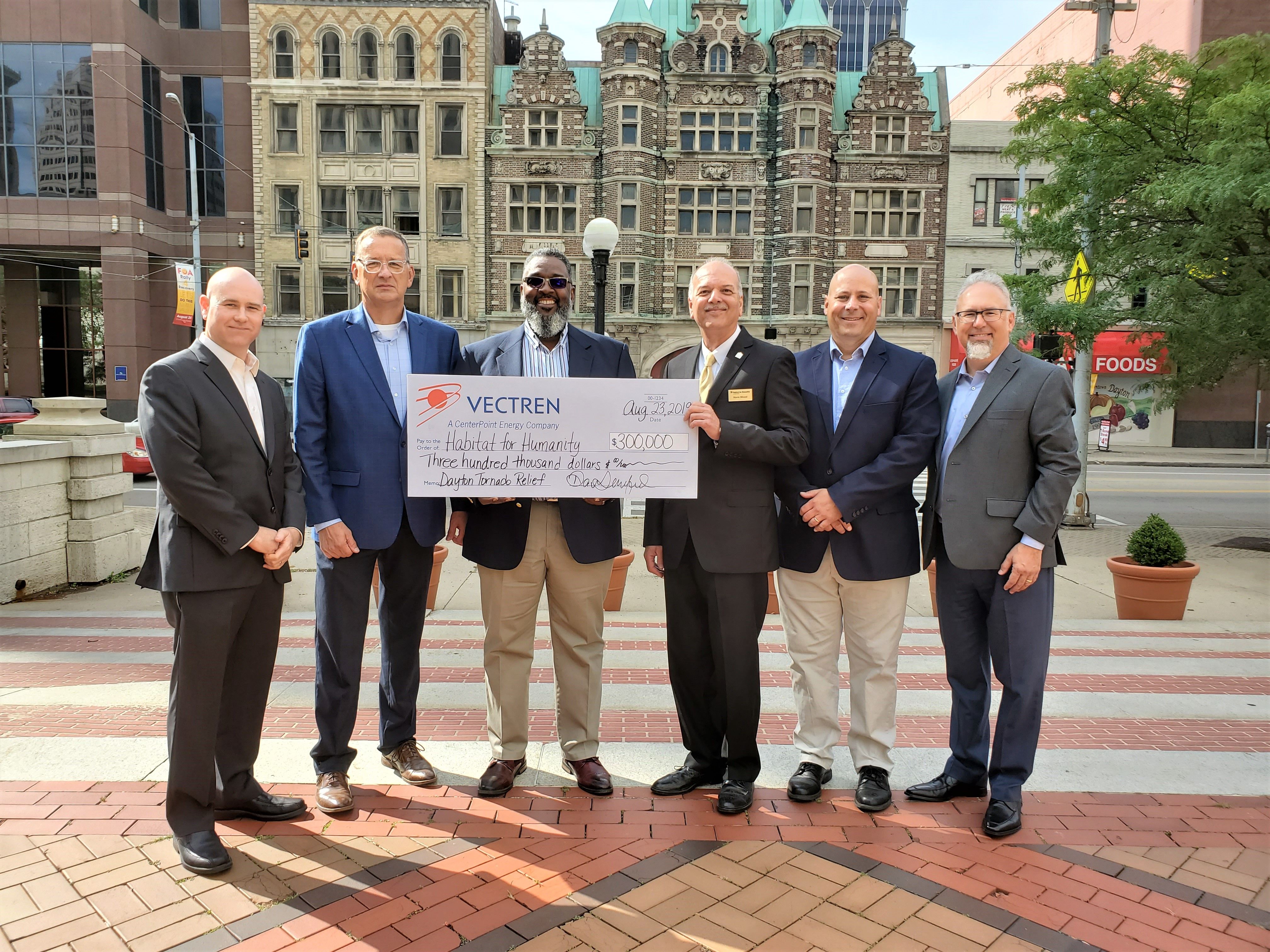 Vectren, A CenterPoint Energy Company, today announced the Vectren Foundation is providing grants totaling $600,000 for rebuilding the Dayton and Miami Valley neighborhoods devastated by the Memorial Day 2019 tornadoes. Vectren awarded organizations Habitat for Humanity of Greater Dayton and Rebuilding Together Dayton $300,000 each toward their disaster recovery efforts.
"Our partnerships with Habitat for Humanity of Greater Dayton and Rebuilding Together Dayton span more than 17 years. These are two outstanding organizations with a proven track record of rebuilding our communities, including in the event of a natural disaster," said Walt Hibner, manager of Local Relations in Ohio. "We are proud to provide our support to Dayton, a strong community where our employees live and work."
Habitat for Humanity of Greater Dayton's Habitat Reinvestment Partnership helps rebuild housing and provide repairs to damaged homes in the affected areas. Rebuilding Together Dayton, through its recovery program, Dayton Responds and Rebuilds, assists in addressing both long- and short-term strategies for recovery, including critical repairs and case management.
"We are grateful for the grants provided by CenterPoint Energy and the Vectren Foundation to our respective organizations," said Norm Miozzi, executive director for Habitat of Humanity of Greater Dayton and Amy Radachi, president and CEO of Rebuilding Together Dayton. "These dollars will assist Miami Valley residents in rebuilding not only their homes, but also their lives."
If your housing was impacted by the Memorial Day tornadoes please call 2-1-1 to see if you qualify for repair or rebuilding assistance.