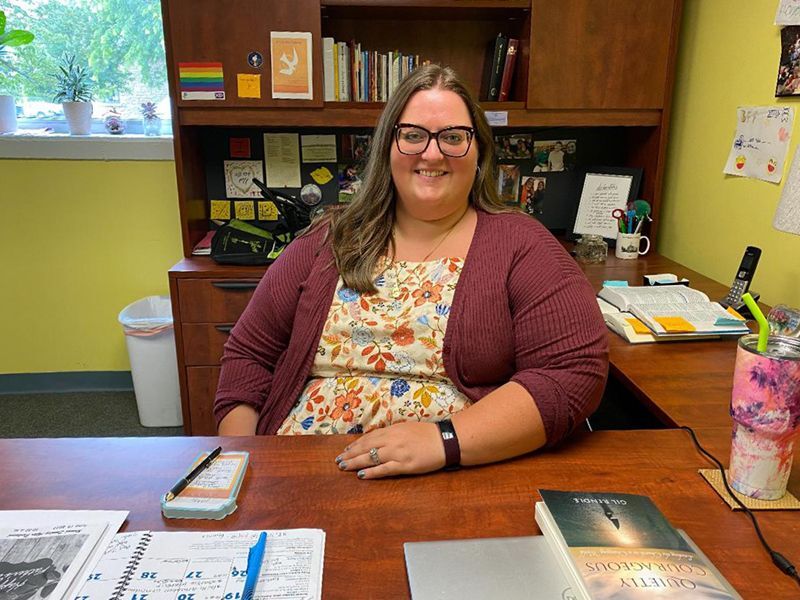 FAITH FAMILY PROFILE INTRO:
Each month we will profile a local pastor, church, organization, or business that is heavily involved in the Habitat mission. This month, we talk with Knob Prairie United Church of Christ pastor, Katie Peterson-Madden.
FAITH FAMILY PROFILE:
New Knob Prairie United Church of Christ pastor, Katie Peterson-Madden has only been serving the congregation and Enon community for six months, but she's already discovered and appreciates her church's heart.
"We have a very generous congregation," she said. "They give of their time, talents and treasures. They understand and embrace the mission of the church. That's a big win, because people all around us are in such tough spots. It's really been an answer to prayer for me."
It's also been a plus to Habitat for Humanity of Greater Dayton. Knob Prairie began looking into a ministry partnership with Habitat last spring, after Clark County's 30-year-old affordable housing chapter joined Dayton Habitat to form a tri-county Habitat affiliate. They liked what they saw and have been supporting the mission ever since. It didn't take Katie long to see why.
"What's so great about Habitat and Knob Prairie is the idea that there are so many ways to help," Katie said. "Maybe you can't climb a ladder or have the financial means to give but you can shop at the ReStore or be a family advocate. We love to love people and embrace all of God's children, and Habitat allows us so many ways to do that."
Knob Prairie keeps its congregation mission-focused in many ways, including a "Ministry Moment" during each Sunday service where they give info on a local nonprofit and how they can be supported. In fact, Pastor Katie didn't really know much about the Habitat ministry beyond making homeowners out of low-income residents.
"I had heard just a little about the critical repairs you do, but not very much," she said. "I feel a lot more connected to the service options and how they make people feel empowered."
This is Katie's first pastorate.
"One of my biggest prayers is to find humor in small ways. God speaks to me through humor," she said. "Like today, I needed to get 1,000 things done, but I ended up having an hour-long conversation (with a church member) and then somehow, I still get them all done. Sometimes I see God as a parent who is chuckling at my expectations."
Age difference could have been an issue as Knob Prairie has a lot of seniors in its congregation and she is 30 years old.
"There's a lot of adjusting in beautiful and funny ways," Katie said. "It brings a set of challenges but also brings a lot of joy because you connect on a deeper level. I had concerns about the authoritative role as the minister, not in the ability to connect but to embrace the 'head of the church' authoritative role.
"I've surprised myself mostly in my ability to trust God more," she continued. "I didn't realize how guarded I was in connecting to God on deeper levels. I was shocked with how easily I could say, 'We are just going to let God do this,' until I became a minister. I was surprised by how big the job was.
"I will get to where I don't think I can be any more humbled, then the next day something happens and I am humbled even more," she added. "I'm growing in humility and realizing that I'm only a servant."
That humility gives her a proper perspective.
"I keep finding moments as I am looking at the life of Christ when I feel frustrated," Katie said. "Specifically, in the book of Luke when it says it's all about service. It's not about how it makes me feel but about the fact that we are serving the children of God."
All of this has her feeling accepted by the congregation.
"I feel so beyond accepted, not only at Knob Prairie but in this community," she said. "Enon being so small at first was a little intimidating. But the congregation has done a great job in making my husband, my children and myself welcome and needed."
If you are a church or individual who would like to get more involved with the Habitat mission, visit us at daytonhabitat.org or call 937-586-0860.