Meet our families
Abraham, Senait, Delina, Sem, Melaher and Lidia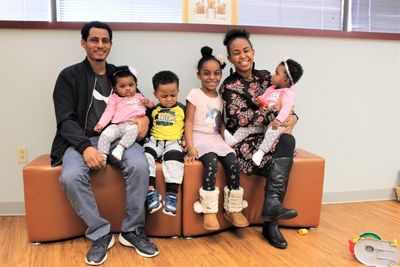 Abraham and Senait have been working through our program for 5 years. They have completed all of their required sweat equity hours and educational classes. We broke ground on their new home in February of 2020. 
Abraham and Senait enjoyed our homeowner education classes. They loved the Money Skills class where they learned how to budget, track spending, and save money. Thanks to the classes they were able to implement their own budget that allows Senait to stay home with their children and be a full time mom while Abraham works for a local manufacturing company. They are looking forward to signing their affordable mortgage, to stop paying high rent for a small apartment, and to finally own a home.
We asked Abraham what he was most excited about regarding becoming a Habitat homeowner. He replied, "This is not for me. This is for my children. Everything we do is for our children to have a better life and more opportunity." An answer all parents can relate to.
---
Monica and her sons, Mark and Maurion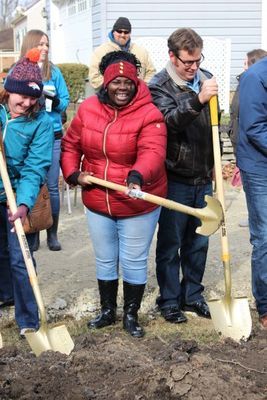 Monica was working a night shift at her hospital when the storms began on Memorial Day Weekend in 2019. She remembers hearing the warnings but not thinking anything of them as warnings went off before and nothing happened. She had to help move all the patients into the hallways, away from the glass windows in their rooms. By the time she was done moving patients out the storms were over and she had to move everyone back. She was in Englewood and her area mostly got heavy rain, no tornadoes. Mark and Maurion were at their apartment in Riverside where tornadoes did touch down. Thankfully, her sons made it into their safe space, the bathroom of their apartment, and were physically unharmed. A tornado ripped its way through her apartment complex and completely removed the roof from her sons' bedroom. Monica was able to connect with the boys and make sure they were safe, she headed home as soon as she could. Driving home was nearly impossible with all the power lines and trees in the roads that were knocked over during the storms. The longer it took her to get home, the more anxious she became. When she finally made it home and saw the roof missing from her apartment, she felt terrified and overwhelmed.
Unlike so many others, her apartment owner had adequate insurance and assured her that they would fix the damage. A team sealed off her sons' room, mostly everything inside was ruined. The boys slept in the living room on the couch for several months while construction was being completed. They went from sharing a room to no room, but soon will both have their own bedrooms and space in their new Habitat home! Monica still gets anxious when she hears thunder, as do her sons. Their new home in Clayton is five minutes away from Monica's work which she hopes will help with the traumatic anxiety she now suffers.
---
Melissa, James, Taija, Jakayla, James Jr., Tion, and Milan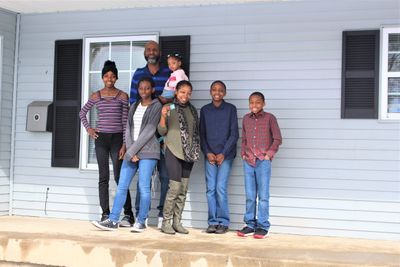 Melissa, James, and their children lived in Trotwood in a rental house for nine years. Their rent was $625 per month, not including utilities. Over the past year or so their landlord started refusing to do repairs. Their house was damaged during the Memorial Day Tornadoes, nothing that made it unsafe to stay in the house but repairs needed to be made. Their landlord informed them that she was not going to pay for any tornado related repairs and suggested they pay to fix the issues themselves. Melissa and James thought they could handle staying in their Trotwood rental until their Habitat home was ready as construction was due to start 6 months after the storm but they soon found that wouldn't be possible. They became aware that, while they had been paying their monthly rent, their landlord had not been paying her mortgage and the house was in foreclosure, forcing the family to move quickly. Melissa and James were able to find an available rental home in Dayton. The house is smaller and costs them $800 per month. The neighborhood is not safe for their children. Their lawn mower was stolen out of their garage the day after they moved in. They have seen evidence of drug crime and gun violence. Their children can no longer play outside as the last time they allowed the kids to play outside a neighbor accosted them and called the children racial slurs. Melissa and James are looking forward to escaping their current situation and moving to their Habitat home.
---
Erica and Chace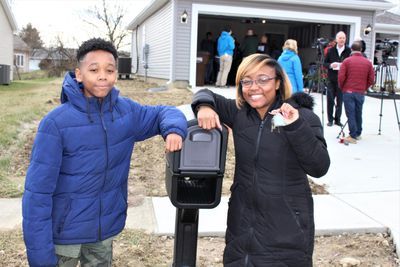 Erica grew up in a low-income housing complex in Trotwood and became a mom at a young age. She was determined to provide her son with the best life possible. Erica graduated high school, started college, and completed her Master's Degree in education. After securing a great job she tried to buy a home but she couldn't get approved for a traditional mortgage. Erica heard about Habitat and quickly applied. She was accepted and began working towards her dream of homeownership. Everything changed Memorial Day Weekend in 2019. Erica and her son were in their Trotwood apartment when the storms began. They huddled together in an interior closet. They could feel the walls swaying and hear the roof creaking from their hiding place. Moments later the entire roof of her complex was ripped off by a massive tornado. Thankfully she and her son survived, though they lost nearly everything but their lives that night. When Erica joined our program, we asked what she was most looking forward to. "My whole life I've wanted to have a mailbox. I've never had a mailbox of my own. Cluster mailboxes at apartments are where the drug dealers and criminals hang out so, as a kid, I could never get the mail and I do not let my son check the mail now. I can't wait to walk down my driveway and get my mail from my very own mailbox." Thanks to your generosity- Erica and Chace now have their very own mailbox!
---
Tiffany, Jeremy, Dakota, Delaney, Destiny, and Dominic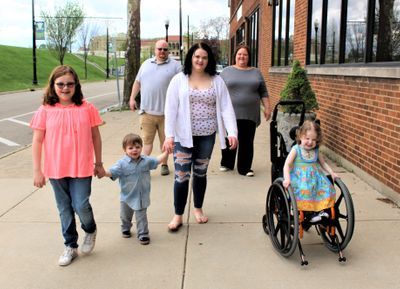 Tiffany and Jeremy are the proud parents of four children. Their daughter, Destiny, was diagnosed with CLOVES syndrome and Spina bifida as an infant. It is estimated that no more than 500 people in the world are living with CLOVES syndrome. For Destiny, it is mostly a vascular issue which can cause uncontrollable bleeding at any time. Recently Destiny had a flair up while Delaney was at school. Delaney came home to an empty house with a living room covered in blood. She said she was afraid her sister had died, luckily that was not the case and the wonderful doctors and nurses at Children's Hospital were able to stop the bleeding. Delaney was 8 when this happened, an event she'll remember for the rest of her life.
A few years after Destiny was born Tiffany gave birth to a son, Dominic. Dominic, 2, suffers from tremors and is nonverbal. He likes to play with his sisters and has his own way of communicating. Tiffany says that Destiny often "speaks for Dominic" as they are very close.
Habitat is a blessing for the Reynolds-Evans family. They will be able to enter and exit their new home without having to carry Destiny up and down steps. They will have a bathroom with modifications tailored to Destiny's needs. Jeremy hopes to one day, when Destiny is older, install a special accessible toilet with the money they will save thanks to their affordable mortgage. Destiny will be able to follow her brother and sisters from room to room in their home and to their backyard for playtime.
Tiffany stated that "we've paid nearly $40,000 in rent for a home we'll never own that isn't safe or good for our family" and that she cannot wait to sign her Habitat mortgage. Jeremy started to talk about what Habitat meant to him for his children. He had to take a moment to compose himself and then shared, "We appreciate everyone. This will be life changing for my family". Tiffany and Jeremy love to share their Habitat story. They are proud to say that Habitat isn't giving them anything. "We have to work for this home, earn this home, pay for this home, and in the end we will own this home," Jeremy stated.
---