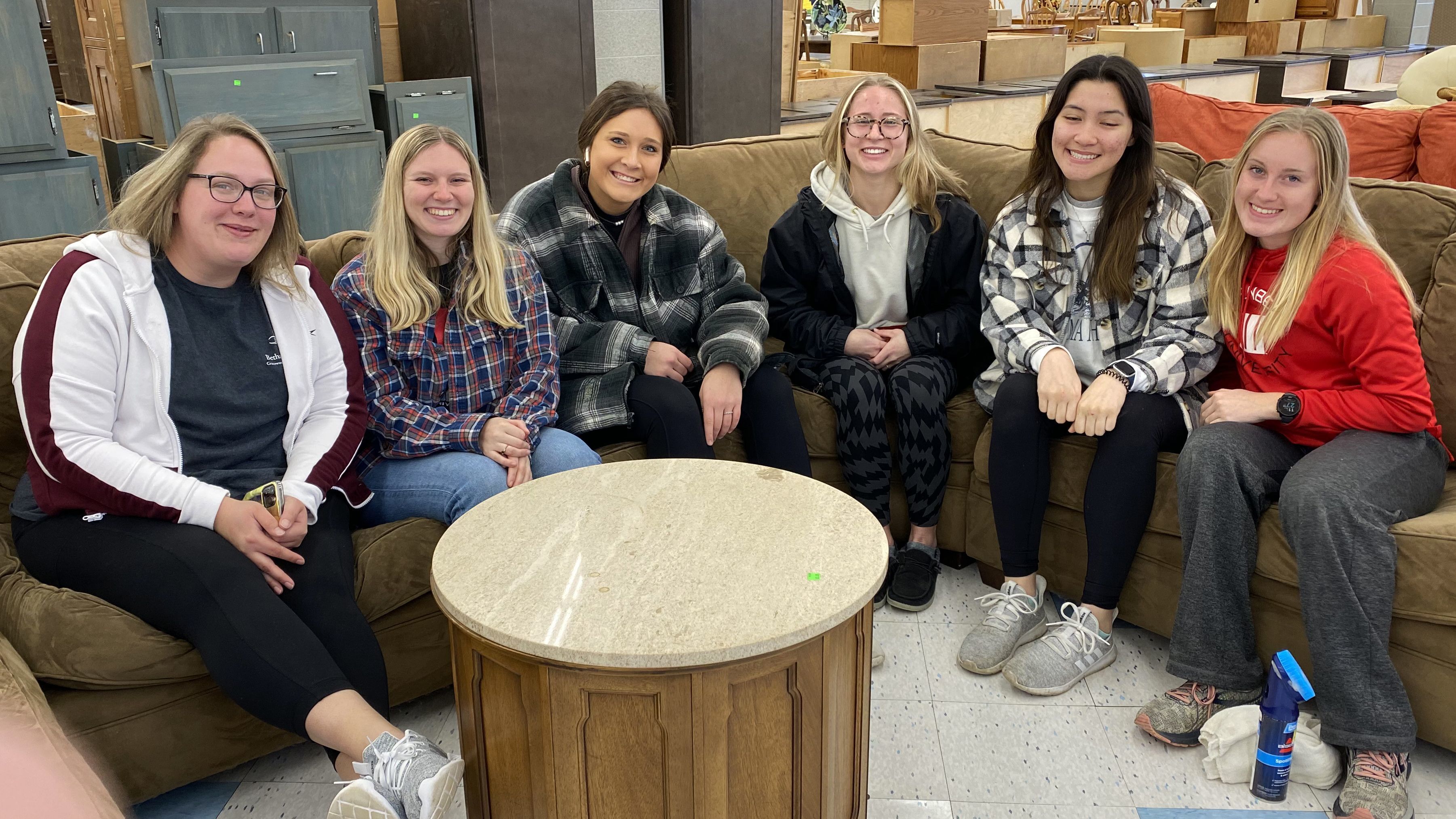 A group of Wittenberg University nursing students revived a three-decade long relationship between the school and Habitat for Humanity by volunteering for the day at Habitat for Humanity of Greater Dayton's new ReStore located in Springfield.
The ReStore is now open from 10 a.m. to 6 p.m. on Tuesdays through Fridays and 10 a.m. to 3 p.m. on Saturdays. The need for volunteers is great, and this group of Tigers was glad to fill that need for a day.
"A lot of times as nursing students, we are working at the hospital or studying a lot," said Sydney Taylor, a Wittenberg sophomore. "This kind of breaks the routine for us, getting us out into the community. It has been fun for me, and I think we all have enjoyed it."
Volunteers like these students are integral to the operation and mission of the ReStore.
"Volunteer groups like the one from Wittenberg make a huge contribution to the ReStore's core mission," said Scott Withers, Springfield ReStore manager. That mission is to provide funding which builds and strengthens the Clark County community. "Our volunteers assist customers; help maintain the store and prepare donated items for display and sale.
"We simply could not do it without our volunteers, making a difference each day and pushing the mission forward," he continued. "The student group from Wittenberg had the opportunity to assist in the opening of our new Springfield ReStore, and to learn more about Habitat and the vital work that we do."
Wittenberg has partnered with Clark County's Habitat affiliate since the organization was founded in 1990. One of the co-founders, Wittenberg professor Jerry Hamilton, started the campus chapter.
"Since the beginning, the two have worked alongside each other to provide quality housing for many neighbors in our community," said Kristen Collier, Director of Community Service for Wittenberg's Hagen Center for Civic and Urban Engagement. "Students have participated in a variety of experiences with Habitat, from the construction and repair of homes to supporting fundraisers and serving on the board of directors. And for many years, the annual spring break service immersion trip to other Habitat affiliates, typically in the South, was a highlight for many of our students.
"I've always found the staff of the local affiliate to be invested in our students and willing to provide them the opportunity to develop a genuine connection and commitment to the community," she continued. "We look forward to working with the gifted staff of Habitat for Humanity of Greater Dayton and strengthening our students' support for the mission of this organization."
The Springfield ReStore opened its doors with a soft opening on March 1st and will hold a grand opening on April 22nd and 23rd.
If you'd like to volunteer at either the Springfield or Dayton ReStores, go here. If you have any questions, contact Volunteer Services Coordinator Krissy Day at (937) 965-7679. For all other ReStore questions, call 937-325-2514.