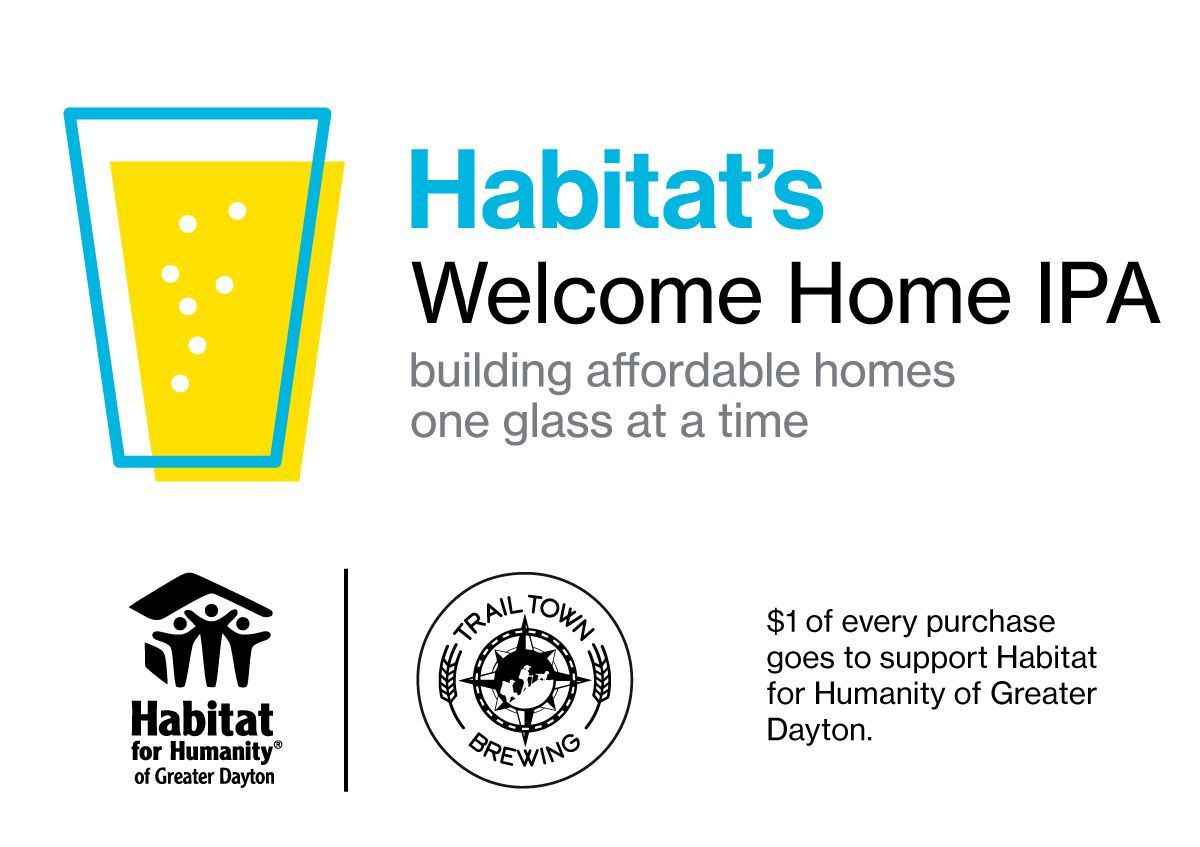 Trail Town Brewing owner Jake Brummett was all-in on a unique way to support Habitat for Humanity of Greater Dayton. Jake created a craft beer at his new brewery, fittingly named "Welcome Home IPA," as his way of supporting our mission.
It will be available for sale at the Yellow Springs brewery, with $1 from every pint sold being donated to our Habitat affiliate. The idea was birthed out of a long-time friendship with Habitat Development Director Dave Mauch.
"Dave came to me and asked about it and said that some other Habitat's had done it in other places," said Jake, who had volunteered for Habitat projects in the past. "I've known Dave for quite a while, and I like to do things local. So I said, 'Sure.' "
Their friendship was the starting point, but it was a team effort that helped bring the idea to fruition.
"We were having a conversation in the development department at Habitat and brainstorming marketing ideas," Dave said. "Samantha Panson from the department mentioned that the local humane society has their own beer and wondered if we ever thought of doing something like that. We started thinking about potential partners and that led me to think about Jake and Trail Town.
"Since we're friends, I thought it'd be great to share the idea with him," he continued. "He immediately went for it and wanted to partner. Elexus Renner from our Homeowner Services Department came up with the idea to call the beer "Welcome Home IPA," which we all thought fit perfectly."
Habitat has always been about new and unique ways to benefit the families we serve.
"It's another way to get our name and mission out in the community," Dave said. "It's also an easy way for people to support Habitat. 
The brewery, which has been open since August, is located at 101 Corry St. in Yellow Springs.
"We are very excited about the partnership with Trail Town Brewing," Dave said. "I love the location of the restaurant in Yellow Springs because it allows easy access for our folks in Greene County and Clark County.  We just started working in Clark County earlier this year, so to have something fun and accessible in that area is exciting."