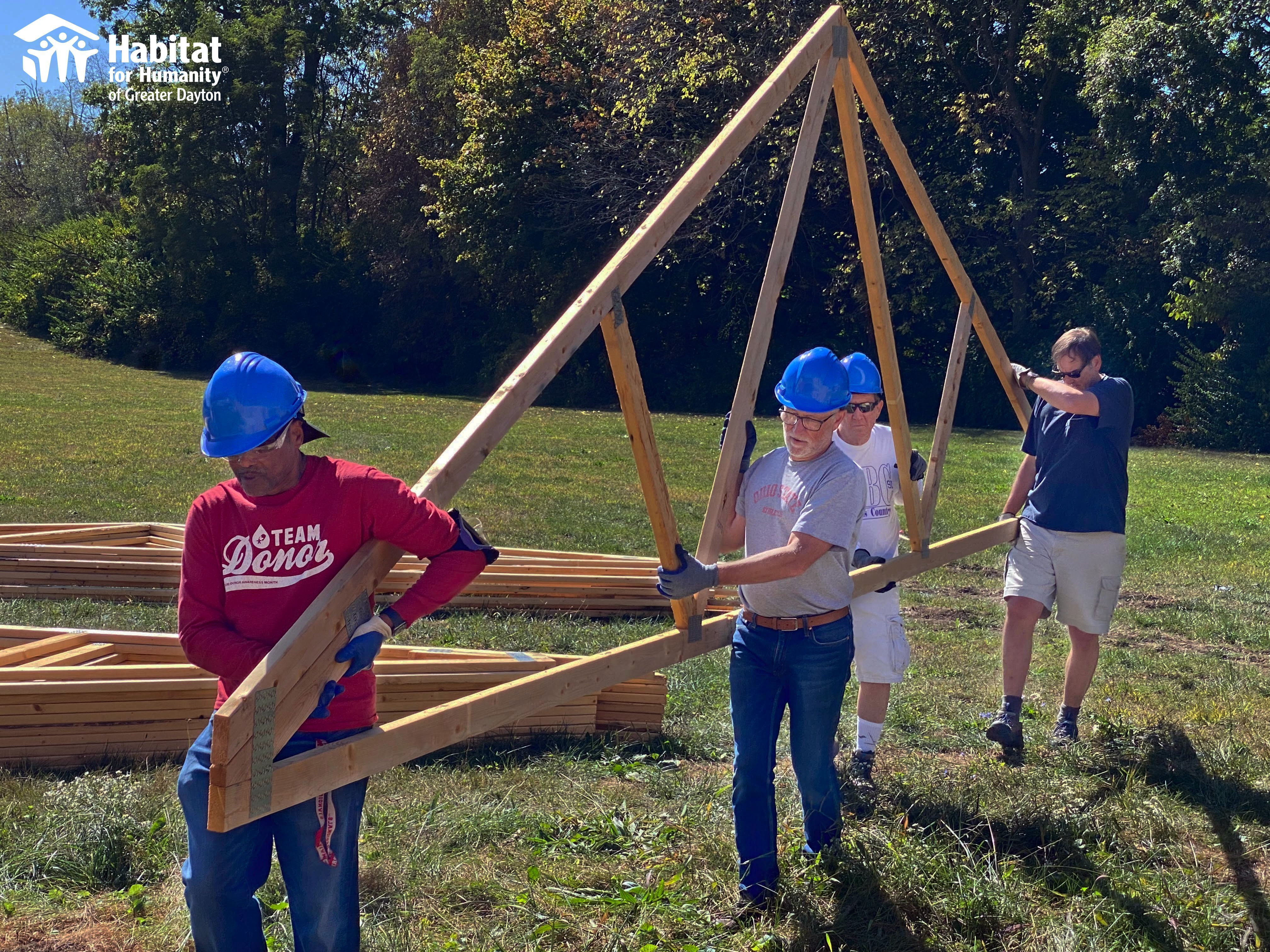 In many instances, the success of a nonprofit correlates directly to the level of personal involvement of its board members. Raising funds, in-kind donations, and volunteer support along with networking out in the community are among some of the invaluable contributions of a strong board. Swinging a hammer on a construction site usually does not fall under a board member's job description. However, the members of the Habitat for Humanity of Greater Dayton board have no problem volunteering on their build sites!
Annually, Dayton Habitat holds a special "Board Build Day" where members take time from their normal workdays to help on one of the home-building projects. Seven board members recently joined Executive Director Norm Miozzi to volunteer at the site of Dayton Habitat's double home build in New Carlisle.
"It's fun to get to know board members better out in the field; working together, serving together, hand to hand, arm to arm," said board member Mark Klopfenstein. Klopfenstein joined the Dayton Habitat board when Clark County joined the affiliate in 2021. "The feeling of helping people, serving in the community is great."
Pete Hoshor, who has been on the board for eight years, agrees.
"It's a lot of fun to do," he said. "It's always a learning experience every time (he is onsite). It keeps you grounded. You get to see what is actually going on at the worksites and see the actual product. And during that, you meet people and build relationships."
This was board vice president Dave Schlegel's first Board Build.
"The comradery amongst the board members, seeing them in a different light makes this such a good experience," he said. "It's a different experience, though. It gives you a better appreciation for people who do it every day and the skill level they have."
"This was definitely eye-opening," he continued. "It's a major difference from just talking about how the homes are built and the money that's involved. To take the day off just to help people is good for the soul."
Miozzi stressed how important it is for a nonprofit to have an involved board.
"Our board is integral to our success as an organization," he said. "To see so many of them out today, rolling up their sleeves and serving together at the ground level of our ministry blesses me beyond words. And I know others would be out here if not for their busy schedules. We have such a strong and dedicated board, and we are thankful for each and every one of them."
For Klopfenstein, serving with so many other board members is impactful. He remembers when Clark County was its own struggling nonprofit and how joining the Greater Dayton Habitat team has changed things for the good.
"It has been a godsend," he said. "It has made things so much better. The Habitat brand is so much more recognized (than other affordable housing nonprofits). The Dayton affiliate is so well-established, and Norm has done a great job in growing it. It has allowed the mission to expand so well. All the pieces are in place and looking good."
Other board members Bobby Beavers, Chiu Lee, Dan Johnson and Matt Schnelle joined Miozzi for the day. If you have an interest in serving on Habitat for Humanity of Greater Dayton's board or one of its subcommittees, contact Dayton Habitat at 937-586-0860.