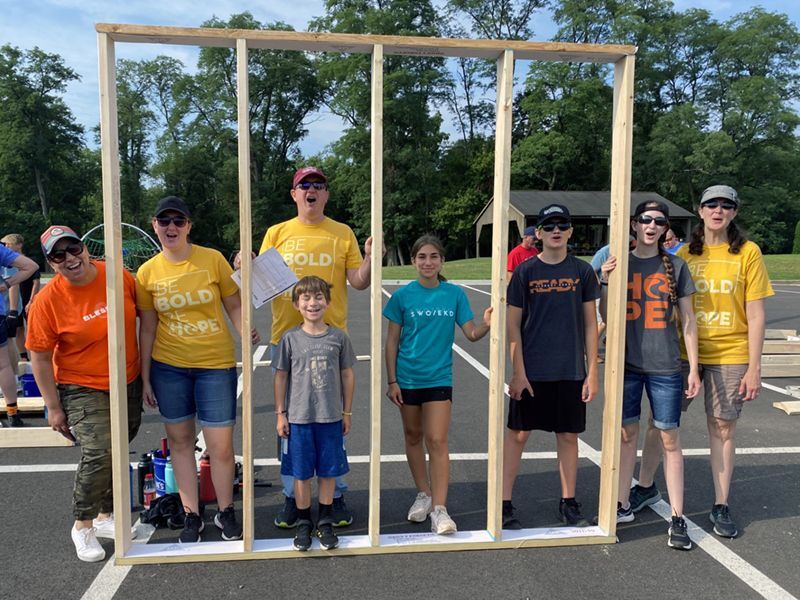 For Be Hope Church in Beavercreek, hosting a wall panel build event is becoming what you might call a "Habitat habit."
Be Hope recently partnered with Habitat for Humanity of Greater Dayton to host what has become an annual event that culminates their own "Hope Week," a church-wide community service initiative. A panel build usually involves two days. The first day has volunteers doing a "pre-cut" when all the lumber is cut to specs and labeled, then the wall panels are built the second day by large groups of volunteers, usually approaching or surpassing 100. The wall panels then end up being used in one of Habitat's new home builds, saving on the cost of building a home.
This marked the third year in a row that Be Hope ended their annual signature service project with Habitat, and its fourth panel build overall. Pastor Sheila Slone shared why the service project fits her church so well.
"It is a good ending project that involves a whole lot of people," she said. "When you have a big church, you're always looking for projects that you can involve the most people. There aren't that many out there of that scope, that have this kind of impact on a community."
Hope Week is held the first week of August annually and includes daily service projects that impact the community. This year, the projects included:
- Cutting a walking trail at the new 148-acre Spring House Park in Beavercreek;
- Filling close to 1,000 care bags for city employees, which included a handwritten note of encouragement;
- Helping at four local nonprofits (Emerge, Fish Pantry in Xenia, Xenia Violence Prevention Center, and the Gem City Second Chance sober living house);
- Projects at all six of Beavercreek's elementary schools, both middle schools and its only preschool.
Before Hope Week, the church surveyed its attendees and the community to find out what is important to them. Then it catered its choice of service projects to reflect the results.
"It's part of our core values," Pastor Sheila said when asked why her church is so responsive to community service. "Jesus is our hope, and we serve our community. We talk about it all the time. We serve all year long, but this is our main project. We've averaged about 100 volunteers per day during this year's Hope Week.
"You have to know your community," she added. "We always ask ourselves, 'If your church wasn't in your community, would they miss you?' "
Be Hope is so connected to the Habitat mission that for the first time, the church is expanding its annual Habitat project. Be Hope has a campus church in Ironton, Ohio, started in response to a former staff member's call into pastorship. This campus church did "something on a smaller scale with Habitat" during the same timeframe as Be Hope in Beavercreek built its wall panels.
Sheila's husband, J.C. who is also on staff at the church, further elaborated on Habitat's appeal.
"Habitat is multi-generational," he said. "All ages can participate in this. Plus you are building a house for someone! That's pretty substantial. It fills my heart with joy to see people serve, and them connecting with each other while they do it."
Be Hope will be following the construction of the home they built walls for from the beginning to the end with their video team, volunteering along the way and offering their congregation a "from start to finish" look at what deeper church involvement in the Habitat mission looks like.
"The reason we didn't before is a lot of (on site) involvement is for (ages) 18-and-over," J.C. said. "This year, with so many people connecting with the (partner) family more, they are becoming more interested in helping in all phases."
The family who will receive the wall panels built this year was on site at the panel build helping and meeting those who are assisting them become first-time homeowners.
"It is so fun building a house for someone who needs one," said volunteer Heather Rogers. "We serve the community, and you can't do that if you are always inside your (church) building. Jesus didn't do that. He was always out with other people."
All of this empowers this 24-year-old church to be the hands and feet of Jesus.
"This is us stepping into our core values," said Pastor Sheila. "This is who we are; we're not just doing this to show up. We see the Spirit move more when we serve. And we always invite others to join us."
If your church is interested in finding out more about being involved in the Habitat ministry, contact our Faith and Community Relations Associate Kermit Rowe at (937) 605-5086 or krowe@daytonhabitat.org.