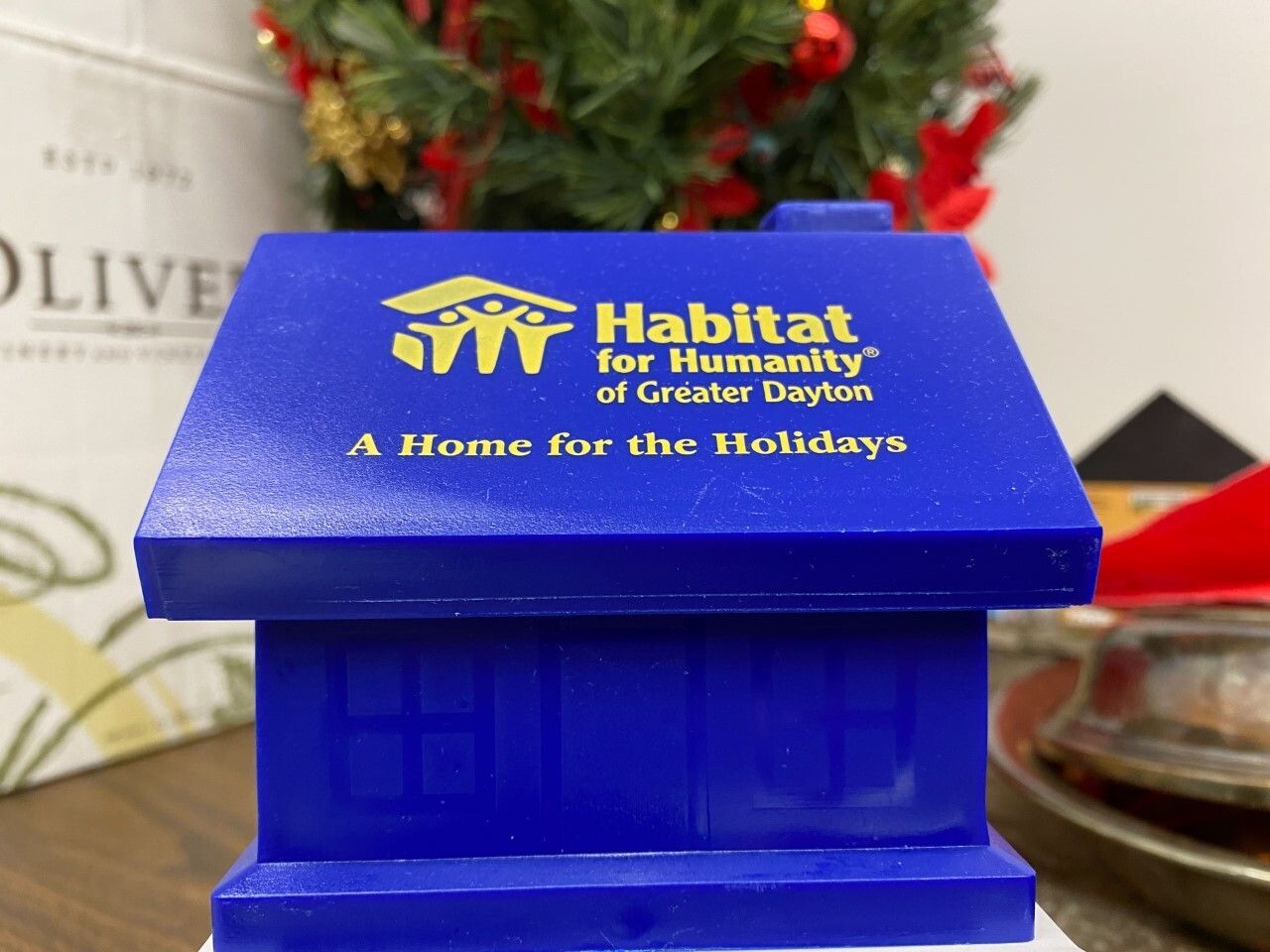 During this and the prior four Christmas seasons, local churches and sponsors have been giving the great gift of affordable housing and critical repairs to underserved neighbors through Habitat for Humanity of Greater Dayton's annual "A Home for the Holidays" fundraiser. During these holiday seasons, supporters have been depositing dollars and change in blue plastic hand-sized, house-shaped coin banks.
So far this season, we've received nearly $3,000 in sponsorships as we await the return of over 150 banks after the holidays. We're well on our way to the most successful holiday campaign yet!
We've also realized that some local churches have other very worthy projects that they are contributing to through the holidays, and many have been ongoing for years. We're thankful for your generosity towards God's work, even when Habitat isn't directly affected. We're all in this together!
To give churches more flexibility in participating, we're introducing "A Home For The Holidays 2.0." This has been suggested by multiple churches with three already committed to participate, and we think it is a great idea. During HFTH 2.0, your church can still participate in this year's campaign in one of three ways:
Pick a month in early 2023 – either January, February, or March – and pass out the house banks at the beginning of the month, then collect them at the beginning of the next month.
Take delivery of the banks in any of these first three months and encourage your church family to keep them until the completion on one of two winter/spring Faith Builds that are currently underway – in Springfield and Vandalia. Both of these should wrap up in early spring 2023, and you can be a part of the effort!
Take delivery of the banks and ask your church family to keep them until Christmas 2023, when our sixth annual campaign starts.
Just as a review, all proceeds from "A Home For The Holidays" will be applied to our Faith Build projects, which are part of our new Habitat Faith Family initiative, and also high-need critical repairs. Faith Builds urge and unify churches to donate and volunteer towards the building of a new home for a low-income, working-class family. When the two current Faith Builds are finished, that will make five in less than three years for our affiliate as we just finished one in West Carrollton, and we had two Faith Builds completed in the past two years in Xenia.
The big-picture key of this initiative is that when the banks sit in a home, they create awareness – reminding everyone in the home and whoever visits it that there are those who are not blessed with the quality of housing that most of us enjoy.
This has already been a year of firsts for our annual holiday project as it is the first year for the program in Montgomery and Greene counties. Please consider being a part of this growing movement. If you and your church are interested in participating, call Habitat Faith and Community Relations Associate Pastor Kermit Rowe ASAP at (937) 605-5086 or email him at krowe@daytonhabitat.org.