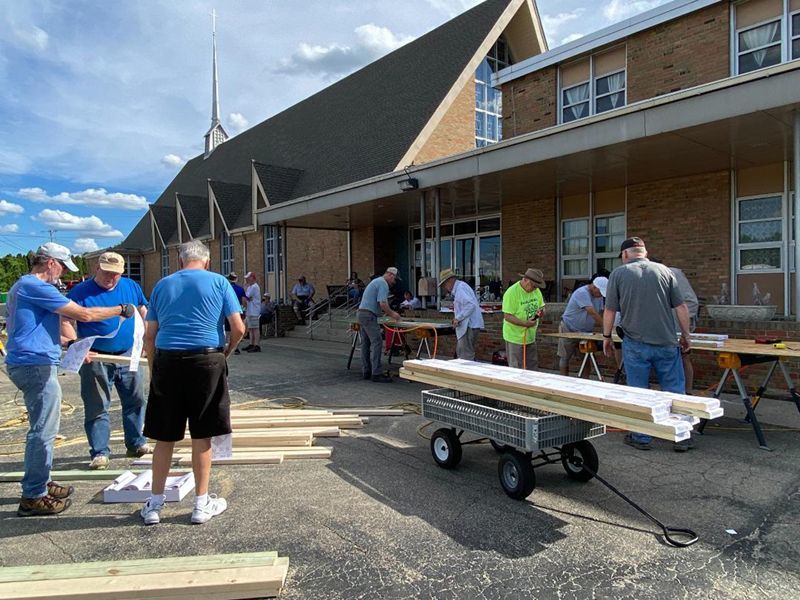 Concord United Methodist Church in Englewood gives and gets so much blessing from its annual panel build ministry that this year, it decided to double its impact. About 150 volunteers recently gathered over two days and produced two sets of wall panels for future Habitat for Humanity homes.
One set of the wall panels was transported to Springfield, where ground was recently broken for a Habitat for Humanity of Greater Dayton Faith Build project that will benefit a single mother of four. The other was sent to a Habitat affiliate in Morgan County, Ind.
"The value of the unity can be even greater than the service impact (of providing walls for homes)," said Concord UMC Pastor Maggie Sykes. "This is truly a community effort."
Organizers said about 25 percent of the volunteers are not from the congregation. Community volunteers include groups from the Boy Scouts, Troy Christian and Northmont high schools, and the Wright State University Veteran and Military Alumni Society, while four other United Methodist church groups in the area also pitch in. The project has about 20 major sponsors. One anonymous donor who is not a member of the congregation steps up annually to donate the cost of all the lumber.
What keeps Concord dedicated to this panel build ministry year after year?
"There are different levels to that answer," said Dan Schoulties, a Concord UMC member who has been a part of all but one of the church's annual panel builds. "The biggest piece is that we are helping others, so there's the missional focus. Another piece is it gets the congregation outside the sanctuary. There's more to church life than what happens inside the church building; we need to be out in the community.
"Pastor Maggie wants to see us growing in terms of our mission, to take chances and hit bumps and to learn from them," he continued. "Our people enjoy being together and doing this. Part of our goal is to get more communication going on with the church and the community."
Dan remembers the annual project's humble beginnings.
"The first year, there was some apprehension, thoughts like, 'Can we do it?" he said. "After we did it once, we saw how it comes together. Now we have monthly meetings starting six months out. We've always got stuff going on leading up to it. And we give weekly two-minute updates to the church as it gets closer."
All of this has Pastor Maggie smiling.
"This congregation leads with love,' she said. "While this is a big and visible thing the church does, there are a number of other things we do. This is a congregation that cares about other people. It is a blessing to see a congregation always guided by the Holy Spirit, and I've seen it so active here. It is wonderful to be a part of it."
If your congregation or business is interested in starting a local panel build project, contact Dave Mauch at 937-965-7677. If you are interested in volunteering with Habitat, call Krissy Day at 937-965-7679.