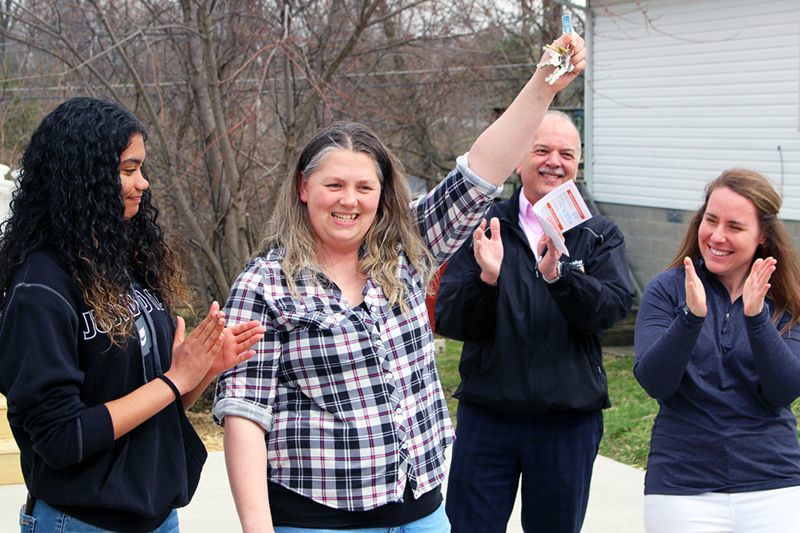 The building power of faith and Greene County's rich history of generosity were on display for all to see March 18 in Xenia. That's when single mother Ivonne Mangold was handed the keys to her new Habitat for Humanity of Greater Dayton home during a heartfelt dedication ceremony.
The Mangold's new home was built through Dayton Habitat's Faith Build program, sponsored by Thrivent, a faith-based financial services company. Thrivent donated half the cost of the home and challenged other churches to step up and support the build through donations and volunteering. Many responded, like Be Hope Church, which donated $15,000 and held a panel build event that constructed all the walls in Mangold's new home. Other churches who financially supported the build included First Evangelical Lutheran Church, Peace Lutheran Church, and North Riverdale Lutheran Church.
"It's so great to see the community come together with churches to help families live more purposeful and generous lives," said Janey Cahill. "We are most grateful to all the churches and volunteers who partnered with us on this project."
First Lutheran Pastor Bill Schwochow was on hand to bless the home.
"It's good to come together and celebrate and claim it for God in front of the community," he said. "The church plays a vital role in something like this. It is the center of what Habitat does. It makes God's love visible."
For Ivonne and daughter Janiah, who have lived in Greene County Metropolitan Housing the past 10 years, it was the end of a four-year journey.
"It was a very long road, but it is worth it," she said. "We're so happy, so blessed. God is good. If you don't believe it, just look around and you can see it. It is so exciting." Ivonne closed on her mortgage Friday morning and bought the home with a zero percent mortgage.
Since merging with Habitat for Humanity of Greater Dayton in 2014, 12 Greene County homes have been built. This includes a couple of full-house rehabs. A good number of repair projects have also been completed, including a full-house handicap interior upgrade, various decks, handicap ramps and siding jobs.
"Before Greene County merged with Dayton, we were barely able to do one new house a year and no repairs or rehabs," said Ron Rodenroth, who added that they also helped the Clark County affiliate on a home build and a rehab about 10 years ago. "Before we merged, we were all volunteers. We approached Dayton on a merger because they had the infrastructure, and we had the money. It was ying and yang. Together, we are so much better."
Groups and businesses who also provided donations and volunteers included FHLB of Cincinnati, Richard and Jacqueline Siefring, Brady Ware & Co., the University of Dayton campus chapter, Wright State University Chapter of Engineers Without Borders and Boonshoft School of Medicine, Phi Rho Sigma, Kettering College, Heapy Engineering, Cresco, Hammerman, Graf, Hughes & Co., Knights of Columbus, Johnson Electric, and the Habitat Golden Hammers.
If you are interested on partnering with Habitat in Greene, Clark or Montgomery counties, call us at (937) 586-0860.