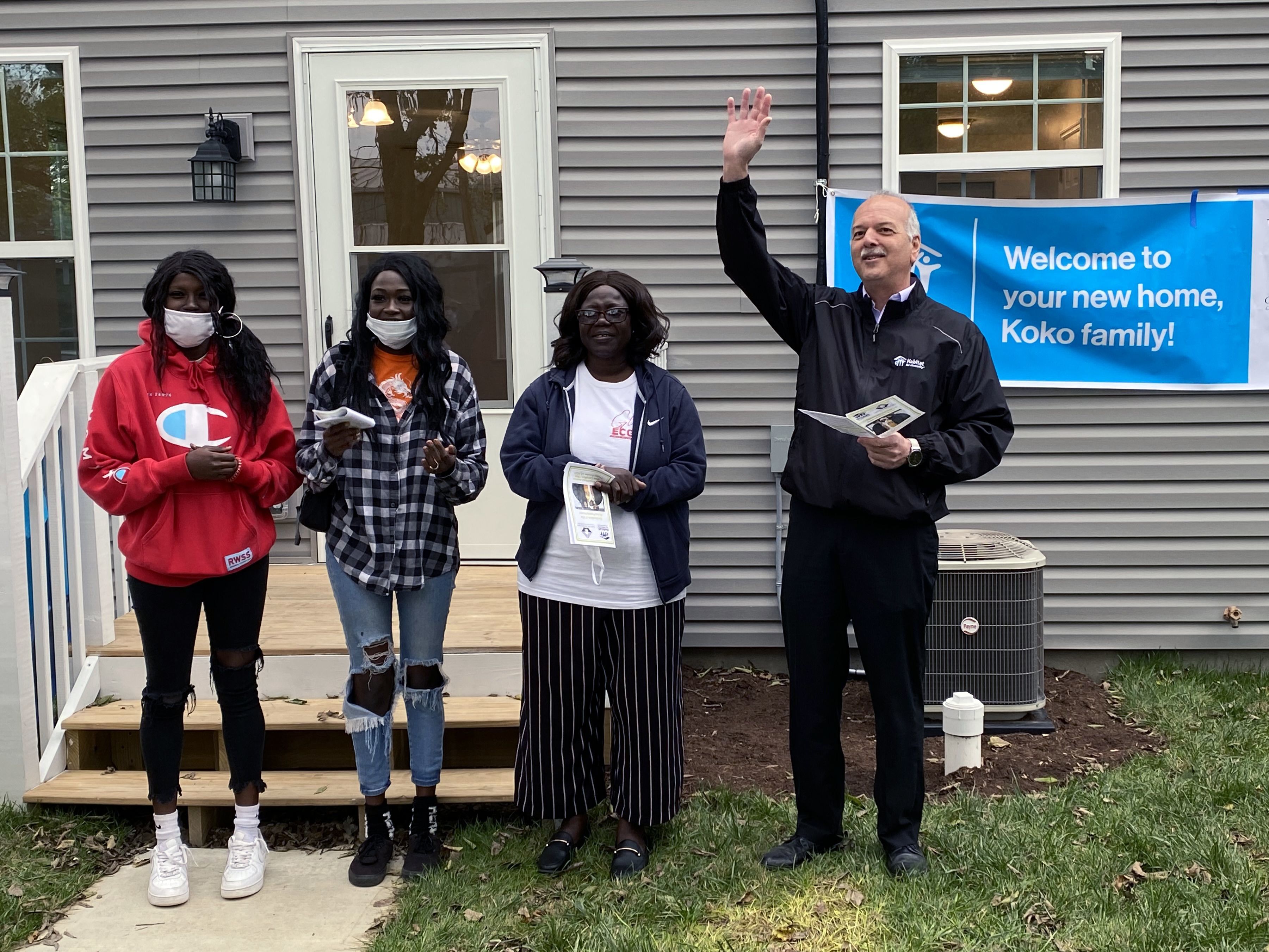 After a prayer that opens every Habitat for Humanity of Greater Dayton home dedication, Executive Director Norm Miozzi perfectly summarized why a large group of friends, family, neighbors, sponsors and volunteers had gathered on Friday, Oct. 22 at Pease Avenue in West Carrollton: "We believe without God's help, things like this would not be possible."
Faith is what brought Habitat and the members of Catch the Building Spirit together 29 years ago and has produced one new house for a Montgomery County family to purchase every year since. CtBS is a non-profit partnership of Catholic and Presbyterian churches that exists for the same reason Habitat does, to help low-income families obtain affordable housing. And it was faith that made it possible for CtBS Co-Chairman Roger Duffy to hand new homeowner Saadia Koko the keys to her new home on this joyous afternoon.
It was just mid-June that they held a kickoff ceremony for Saadia and her two teenaged daughters, Aya and Karen. Four months later, she had a beautiful three-bedroom home to move into with an affordable mortgage payment.
"First, I say thank you to my Father in heaven," said Saadia. "Then I say thank you to everybody here, then I say thank you to Habitat. I am glad and happy. This program is good. I say to everybody who doesn't have a house that Habitat stays with people through life."
Saadia should know. She has been trying to qualify for a home through Habitat for way over a decade. She tried once, then came back into the program once she was more able to qualify. She learned through hard times that a simple, decent home is worth the sacrifice.
Her true home is war-torn Sudan. She had to flee her home in 1997 to Syria to escape the ever-present danger of the violent political conflict she had to live with. Nine years later, the unrest bled over into Syria, the country where she had birthed both daughters. On Nov. 27, 2006 she came to America. Oldest daughter Aya was still a preschooler.
"She's one of God's chosen ones," said Aya, who is studying at Sinclair Community College to be a dental hygienist, of her mother. "The stuff she's been through, to be strong and a single mom like she has, is incredible. She could have easily given up, but now we are here in the United States, in Ohio, in our own house. She is so patient. She has supported everything we've done, so we've supported her all we can in working with Habitat."
This year's home was dedicated to the memory of long-time CtBS members Dave Deger, Jerry Shell, Beatrice Delph and Tom Bishop. CtBS averages 3,500 volunteer labor hours per annual summer project, with an average of 60-70 different volunteer builders working four to eight hours per day on multiple days per week. So things can happen quickly.
"It never seems to be going fast as you are working on it," said Roger with a chuckle. "There is a lot of attention to detail. We want to be sure that it is the way you would want it if you were going to live in it. Even if we have to wait for materials."
Sponsors have a big hand in a home built by CtBS home, which raises the funds for every home it builds. They include Brennan Crane Services, Deal's Landscaping, Deceuninck, Enterprise Roofing, Ernst Enterprises Inc., FHLB Cincinnati, Green Prairie Turf, Kendall Electric, Korrect Inc., Pickerel Brothers Inc., Synergy Building Systems and Tony Ferguson. Special presentations were also made by Secret Smiles, AKA Sorority, Holiday Inn of Fairborn, Sugar Creek Presbyterian Church and Centerville Rotary, including groceries, beds and bedding, linens, gift cards and a vacuum cleaner.
"If that doesn't show you what it takes to put a house like this together, I don't know what will," said Norm of the extensive list of sponsors and volunteers.
While the CTBS house was built with a dedicated group of sponsors and supporting church members, most Dayton Habitat homes are built with donations from individuals and families. As a matter of fact, we are right in the middle of our biggest season of donor giving.
Would you like to give to support the building of a home in 2022? You can by donating here.