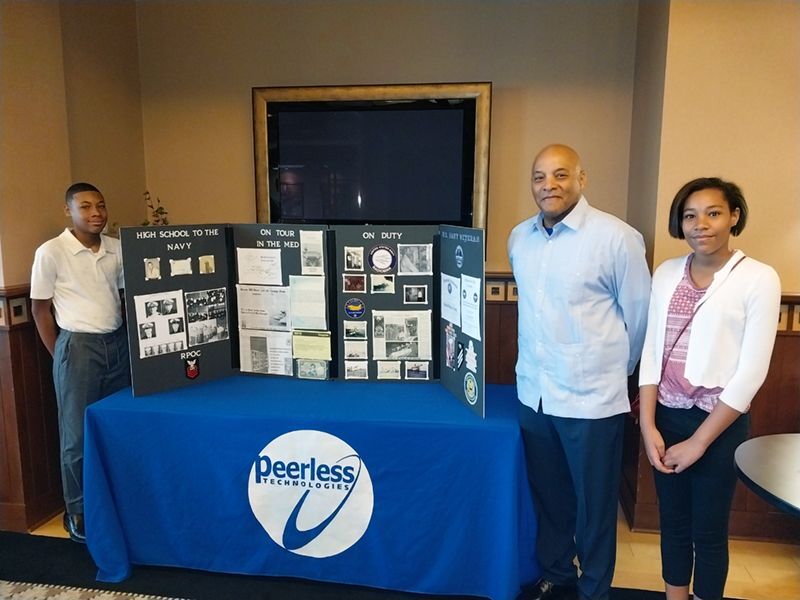 Perhaps the biggest motivation to support a ministry like Habitat for Humanity of Greater Dayton are the uplifting stories of families overcoming incredible obstacles to become first-time homeowners through our zero-interest mortgage program.
The homebuyer program makes home ownership accessible to low-income families who otherwise wouldn't get that chance. Families like the Pringles, whose home will be one of the two built simultaneously in New Carlisle this year. Their home will be built through Habitat's Veterans Build initiative, which kicked off earlier this year with a reception attended by over 30 people from the local defense community. The initiative seeks to rally the local defense community to provide volunteer and monetary support for that particular building project.
"Finally, I will be able to provide a home for my family," said 71-year-old U.S. Navy veteran Len Pringle. He, his wife Alicia, son Benjamin (13 years old) and daughter Gabrielle (11) hope to move into their new Habitat home by Christmas. Groundbreaking for both of the New Carlisle homes is slated for some time in July. "Without the program, I wouldn't be here. I would still be looking for a home - if we could even find one that we could afford. This is our chance to build generational wealth for our family."
Growing up in Spanish Harlem in New York, he had a good friend who he hung out with who succumbed to an addiction to narcotics. How did he avoid a similar fate?
"God directed me, and I made the right choice," he said. "I grew up in a good Christian home and had a lot of good influences. And joining the Navy seemed to me to be the right choice. All those experiences influenced me. And now I am passing that on to my son and daughter. My hope and dream is that they surpass me. We try to keep that bar raised high."
It was closed doors and frustration that led Len to put his name on a list indicating his interest in the Habitat home ownership program.
"The barriers were unbelievable!" he said. "We got outbid every single time. We were limited by my pension. Every time we'd find a home we liked and put a bid in, someone would bid more and we couldn't counter their bid because it took too long (to get approved for a larger loan)."
Len had a heart attack in 2006 at the age of 54. His heart had been weakened by exposure to Agent Orange during the time he served in the Navy. He has also been diagnosed with prostate cancer.
"We went through five different realtors," he recalled. "One day, I just put our name on a list and about a year later, Habitat called us and told us what we had to do. We've been working hard at it ever since."
That's not a problem for the Pringles because of his military background. It could be a problem for Len on the job site because of his health condition. But not in his mind … and not on the job site as he volunteers his "sweat equity" hours. As part of the habitat program, each adult agrees to donate 275 "sweat equity" hours to the mission as a way of building a long-term relationship with the family.
"Everybody is respectful of my disability and have shown me that they care for me," he said. "They've provided a safe environment for me and are always checking on me."
It has been a joyful journey, so much so that Len said he and his family plan to continue to volunteer with Habitat after they purchase their home.
"This has further instilled a sense of pride, helping others to get the gift that my family is getting," he said.
Len said he and his family owe a heartfelt thank you to the defense community and other Habitat supporters for this opportunity … a community that can especially identify with Len's health struggles from Agent Orange exposure and the heightened challenges of becoming a homeowner.
"This community is already rallying behind this project and this special family," said Andrea Kunk, President of Peerless Technologies who is chairing this Veterans Build project. Andrea was recently named one of Dayton Business Journal's Power 50 most influential women of 2023. "One of the best ways to look inside the heart of a soldier is to look at what they have overcome. Len and his family are an inspiration to all of us."
Another major supporter of both homes being built is the Clark County Land Bank, which donated both lots and helped secure $30,000 for each home to help with the building costs.
"As a vet myself, we are very pleased to see the defense community responding to this so strongly," said Dirk Lackovich-Van Gorp, the Land Bank's Community & Economic Development Director. "Habitat for Humanity of Greater Dayton is a class operation."
You may wonder how Len overcame all the obstacles in his life. He credited his military life and God.
"My spirituality has kept me sane," he said. "I have to give all praises to God. I believe that if God blesses you with a good life, respect that life. I'm thankful. Every second is a blessing for me because you never know how long you have."
To find out how to benefit from not only Habitat's low-income homeownership program but also its critical repairs program, or to donate to or volunteer for this Veterans Build, go to daytonhabitat.org or call 937-586-0860.