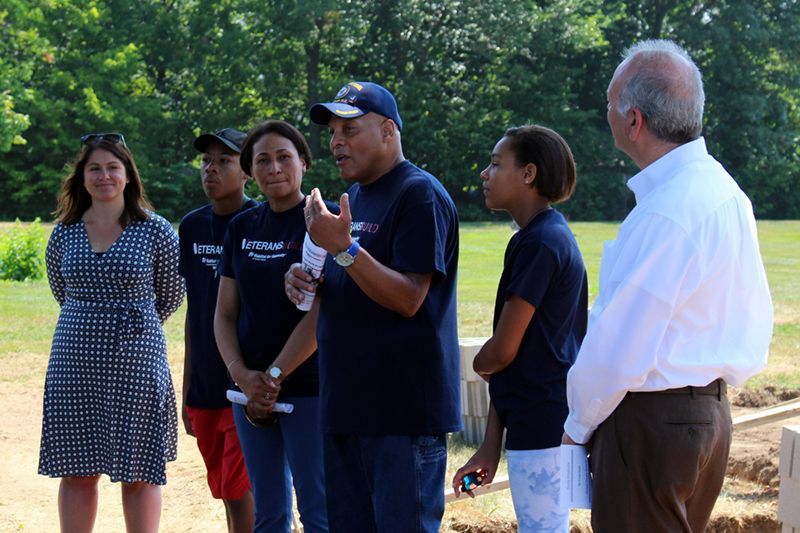 It was a historic day in New Carlisle on Aug. 4 as ground was officially broken for the first of two Habitat for Humanity of Greater Dayton homes being built in that community. And it was not lost on the crowd of about 30 community and church leaders and supporters how unity will get those homes built.
"Nothing happens at Habitat without our community partners," said Dave Mauch, Habitat's Development Director. "Folks like Len and his family wouldn't have opportunities like this without them. They've been trying to be homeowners for a long, long time. Soon, that wait will be over.
"We don't give away homes; our homeowners make payments on their homes," he continued. "But our zero percent interest program allows them to save a whole lot of money, which they can spend on other important things like their kids, family, healthcare, and transportation."
Len and his wife and two kids who will be purchasing the home, felt especially blessed.
"We're so excited," he said. "Our kids have already got to see a house being built, and they are really excited.
"Our faith has brought us to this," he continued. "Without faith, you can do nothing. Nothing is impossible if you have faith. And without Habitat, this wouldn't happen. They have been so helpful, ushering us through this every step of the way. It's been amazing."
Amazing is the support that has been raised through the Veterans Build initiative that this home will be built under. Andrea Kunk, President of Peerless Technologies who is chairing this Veterans Build project, kept the theme of unity at the event going by sharing a couple of many examples of how the defense industry committee is stepping up to support this Veterans Build project.
"Habitat has had a lot of individual support from the defense community through the years, but we've never really rallied the community together to get behind a project like this," she said. "We're all very excited to be a part of something like this."
Dirk Lackovich-Van Gorp, the Land Bank's Community & Economic Development Director, explained how city officials had brought the project to their community by rezoning the land that was formerly the old Madison Elementary School so that four homes could be built on it. Two homes will be built by Habitat and the other two by the land bank, which received $1 million of federal funding through the county to provide more affordable housing in the county. It then donated two lots to Habitat and helped secure $30,000 for each home as starter money.
Yes, this will truly be a community effort, just like every house built by Habitat. Len and his family couldn't be more thankful, and they plan to show their gratitude to their new community for years to come.
"We want to give back and be good citizens in this community" he added. "We're so thankful to be here."
If you would like to become part of this community effort to make the dream of homeownership become a reality for a low-income family by volunteering or donating, visit daytonhabitat.org or call 937-586-0860.