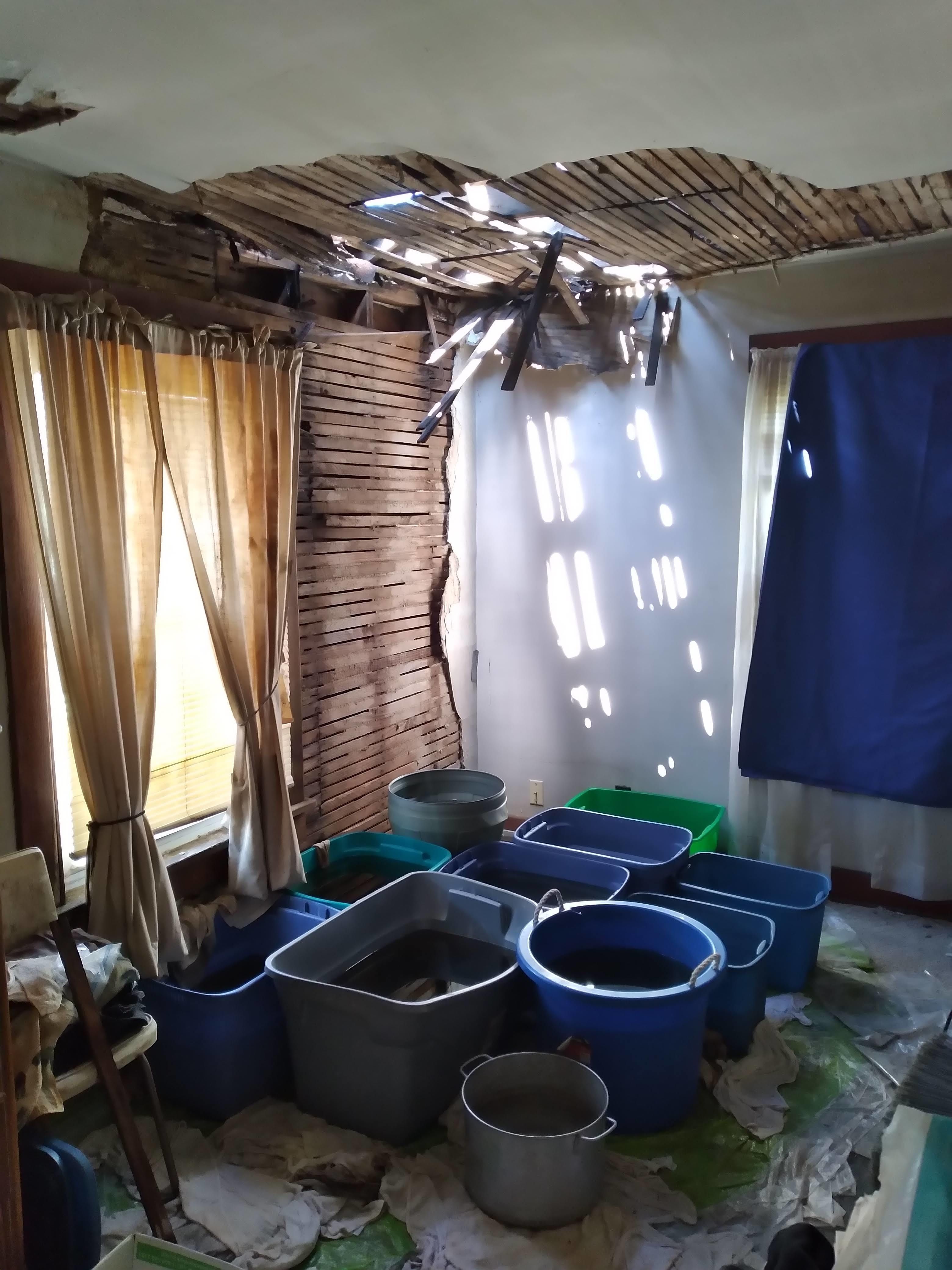 Depending on circumstances, the qualification process for those who are seeking to get help from Habitat for Humanity of Greater Dayton can take some time. But there are needs that we become aware of that are so critical, they just must be met immediately.
Mabel Vaughn, a 94-year-old Dayton widow who had been living in her long-time home with a man-sized hole in her roof for several years… which was one of those emergencies that needed immediate attention. We knew that we couldn't let Mabel live through another winter or even another rainstorm with that hole in her roof.
"She told our roofer that she thought she was going to freeze to death a couple of winters ago," said Galen Curry, Habitat's Neighborhood Repair Specialist. "The hole in her roof was probably 8 x 12 feet in size. When I got in to see the inside damage, all they had was a bunch of tubs on the floor trying to catch the water. I ended up emptying the tubs with my pump while I was there. She probably had that hole at least four years."
But she has it no more, thanks to Dayton Habitat and our partners at JM Roofing, who did the repair at a discounted rate as a way of giving back to the community. But other partners were also involved. For instance, the Fifth-Third Foundation provided a generous grant that helped to fund Mabel's roof repair as well as other projects.
"I kept my hopes up. I've been patient for years. I kept praying and God answered my prayers," said Mabel. "When these guys came, they saw an emergency and they said, 'You shouldn't have to live like this.' There's no telling what would have happened to me if I couldn't get my roof fixed."
She and her 61-year-old-son don't have to worry about that anymore.
"My first impression was I thought the house was vacant, it was such a mess," said Galen. "Then I found out that someone was actually living there, and I thought, 'You gotta be kidding.' Then to find out that she is 94. Man, that just touched my heart."
"Almost all the folks we are helping are widows or widowers," said Galen. "The need is great, but our God is greater." That belief got Mabel, who has spent the better part of her adult life as a community activist for children, through times no one should have to endure.
"I was carrying water up and down the steps for months. I had to wear my mask in the house," she said. "I was sitting here thinking of what all has happened and how fast it happened. I am so thankful for God sending Habitat to me. Habitat did a miracle for me. It is no secret what God can do. I would tell anybody, 'Don't give up hope. And above all things, be patient.'"
Mabel has served on the Priority Board, an arm of the Dayton Commission. She's also worked in the school system, serving as president of her school district's PTA for several years. She started a summer program for wayward kids and has volunteered at several Christian organizations. She's also been there to help drug addicts, especially in her neighborhood.
"I'm an advocate for young people." Mabel said. "God's been good to me, and He's still got something for me to do."