Memorial Day Tornado Repairs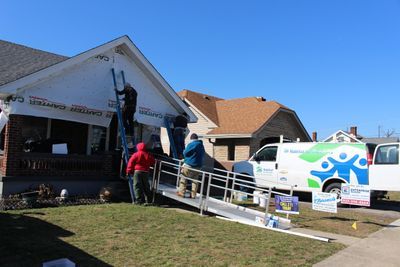 As part of the Miami Valley Long-Term Disaster Recovery Operations Group, Habitat for Humanity of Greater Dayton is helping individuals navigate the personal and property recovery process in the wake of the 2019 Memorial Day tornadoes. Working alongside other organizations in the community, we are providing tornado survivors with the resources and services they need to recover, rebuild, and achieve resiliency for the future.
I was impacted by the tornadoes. How can I get help?
Calling United Way's 211 HelpLink between 8:00 AM and 5:00 PM is the best way to get help navigating the recovery and rebuilding process. Once you identify yourself as a tornado survivor, the 211 operator will register you for one-on-one disaster case management assistance to help you access the resources and services you need, including those related to:
 Securing safe and affordable housing
The repair or rebuilding of your tornado damaged home
Legal assistance
Navigating FEMA appeal processes
Accessing repair & construction grants (Federal Home Loan Bank)
Numerous additional resources and services as required
If 211 is not currently available in your area, please call 937-225-3000 or toll-free 855-405-7629. This service is available to all impacted counties.
I need help repairing or rebuilding my home. What should I do?
Start by calling 211 to be connected with a disaster case manager. They will help you navigate the rebuilding process and access the resources and services you may need.
When will rebuilding start?
We expect rebuilding efforts to resume in May/June 2020, or as soon as the weather permits. Due to restrictions imposed by the Governor regarding the COVID-19 pandemic, this may be delayed. In the meantime, we are preparing construction jobs for case managed clients and are securing the necessary building resources. If you need your home repaired or rebuilt, call 211 today to be placed on the list.
---
How can I help with recovery efforts?
Thank you for continuing to support our region's recovery! The communities and the thousands of individuals affected by the tornadoes still need our help, and there are many ways you can make a difference:
Get the Word Out
Help us spread the word and connect more people to resources and services. If you live in an area impacted by the tornadoes, encourage your neighbors to call 211 if they need help with tornado recovery. The more people know about the 211 Helpline, the more people we can help!
Volunteer
Check our volunteer page for information about upcoming tornado repair volunteer opportunities in Clark, Greene, and Montgomery Counties. When rebuilding efforts resume in May/June, additional volunteers with skills in areas such as plumbing, construction, and roofing will be needed.
Donate Money
Monetary donations to the fund are the most flexible resource and will be used to fill the gaps where donations of supplies or in-kind services cannot be secured. Click here to make an online donation today.
Donate Supplies
If you are part of a business or organization that is interested in donating bulk construction materials (new roofing, siding, drywall, lumber, standard size windows and doors, home grade appliances, etc.) please email us with your contact information and a brief description of the items you'd like to donate.
---
What is the Long-Term Disaster Recovery Operations Group doing right now?
Current recovery efforts focus on helping individuals enter the case management system, be matched with a case manager, and work with that case manager to develop their individual recovery plan. For those who are homeowners whose primary residences have been damaged by the tornadoes we also conduct damage assessments and construct detailed repair estimates. Collectively, this information forms the basis for identifying resource requirements and the allocation on donated resources, and it is critical to our being prepared for all repair and rebuilding activities.
---